Refugio de Juanar, Embalse de la Concepcion, Benahavis
This tour begins with a delightful morning walk through pine and eucalyptus woodlands, open scrub and culminates at the Mirador de Puerto Rico which gives a breathtaking panoramic view over the whole of Marbella and San Pedro.
The refugio de Juanar is a state run hotel (Parador) and is set deep into the pine forest in a mountainous area of the Sierra Blanco. The forests hold Crested Tit, Crossbill, Nuthatch, Short-toed Treecreeper, Jay, firecrest, Melodious and Bonelli's Warblers. As we pass through the olive plantation and more open scrub covered ground we may encounter both Thekla and Woodlarks, Black Redstart, Rock Bunting, Hoopoe, Black-eared Wheatear and Woodchat Shrike.
As we approach the Mirador we can search for Blue-rock Thrush, Sardinian, Subalpine and Dartford Warblers. The mirador itself gives us a good opportunity to search for raptors, the resident species beingBonelli's Eagle, Peregrine Falcon, Kestrel with Short-toed and Booted Eagles, Vultures, Honey Buzzards and Kites passing over during migration periods and throughout the summer. We return along the path to the minivan where we can eat a picnic lunch in the shade of the pine trees.
For the afternoon we move down towards the coast and visit the large reservoir Embalse de la Concepcion. During the spring and summer very few birds are found on the reservoir but the surrounding hillside are very good for passerines.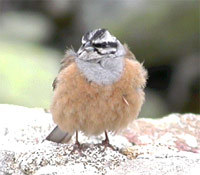 We can walk one or two tracks that lead down to the waters edge checking the trees for various woodland species as well as the rocky slopes for Blue Rock Thrush, Black Wheatearand Rock Bunting. This is also a good area to watch for raptors especially during migration periods. Other species that are often found in the area include; Serin, Zitting Cistacola, Cetti's Warbler, Nightingale and Spotted Flycatcher.
To finish the day (if time permits) we can visit the area around Benahavis. We can cover several interesting areas during late afternoon or early evening topping up our day list. Several small ponds, a reservoir, a river walk and woodland all provide sites of bird-watching interest. We may see Cattle and Little Egret, Grey Heron, Moorhen and Kingfisher. Other possibilities include; Squacco and Purple Herons and Little Bittern. The surrounding trees and scrub may surrender Blackcap, Orphean, Olivaceous, Sardinian and Dartford Warblers. A fitting list to conclude another lovely Andalucian bird-watching outing.