ABBOTSBURY - CERNE ABBAS
WEATHER: cloudy with outbreaks of warm sunshine
Dwn and I decided to go for a walk in the Dorset countryside today, we ended up at Abbotsbury near the the famous Swannery. We walked up to St Catherine's Chapel on the top of the hill which gave us terrific panoramic views of the surrounding countryside and of the 'Fleet' and Chesil Bank which forms part of the famous Swannery.
Looking from St Catherine's Chapel towards the Fleet, Chesil Bank and the Swannery
Very few birds were seen and I was amazed by the absence of butterflies, we walked for a couple of hours and never saw a single butterfly on the wing. During our walk back to the village we did find Speckled Wood, Small White and |meadow Brown.
After a nice cup of coffee and a sandwich in a main street cafe we drove to Cerne Abbas where the famous 'Cerne Abbas Giant' lies. It is an ancient figure of a man, cut out on a sloping garrsy hill.
The Cerne Abbas Giant - always pleased to see you!
More butterflies were found there, we had a gret time walking up the chalk-hill to look in the flower meadows which were alive with insects and wild flowers. Good numbers of Commoin Spotted Orchids were seen and a few more butterflies appeared in the afternoon sunshine.
Common Spotted Orchid
We found Marsh Fritillary, lots of Adonis Blues and a single Green Hairstreak, also on the wing was a good number of Meadow Browns, Small Heaths and Five Spot Burnet Moths.
Adonis Blue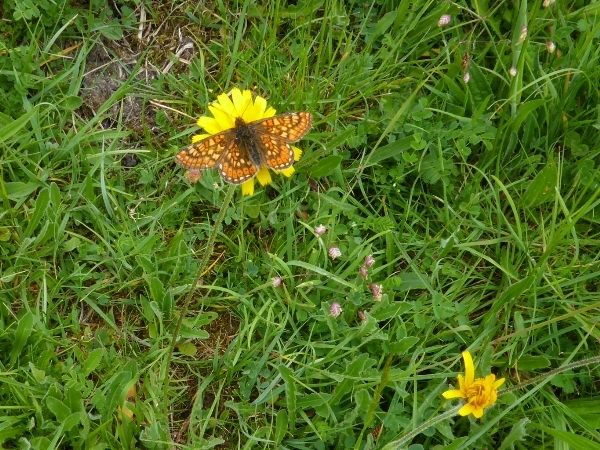 Marsh Fritillary
Green Hairstreak