DAY TOURS IN DORSET (scroll down for SOMERSET DAY TOURS)
Join us for an exciting day out in the beautiful countryside of Dorset or Somerset, see many birds, butterflies, dragonflies and wild flowers.
The cost of our trips are £40 per person per half day, 8am – 1pm, (minumum two people)
full day trips cost £65 per person and include a picnic lunch. 8am – 6pm.
If you require a longer day or an earlier pick-up please calls us to discuss your requirements.
Please e-mail us using our enquiry form on our contacts page or click the link below:
June 2022
"Hi Bob,
Thank you so much for a great days birding last Friday. We both really enjoyed it and we will certainly be calling on you for another outing when you can fit us in.
Don't forget to add us to your mailing list, for any forth coming UK trips. Especially Norfolk.
How do we leave a review/testimonial? We'll be happy to sing your praises.
Look forward to hearing from you.
Best Wishes,
Linda."
Alan and Ruth Robinson
Sept 19th & 20th 2022
We had a wonderful two day tour of various sites on the Somerset Levels with Bob. He is good company and immensely knowledgeable about the natural world. We saw many different birds and learnt so much about how to find, identify and differentiate between the various species.
The trip was great fun and good value for money. We were picked up, transported around the wide ranging sites and even had a packed lunch thrown in. Very highly recommended.
Ruth and Alan Robinson.
3 DAYS BIRDING WITH BOB 11-13 OCTOBER 2022
We've been with Bob on 4 previous birding breaks in Europe & to the Isles of Scilly & have always enjoyed them. Having read a lot of his blogs where he concentrates on his local patch (or close to) we arranged a 3 day break with him around Dorset & we weren't disappointed. We'd set him a target as we were close to our 200 species for the year & that he succeeded in, so lots of Brownie points there. In fact we achieved over 100 different species over the 3 days so we were well pleased. His pace always suits us - no dashing about from place to place & he took us to a lot of local 'hot spots' & other really interesting places that would have been an effort to find ourselves. He's an exceptional Guide, a lot of fun to be with & we look forward to meeting up again in the future.
Dorset has one of the highest annual bird counts in the UK, with a wide variety of habitats set in some of the most stunning landscapes in Europe.
Coastal wetlands, chalkhill grasslands, moors, bogs, heaths, sand dune systems, managed forest, species rich parklands and ancient woodland can all be found within its boundaries. The bird life is prolific, encompassing nearly all genre of bird species (see link - Birds | Dorset Wildlife Trust) and on most days of the year you can compile an impressive list of species.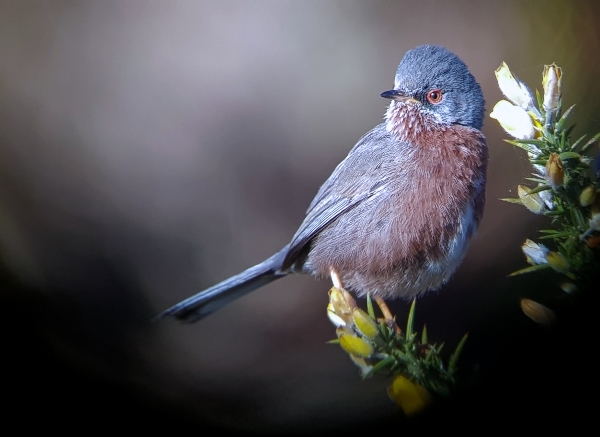 Dartford Warbler and Common Stonechat - are the two iconic species found year round on the Dorset Heathland
Our day trips cover most habitats in Dorset, we can collect you from your holiday accommodation or arrange to meet you at a collection point. The geographical areas we cover in Dorset range from the west side of Poole Harbour at Studland and stretch along the coast to Bridport and inland sites are included are south below a line drawn between Bridport, Dorchester and Wareham.
Well known coastal sites included in our day trips are:
The 'Isle' of Portland and Portland Harbour, Ferrybridge and the Fleet, Weymouth (RSPB Radipole Lake and Lodmoor)
a view of the 'Fleet', Chesil Beach or 'Bank' and Portland in the distance. Taken from the hills above Abbotsbury.
There are also many not so well known sites that we have a good knowledge of.
Inland; we can take you to some fascinating places with some of the last remnants of traditional Dorset Heathland. Wareham Forest, Hartland Moor, Stoborough Heath and Studland Heath (not quite inland) to name but a few.
The Common Cuckoo is often seen and heard on the heath at Wareham Forest
Wareham Forest also has pine woods and deciduous woodland where a good number of species can be seen at any time of the year.
A day-list of 50 – 70 species can be amassed at most times of the year, spring and autumn are always the best, April – June and September – October, however, many birds are still present throughout the year.
Regular species seen on and around Portland during spring and autumn include: Razorbill, Guillemot, Fulmar, Gannet, Raven, Peregrine Falcon, Linnet, Skylark, Meadow & Rock Pipit, Stock Dove, Common Stonechat, Blackcap, Lesser & Common Whitethroats, Little Owl, Barn Owl, Common Kestrel and Common Buzzard. In additional to the breeding and resident species many passing migrants are found in spring and autumn:
Northern Wheatear, Willow Warbler, Garden Warbler, Pied & Spotted Flycatchers, Whinchat, Wood Warbler, Ring Ouzel, Turtle Dove,
including some uncommon and rare migrants such as:-
Wryneck, Hoopoe, Woodchat & Red-backed Shrikes, Red-rumped Swallow, Serin, Golden Oriole, Black Redstarts, Yellow-browed Warbler, Firecrest, Palla's Warbler, Lapland & Ortolan Buntings and many more.
The Wryneck is seen every year on Portland during migration time and sometimes in good numbers
Whilst a sea-watch from Portland Bill may produce sightings of: Red-throated, Black-throated and Great Northern Divers, Manx, Mediterranean & Sooty Shearwaters, Common and Velvet Scoters, Storm Petrel, Great, Arctic and Pomerine Skuas and Eider Ducks.
Black Redstart a regular passage migrant and often over winters in the Portland and Weymouth area
If you have some target species we can devise a bespoke itinerary to suit your requirements, we can offer full or half day trips just let us know what your goals are.
DAY TOURS IN SOMERSET
Our tours based in Somerset are centred around the Somerset 'Levels'
The Somerset 'Levels' is the largest area of lowland wet grassland and wetland habitats in Britain covering 35,000 hectares. The 'Levels' comprise of a vast area of lowlands sandwiched between the Mendip and Quantock Hills and are what is left of a once wider area of flooded fenland.
The 'Levels' have eight rivers and drains running through it: The land here is only a few metres above sea level and is criss-crossed with ditches, rhynes (pronounced reens) and rivers that take the huge amounts of water through the landscape.
Glastonbury Tor is the most prominent landmark in the Levels rising up 521 feet. In days gone by this was actually an island surrounded by sea and later inaccessible marsh hence it becoming known as the Isle of Avalon. The marshes that lie all around Glastonbury and as far west as the coast are collectively called The Avalon Marshes. Shapwick Heath, Ham Wall, Westhay Moor, Catcott Lows wildlife reserves all fall within The Avalon Marshes. Today these wetlands are renowned for internationally important numbers of waterfowl who come here to feed and roost in winter and for the vast number of species that breed there.
For our day tours on the 'Levels' we will visit one or more of the following sites: RSPB Ham Wall, Shapwick & Meare Heath NNR, RSPB Grey Lake, Catcott Lows, Tealham & Westhay Moors.
A good area to look for breeding or a winter flock of Common Cranes is West Sedge Moor where we can also visit Swell Woods with its large colony of Grey Herons and many woodland species.
Our day trips also cover the following sites:
Cheddar Reservoir, Chew Valley Lake and a couple of coastal sites near Bridgewater including the 'new' Steart WWT where a good variety of species can be found. Steart WWT hosted a breeding pair of Black-winged Stilts in 2020!!!
You will see a great variety of species wherever we take you, your sightings may include some uncommon, rare and unusual species.
During the winter you may see Great White Egret, Cattle Egret, Glossy Ibis, Great Bittern, Woodcock, Marsh Harrier, Whooper Swan, Merlin, Water Rail, Red-necked Grebe, Great Northern Diver, Jack Snipe, Water Pipit and Goosander.
In wintertime the main attraction on the 'Levels' is by far is the 'Starling Roost' where millions of starlings tumble from the sky like a heavy rainstorm into the reedbeds to seek overnight safety in huge numbers. The reedbeds at Ham Wall have been particularly favourable over the last few winters to see the spectacle of the Starling's Murmuration, you may see the famous balletic aerial display, a performance that can be one of the most exciting and spectacular avian sightings you will ever experience, it is that good!
Spring, Summer and Autumn your sightings will be enhanced with the arrival of our summer visitors. Many warblers fill the air with their spring song: Willow Warbler, Chiffchaff, Garden Warbler, Grasshopper Warbler and Reed & Sedge Warblers. You may see a passing Osprey and you have a great chance of seeing the Hobby from May until October.
The 'Levels' now have the largest count of 'booming' Great Bitterns than anywhere else in the UK. Over 40 individual birds are counted most years. This iconic and secretive species can be seen, with luck, at any time of the year.
The Common Cuckoo calls in spring and the Marsh Harriers perform aerial displays whilst the Hobby dashes above the marshes chasing dragonflies. Swallows, Martins and Swifts fill the sky as they gather up a bumper crop of flying insects.
This part of the levels is also very good for finding Otter! We may even get a glimpse of the recently introduced Common Cranes.
The cost of our day trips are £40 per person, per half day, 8am – 1pm
full day trips cost £65 per person and include a picnic lunch. 8am – 6pm.
If you require a longer day or an earlier pick-up please calls us to discuss your requirements.
Please e-mail us using our enquiry form found on our contacts page or click the link below:
Or if you prefer to talk to us call our landline (an answering machine operates if we are out guiding):
01935-426152