MALAGA - GUADALHORCE RIO VIEJO - GUADALMAR - MONTES DE MALAGA
WEATHER: Sunshine all day, a little humid, light wind later. Top temp 27C
Today I drove from Gaucin to Malaga to collect Steve and David from the Hotel Vincci near the port. Steve has been out with me before and he decided to give Dave a retirement present of a day out with me! I couldn't believe it when Steve told me that they were flying out from England just for a day's birding.
the scrub-field at the Desembocadura de Guadalhorce
We drove a few hundred meters to the eastern side of the Desembocadura de Guadalhorce Natural Park where a track runs around the Rio Viejo (old river). A good number of waders were feeding there and despite a great deal of human activity they seemed unperturbed. We listed Ringed Plover, Black-winged Stilt, Kentish Plover, Redshank, Little Stint and Dunlin.
Dunlin in summer plumage
Scoping the bay we saw both Mediterranean and Cory's Shearwaters and Yellow-legged Gull, we then began our walk along a raised babk overlooking a field of scrub and parts of the Rio Viejo. Lots of swifts were zooming across the skyline, we picked out both Common and Pallid as well as House Martin and Barn Swallow.
Monk Parakeets
Feeding in the grass and on the scrubland we saw Goldfinch, Greenfinch, Crested Lark and a flock of Monk Parakeets. A puddle attracted House Martins which were collecting mud and finches were bathing including Serin. Further along the bank we saw Spotless Starling, Sardinian Warbler, Zitting Cisticola and from a bridge we watched the elegant Red-rumped Swallow, Common Moorhen and a Mallard with six fluffy chicks.
Mallard with chicks
As David was carrying a calf injury we did not choose to walk to the hides around the lagoons so we probably missed a host of species, nevertheless, we drove round to Guadalmar and visited an area of sandy scrub where I knew a few nice species were to be found. Our target birds were Eurasian Hoopoe, European Bee-eater, Turtle Dove and Little Ringed Plover.
Within minutes of arriving we had the first three targets in the bag, David as a novice birder was blown away by having 'scope views of the most colourful of birds, the Bee-eater. We also listed Spotted Flycatcher, Collared Dove and Jackdaw.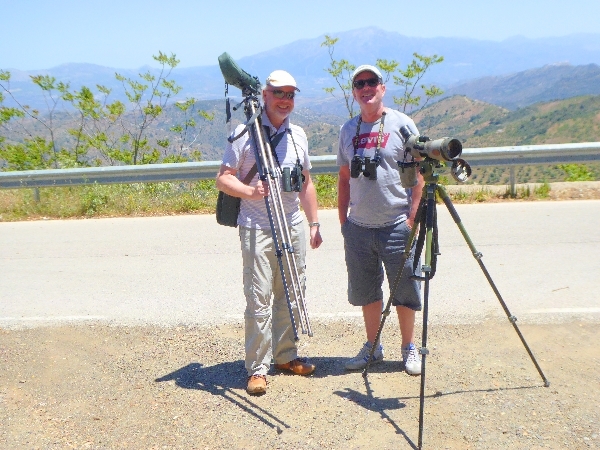 the guys, Steve (left) and David - still raring to go at this stage!
We then decided to take to the hills, in fact mountains, the Montes de Malaga natural park to be exact, it took about r0 minutes to get there. We made a couple of stops at various miradors but we never saw a raptor and it wasn't until we sat down to a long-lunch that we notched up a Common Kestrel and a possible Booted Eagle.
It was mid-afternoon by the time we went walking the tracks in the natural park, it was hot by then and not many birds were to be found. We saw Chaffinch, Wood Pigeon and we had great views of Crested Tit but not much else until the end our final walk. We sat at a picnic table resting after longish walk along side of a stream when a pair of Forecrests dropped in amd negan ferding in amd around some cypress trees. They came extremely close and gave superb views. During this period we heard Blackcap, Common Nightingale and saw European Robin and a Wren (me only).
Firecrest
It was now approaching 4:30pm and David's calf was giving up so we drove back to Guadalmar where I left my long-distant day-trippers, the last I saw of them they were heading for a beach bar, they had a couple of hours to kill before flying back to the UK. I hope they thought it was worth it!