MARCHENILLA TRACK - RIO HOZGARGANTE - SAN ENRIQUE WOODS - LAGUNA DE TORREGUADIARO - BEACH NEAR SOTO GRANDE - SAN ROQUE STORKS NESTS
WEATHER: Overcast for most of the day, then bright sunshine, windy at first. Top temp 37C
Mary arrived yesterday with a bit of a cold which developed overnight into an infection so she and hubby Steve took the day off and went to the doctors. Mat, Lynn and I went out birding all day and what a great day we had too. Our sightings list wasn't massive but the quality of the species coupled with the quality of the views we had more than compensated for the lack of quantity.
We left the village at 8:30am and drove straight down to San Pablo where we turned off towards San Martin, after about 5km we stopped to watch Woodchat Shrike, Melodious Warbler, Corn Bunting and Common Stonechat all were sitting along on one strech of telephone wire! We made our first stop a little further on which was at a pig farm. As in previous visits the area was alive with European Beetears, on fences, in the trees, flying around, it was magical in the morning light. Several Turtle Doves flitted about and there were countless House Sparrows in the area.
an excellent and obliging Short-toed Eagle
Our first scheduled stop was nearby at the river Guadiaro, we parked on a bridge and walked down to the river it took all of two minutes to locate our target species the Western Olivaceous Warbler. There were two or three dashing about and over the next half an hour we got very good views of them. Also on show was Blackcap, Greenfinch, Serin and we watched Red-rumped Swallows collecting mud for nesting material. Cetti's Warbler and Common Nightingale sang out loud all the time we were there.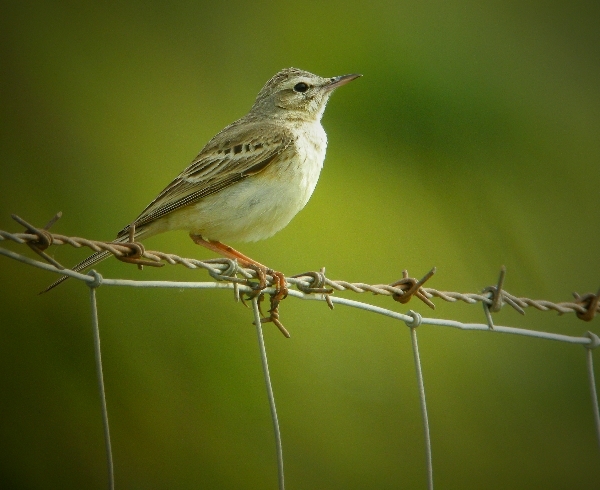 Tawny Pipit
From there we drove onto the Marchenilla track and spent the next two hours enjoying some terrific birding and despite the dull conditions a lot of birds were out singing, the Melodious Warbler was everywhere. Sardinian Warbler, Common Nightingale, Goldfinch, Greenfinch, Serin, Linnet, Sardinian Warbler, Crested Lark and a Short-toed Eagle all showed extremely well.
Melodious Warbler
On the telephone wires and dashing over the fields we saw a couple of dozen European Bee-eaters, also on the wires was a collection of Corn Buntings, Common Stonechats and a Tawny Pipit. Ww then found a Common Nightingale sitting out in the ooen as it sang to us.
Common Nightingale
The star bird turned up a little later, it was just after we had seen the Pipit, sitting on the fence behind us was a Rufous Bush Robin, what a cracking bird and a top species for the list.
Rufous Bush Robin - a superb find
For the next hour we enjoyed several more sightings of Tawny Pipit and quite a lot of Griffon Vultures drifted over, a couple of Spanish Sparrows were a nice bonus find and a very fat-looking Serin looked as though it had just flown off the page of a Lars Jonsson field guide!
a Lars Jonsson model? - European Serin
Drove the conplete length of the track and crossed a main road to a track leading down to the Rio Hozgargante. A dense ribbon of eucalyptus woodland skirted the river, we walked a bout a kilometer along the track besides the woodland.
We heard Golden Oriole call several times without seeing one, likewise with the drumming Great Spotted Woodpecker, no sighting. What we did see well was a Bonelli's Warbler and a Firecrest. We also had great views of both Turtle Dove and Common Nightingale feeding on the track ahead of us.
We ate our picnic lunch near a ford where a Cetti's Warbler kept calling but remained 'invisible'. From there we drove to San Enrique where acquick coffee stop was followed by a Booted Eagle sighting. The Woods at San Enrique were quite productive, first we had good views of a Tree Sparrow near the Sewer Works and then we found our main target species- the WRYNECK.
Tree Sparrow
We made a quick stop at the Laguna de Torreguadiaro, it was the first time I have ever been without seeing a single bird on the water!! Incredible, all we saw were Pond Terrapins. We did find Spotted Flycatcher but not much else.
White Storks at San Roque
From the end of the breakwater at Soto Grande marina we scoped a number of sea-birds. Along with dozens of Yellow-legged Gulls we also saw Cory's and Balearic Shearwaters, Northern Gannet and a couple of Sandwich Terns.
A liitle further along the coast we stopped at a site where WHITE-RUMPED SWIFTS breed, after a long search we saw a single bird (the only swift we saw there), we had great but short views of it, a fantastic bird for the list.
Gibraltar seen from the coast near Soto Grande
Apart from stopping in San Roque to look at the nesting White Storks we called it a day, with several goodies in the bag we were quite pleased with ourselves.