For the last couple of days Beth and Barbara have been with us and today four more clients joined us to form the group for this eight-day tour of Andalucia looking for migrating birds and resident breeding species.........
DESEMBOCADURA DE GUADALHORCE
The trip finally started at 12 noon when I collected the last of the group, Rita and Ann. Barbara and Beth had already arrived on the 4th and I had collected Sandra and Chris at 10am from a hotel near Malaga airport.
Common Sandpipier taken from the hide at Laguna Grande
All seven of us went to the Guadalhorce nature reserve which is found at the beach area near the airport, the imposing buildings of central Malaga could be seen in the background. Despite seeing over 50 species in a couple of hours I was a bit disappointed as there was very few migrants on show especially waders. However, enough goodies were present to keep the group happy. The Star bird was the White-headed Duck we saw several pairs with Common Pochard, Northern Shoveler, Gadwall and Mallard. Both Little and Black-necked Grebes looked splendid in their summer plumage.
WHITE-HEADED DUCK (taken by Sandra Woodruff)
From the raised banks we had great views of the surrounding scrubland but very few birds were found, Goldfinches, Greenfinches, Serins, Crested Lark, Corn Bunting and Sardinian Warblers were the pick of the bunch. From the hides it was just the same, instead of hoardes of waders feeding in a frenzy of activity we saw singles of Redshank, Greenshank, Pied Avocet and small numbers of Kentish & Little-ringed Plovers. Good numbers of Black-winged Stilts were only outnumbered only by Great Cormorants. A couple of Ruddy Turnstone were seen feeding along the beach at the tide-line.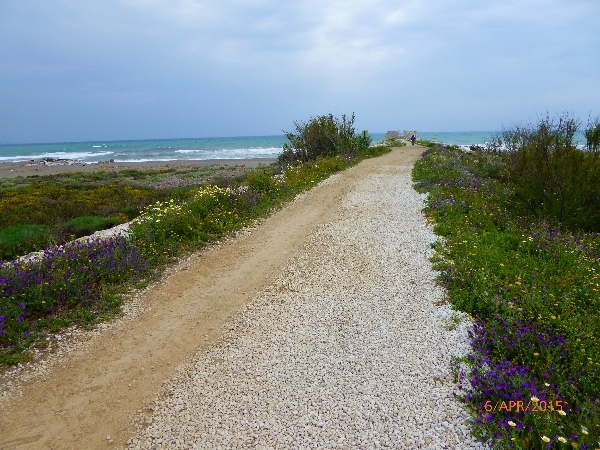 beautiful flowers along the raised bank down to the beach
We left the area around 3pm and our drive along the coastal road was uneventful, the sun disappeared behind clouds, the wind picked up and temperature dropped. By the time we got to Sierra Crestellina near Casares it was quite cold. At this impressive mountain, with its twin peaks enshrouded in mist, we stopped to watch an aerial display by 35 Griffon Vultures, we also saw a Bonelli's Eagle sitting on its nest.
the Laguna Grande - almost devoid of birds today - it is usually packed with many species
The weather curtailed our birding, we drove up to the village of Gaucin where the group were taken to their apartments. We met up for dinner at 7pm and Dawn served a delicious home-cooked Chicken Tajine, a nice glass of Rioja helped it go down.