HUERTE GRANDE – CAZALLA WATCH-POINT – EL TRAFICO WATCH POINT – LA JANDA – MIRADOR EL ESTRECHO
WEATHER: the hottest day for quite a while! It reached 40C but a strong easterly breeze saved us from frying.
It was another fantastic day of migration-watching as we ventured down to the coast at Tarifa. Fiona and I set off at 8am and headed down the valley to San Pablo but before we reached there we stopped to watch a huge number of hirundines as they assembled into a massive flock along a set of power lines. We estimated that 2000 birds were present, 90% were House Martins with some Barn and Red-rumped Swallows, a great start to our migration-watch day.
We drove down to Algeciras and headed westward towards Tarifa making a stop at Huerte Grande to collect John and Gill who were joining us for the day. Huerte Grande is a small private nature park with chalet accommodation and several nature trails. We stayed for an hour walking the trails and watching a few species, we saw Serin, European Robin, Chaffinch and not much else.
Egyptian Vulture
The four of us made a brief stop at Bujeo to look for passerine migrants in the wild-olive scrub, it was windy there and we only found Common Redstart, Spotted Flycatcher and Cirl Bunting. Raptor passage was now quite noticeable with a stream of sightings involving Honey Buzzards, Egyptian Vultures, Black Kites and both Booted and Short-toed Eagles. So we set off for the watch-point called Cazalla which is situated in the hills above Tarifa.
view of Tarifa Island and port from El Trafico
We had quite a spectacular migration watch, several hundred raptors were in the sky at any given moment it was superb. The strong easterly wind prevented the birds from venturing out of the valleys behind Cazalla so their numbers built up. Hundreds of Black Kites, Egyptian Vultures, Honey Buzzards and fewer Booted & Short-toed Eagles were joined by a single Black Stork and a single Eurasian Sparrowhawk. The obligatory flock of 60+ Bee-eaters flew over as did a trickle of Swifts and Hirundines.
After a very brief venture into Tarifa town to look for the breeding Common Bulbul we popped down to El Trafico watch-point where the wind was really too strong to be comfortable. So we left the Tarifa area and headed for La Janda.
A flock of 400+ White Storks flew over us at La Paloma
Another quick stop found us looking at waders and gulls at the pool near Punta la Paloma. We listed Kentish & Ringed Plover, Sanderling, Yellow-legged, Lesser Black-backed and Audouin's Gull. A flock of nearly 500 White Storks circled above us, they went very high and disappeared from view!
Another large flock of White Storks greeted us at La Janda, this time nearly 1000 birds were seen. We ate our picnic lunch whilst we watched the storks but we also list: Green Sandpiper, Glossy Ibis, Cattle & Little Egret, Marsh and Montagu's Harriers and lots of Goldfinches, Linnets, Greenfinches and Zitting Cisticolas.
record shot of Black-winged Kite
Driving along the 5km central track we made a number of exciting finds as we made frequent stops. A few Water Pipits in summer garb were nice, so were Yellow Wagtails and a distant Osprey. We watched Common & Green Sandpipers, Little Ringed Plover, Black-winged Stilts and a beautiful Black-winged Kite was seen hunting over the rice fields.
Glossy Ibis numbers were staggering as we got deeper into the rice fields they almost equalled the White Storks. We added Purple Heron, Eurasian Spoonbill and Black Stork to the list as well as Woodchat Shrike, Wood Pigeon and Common Stonechat.
the shooting season has started - a beautiful Turtle Dove 'wasted' for nothing!
Near the 'smelly' farm we searched for Red-necked Nightjar in a well-known site, we found Common Pheasant, Pied Flycatcher and Turtle Dove and we succeeded in flushing a Little Owl and the only nightjar we saw was also in flight!
Juvenile Woodchat Shrike
Our exit from La Janda took us quite a while as we stopped to marvel at the numbers of storks and ibis, thousands were feeding in the rice fields it was spectacular. A brief visit to a lical golf complex to look for Eagle Owl ended in disappointment and our final stop was at the mirador de estrecho where fantastic evening light provided a memorable view across the Strait to Morocco.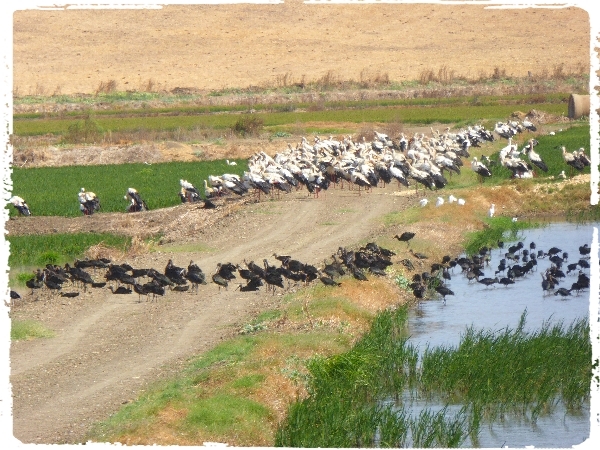 Beware road-block ahead!
We finished back at Huerte Grande where a short search for another owl, Scops, went unrewarded. After leaving John and Gill we drove back to Gaucin, arriving at 8:30pm a little later than planned but that's birding for you!
Across the Strait to Morocco - if you look carefully you can see a couple of Black Kites above the ship!