Krumovgrad – Dolna Kula – Potochnitsa – Dolno Cherkovishte
BLOG WRITTEN BY IORDAN HRISTOV AKA DANCHO
Weather: hot in the morning with 20+ degrees, showers at noon and sunny in the afternoon
We met at 6.30 for a walk in the city park before breakfast which produced a stunning male Common Redstart. After breakfast we visited a favourite place of mine: the valley of Krumovitsa river.
Shortly upon entry into the valley we pulled the van. It was the area where we usually see a Barred Warbler and it didn't take us long to locate one. Shortly after we got off i heard a singing bird. In a few minutes, the bird sat still out in the open for everyone to enjoy. What a stunning male that was! At the same spot we added Roller, Black-headed Bunting and Golden Oriole to the day list.
Further down the road we pulled out at a layby overlooking the river where we say our first Griffon Vultures and fantastic views of Cirl Bunting. The scrub further along the road produced fleeting views of Olive-tree Warblers and a very obliging Sardinian Warbler. We added Lesser Grey Shrike and Chukar Partridge to the list. After hearing it from different places we finally managed to see it sitting still on the top of a rock as per a text book. A Short -toed Eagle also sat on a rock for us giving us superb views. A distant Hobby and Egyptian Vulture enriched our raptor list. Black storks were a usual view during the whole day.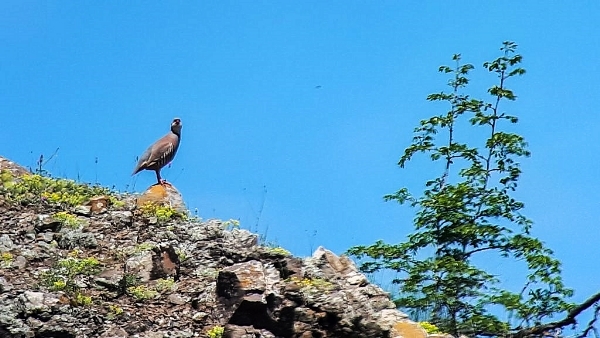 Chukar partridge, image : Jeanne Vitkovskis
After spending a few hours in the valley we decided to carry on to a stop for picnic but not before a stop for coffee and ice-cream where we enjoyed a small Bee-eater colony
Short-toed Eagle, image : Jeanne Vitkovskis
Our stop for lunch was just on time and at a suitable shelter for the upcoming shower. Shortly after we stopped it started raining. Well planned
During lunch a Black Kite flew over the nearby village. Shortly after that the rain stopped and headed onto a vulture feeding station. There was no carcass but there were still a few Griffon and Egyptian Vultures flying around. I met a colleague from the Bulgarian Society for Protection of Birds who was watching the adaptation of juvenile Egyptian Vultures released only a day ago. A Black Kite was also present at the site.
On the way down from the feeding station we added Wood Lark, Linnet and Skylark to the list.
The rest of the afternoon was fairly quiet with observations of quite a few Griffon Vultures. On the way to the hotel we finally saw Turtle Doves after hearing them all day long. Thus we ended the day with a cold drink by the cliffs at Dolno Cherjovishte.