My last blog of 2015 - the end of another fascinating and bird-filled year. I ended the year with a national rarity seen in Yeovil this morning............................
On Christmas Eve I twitched a Yellow-browed Warbler in the centre of Yeovil, there was two birds in a flock of 'crests' - at least 10 Goldcrests and a single Firecrest had been seen over the last few days. Common Chiffchaff, Long-tailed Tit and many common birds were also in the same area. As the light was so bad and it was raining I never had an opportunity to digiscope anything.
A local celeb' - this partial leucistic Blackbird is a local star along the 'Open- Space' footpath in Yeovil
the site of the Yellow-browed Warbler and the Blackbird shown above
On December 27th. Dawn and I drove to Surrey to visit my son and his lovely family - our two grandsons are adorable but can wear you out. A morning walk on Thursley Common on December 28th produced a few birds including Dartford Warbler but not the Great Grey Shrike we hoped for.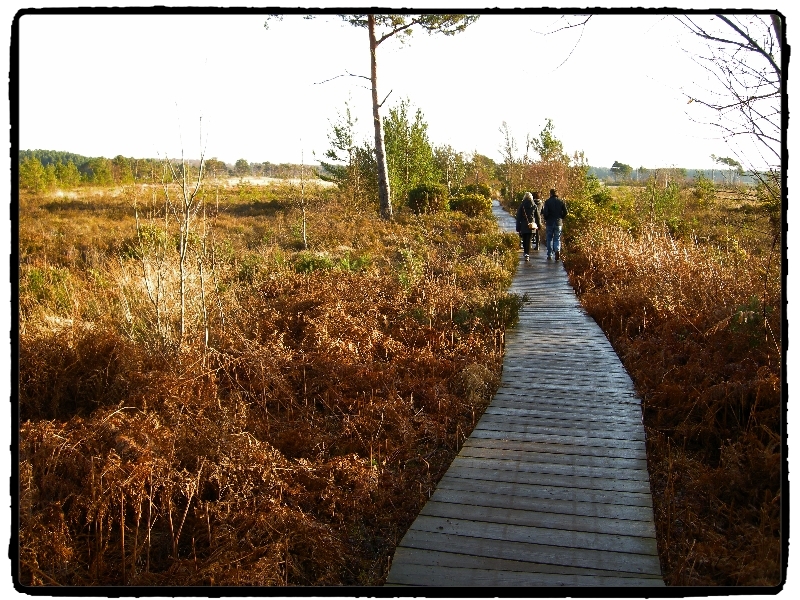 the boardwalk on Thursley Common
A similar walk early on the 29th December was taken at Frensham Ponds, the Little Pond produced many Goldcrests, Long-tailed Tits, Meadow Pipits, Reed Buntings, Shoveler, Tufted Duck and Mallards but again we dipped on another Great Grey Shrike. The Big Pond held fewer birds but a large flock of Siskins was nice to watch.
Frensham Little Pond - we heard Water Rail at this Point.
Today, 31st December I returned to the Yellow-browed Warbler site in Yeovil, it was bright and sunny but cold and windy! I saw one of the two birds but again I couldn't get a picture, from the look of things these birds will be overwintering here and will be a nice addition to my New Year's list.
Tomorrow I will be heading off into Dorset for my first birding of 2016 - watch this space for a good list to start off the year.
I WISH YOU ALL HAPPY BIRDING FOR 2016