SLIMBRIDGE AND CHEW VALLEY LAKE
WEATHER: dull and overcast, with some rain showers and moderate winds. Birghter later with lots of sunshine and a light breeze.
Nigel Bleaken, bless his cotton socks, knew I was without a car for a few days, so he came over yesterday evening and collected me. We stayed at his house in Chepstow last night so that we could make an early start for a day out birding, how nice was that?
a view from the Martin Smith Hide
We set off around 7:30am this morning and drove to Slimbridge WWT in Gloucestershire, it took exactly 45 minutes, I know that because the side gate at Slimbridge opens at 8:15 and Nigel got us there just as it opened. The side gate gives members limited access into the grounds, basically you can visit the bird hides and view most of the wild areas before the general public are allowed in, but not the compounds where the exhibits are kept.
a male Eurasian Wigeon
It was wet and windy as we made our way to the first hide nearest the gate, the Rushy Hide, the view from there was amazing! The pools in view were covered in birds, hundreds of them. Mainly ducks, but also geese, swans, gulls and waders. You have to sift through them to recognise truly wild birds, for instance, Black Swans and Ne Ne Geese are not wild birds in the UK and have to be discounted.
a distant view of the three White-fronted Geese, the one on the right is a juvenile bird and does not have the 'white' face yet,
We found Spotted Redshank, Common Redshank, Lapwings, Eurasian Teal, Eurasian Wigeon, Northern Shoveler, Mallard, Gadwall, Tufted Duck, Common Shelduck, Northern Pintail, Greylag & Canada Geese and Mute Swans.
Spotted Redshank with Common Redshank
The Martin Smith hide held a lot of interest for us as this was place where over the last week or so a Great Bittern has been showing really, really well. I have received pictures of it from 'gloaters' dotted around the southwest and all the way up to Malvern (yes, you know who you are). Well we were determined to get our own pictures so we staked a claim in the best seats and waited……… and waited……..and……… nothing!!
Northern Shoveler
a typical view from the hides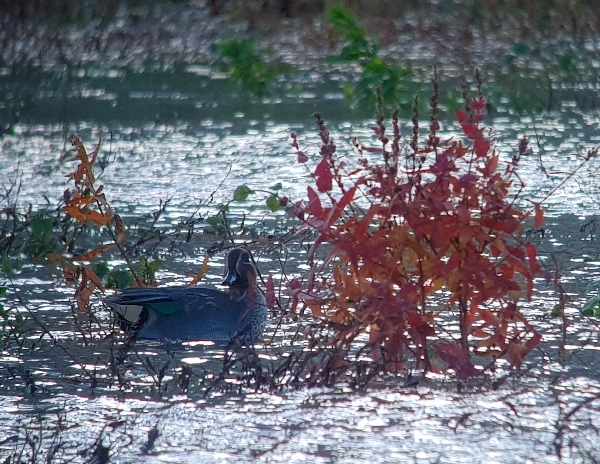 Eurasian Teal
The Bittern refused to show, in fact very few birds could be seen at all in the reeds and pools in front of us. We did see three White-fronted Geese feeding out in the meadow some distance away and we saw a flock of some 5-600 Golden Plover flying over.
a Northern Lapwing with out of focus Common Redshank and Common Snipe
Common Redshank with Northern Lapwing and Common Snipe out of focus
We then gave up and decided to give some of the other hides our attention before having a second shot at Bittern-spotting later. So over the next hour and a half, we got a soaking, we saw quite a few more birds and we returned to the car for a coffee around 11am. Looking over the south Lake from two different hides we added Black-tailed Godwit, Greenshank, Common Pochard, Lesser BB, Common and Herring Gulls to the list.
Grey Wagtail
After our coffee break we set off for a second round of the hides, we saw a Grey Wagtail in the pool outside the main entrance as we re-entered the Centre. The Rushy Hide gave us a couple more sightings as we added Pied Avocet and Common Snipe to the list. The Martin Smith Hide still failed to provide a Bittern but we added Little Egret and we saw that the White-fronted Geese were much nearer now, so we walked to other hides to take some pictures of the geese. Along the way we peeked into a small compound from a 'blind', bird feeders we supplying Blue and Great Tits, also Goldfinches, Dunnocks and Robins with free handouts.
elegence personified - the Northern Pintail Duck
Nigel lingered at the blind and when he caught me up in the next hide he produced his camera to show a wonderful shot of a Water Rail. Apparently someone told him that the Rail was showing there and he failed to inform me.
Nigel's picture of the Water Rail that I did not see!
I got some much better pictures of te WF Geese and returned to the Martin Smith Hide for one last go at seeing the Bittern. We were entertained by a Little Egret taking a bath, a Sparrowhawk flew past the hide windows but not much else happened, we left Slimbridge around 12:30.
a much closer view of the White-fronted Geese
bath time for the Little Egret
Next we drove to Chew Valley Lake which took us nearly an hour instead of the usual 30 minutes, traffic on the M5 and through Bristol was pretty heavy. We headed straight to Woodford Lodge where Nigel wanted to sign up for a bird-watcher's permit. It is very good value there, for £15.50 you can buy a permit that lasts for 6 months, you have access to all the hides and gated tracks and you have free car parking at the picnic areas.
adult Yellow-legged Gull taken at Heron's Green causeway, Chew Valley Lake
We set off for Heron's Green were we hoped to see a LESSER SCAUP which had been hanging around for the last few days. Scanning through hundreds of Tufted Ducks we eventually found a female Greater Scaup but not the male Lesser Scaup as we had hoped for. We did find two Green Sandpipers, more Common Pochards and an adult Yellow-legged Gull.
Greenshank with Black-tailed Godwit, Northern Lapwing and a Northern Shoveler
We then used our new permits to enter a private gated track (we now have the combination for the locks on the gates) and drove out to Nunnery Point where we had noted the Greater Scaup. We hoped that the Lesser Scaup was lingering out there, but it was not. We did note a couple of Redwings as we drove around there.
Greenshank again
Lastly we visited Herriot's Bridge, this was the place where the Lesser Scaup have been 'scoped from earlier today, seen from a great distance we heard. Well we could not pick it out, neither could half-a-dozen other birders. We added Great Egret, another Water Rail, Little Grebe, Marsh Harrier, Long-tailed Tit and lots more Common Gulls to our list before we gave up.
Black-tailed Godwits and Northern Lapwings
Nigel drove me home and we got back around 5pm, he then drove back to Chepstow. We went to all the right places today but not necessarily at the right time, Who's fault was that, you may ask? Nigel's of course, when things go wrong it is never my fault and I wasn't driving!