STOBOROUGH HEATH – RSPB ARNE – STUDLAND BAY & BEACH – 'OLD HARRY' ROCK
WEATHER: a dreadful start to the day, dull, overcast and rain! Brighter later, clear sky by 3pm.
We set off from the hotel at 8am in the rain, everyone was wrqapped up in warm clothing and waterproofs. We drove the short distance to Stoborough Heath, a National Nature Reserve on land owned by the National Trust, that lies adjacent to the RSPB Arne reserve. The rain eased off as we began the walk and after 10 minutes or so it had stopped. Our first bird-sighting was a DARTFORD WARBLER, marvellous this was exactly what we had come for, it showed well but briefly but over the next hour we saw a couple more and for longer.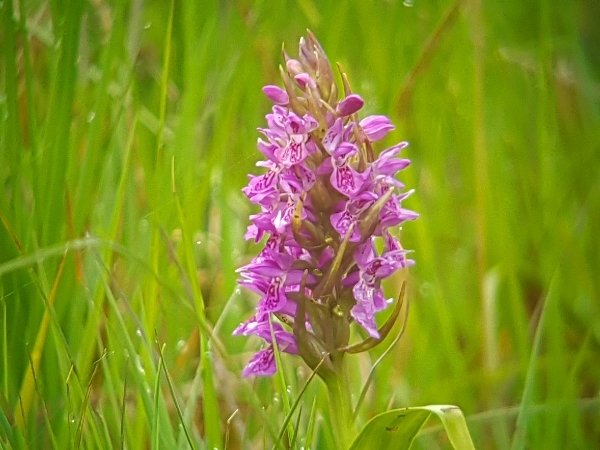 EARLY PURPLE ORCHID
Common Stonechats were again easy to find and easy to see, so was Tree Pipit and we also saw Goldfinch and some Linnets. A few fly-over birds included Grey Heron, Common Shelduck, Common Buzzard and Carrion Crows. Back at the bus we found quite a few Early Purple Orchid and a Common Chiffchaff, a Blackcap sang but we couldn't find it.
When we arrived at Arne about 20 minutes later patches of blue sky appeared above us, it was a lot brighter and things looked promising. Even better was the sighting of a FIRECREST near the toilet block but not many saw it, it was a brief sighting.
Common Chiffchaff
Around the car park we added Blackcap, Song Thrush, Blue Tit, Great Tit and Chaffinch to the day list. We then took the farmland walk down to Shipstal Viewing Point, along the way we added a star bird to our list when a HOBBY dashed across a field, some Jackdaws chased it over a row of trees.
From Shipstal Point we had commanding views over Poole Harbour with Brownsea Island, Long Island and Furze Island clearly visible in the hazy light. A flock of around 80 Black-tailed Godwits flew over just before we arrived there. Out in the muddy channels we saw more Black-tailed Godwits, Common Shelduck, Redshank, Oystercatchers and three species of gulls, Black-headed, Herring and Great Black-backed Gull. Several Common Terns were fishing and a Great Cormorant sat on a sandbar with about fifty Herring Gulls, a Pied Wagtail fed on the same shoreline.
Oystercatcher
Our walk back turned out to be more interesting than the outbound journey as we found several nice woodland species in the shape of; Eurasian Treecreeper, Eurasian Nuthatch (a family party), Green Woodpecker, seen by some of the group but not by all. We also tracked down a Common Cuckoo, I got it in the scope, but before anyone could see it, it flew off never to be seen again.
walking up to the view point above Old Harry Rock
We ate our picnic lunch at the RSPB Café, sitting in the broken sunshine enjoying the lovely ambiance. A few butterflies appeared, Large & Small Whites, Brimstone, Speckled Wood and a Holly Blue.
For the afternoon we drove around to Studland Bay, parking near the famous 'Chain Ferry'. A boardwalk led us through a reed-bed where Reed Warblers were calling, we saw one in flight but very briefly. Sandwich Terns were added to the list at the ferry and we 'scoped a group of Sanderlings on a distant sandbar.
It was now quite warm but a strong breeze was blowing as we made our way to Studland Village where we parked in the National Trust Car Park near the start of the walk to Old Harry Rock.
Old Harry is a white limestone rock separated from the mainland by a narrow gorge, it has a tunnel through like Durdle Door. We set off with about half-a-million tourist but despite the disturbance we saw some good birds.
Old Harry
looking south from Old Harry
Skylarks were singing above us, we tracked one or two down and the same went for Common Whitethroat, they were more obliging as they sat out on the top of bushes. At the Rocks we found Rock Pipit, a few Sandwich Terns but not much else other than feral Pigeons and gulls. It was a super walk in lovely sunshine, we all loved. My ten 'girls' decided to have a beer at the pub next to the car park, it just like being out with lads, smashing!
my 'hard core' birding group?
We got back to the hotel at 5:30pm in readiness for dinner at 7:30pm – what hard core birders these girls are'!