PENZANCE TO ST MARY'S ON THE SCILLONIAN – AFTERNOON WALK TO PENINNIS
WEATHER: a beautiful clear start, with light winds and quite warm.
Despite a weather warning of 'Rough Seas' issued by the Isles of Scilly Travel Company we all braved the trip on the Scillonian III. Luckily it paid off, we had a wonderful trip, lots of sightings. It was a bit rocky at times but not one of our group of 8 were sea-sick!
We all met at 8am, in good time to board the Scillonian at Penzance Quay, it was calm and we had a clear blue sky. Once onboard we noted a few species around the harbour suc as, Grey Heron, Little Egret, Cormorant, G BB Gull, Herring Gull and a Kingfisher.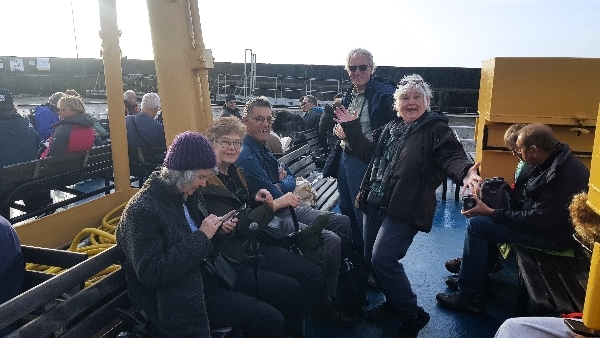 five of the group
We adopted a spot on the boat which sheltered us from the sea-breeze and we had some nice sightings, it was slow at first but later on we were surrounded by Shearwaters! We picked out lots of Common Gannets, Kittiwakes, Razorbills and Guillemots before we finally found the shearwaters. A few pods of Dolphins were also seen but we never saw a Seal?
two pics of Cory's Shearwater taken by Phil Naylor
The most common shearwater species was the Cory's, we saw at least 50 and as we neared St Marys we saw a raft of about 30 Cory's sitting on the water. Balearic Shearwater sightings outnumbered Manx Shearwater sightings, and we saw at least 3 Grey Phalaropes. A single Great Shearwater was picked out but we never saw a Sooty. As we approached the islands we added Shag and Sandwich Tern to the 'crossing's' list.
record shot of one of four Balearic Shearwaters showing the 'dirty' underwing - taken by Phil Naylor
Once we were back on terra firma we walked into town and before buying lunch and walking up to our Guest House we had a quick cuppa. We ate our picnic lunch in the sunshine sitting at the garden bench whilst watching several butterfly species. Red Admiral, Speckled Wood, Large and Small Whites and Holly Blue butterflies were recorded in the garden. We had seen a Hummingbird Hawk Moth on the way to the guest house.
Pulpit Rock on Peninnis Head with Giant's head in the background
We commenced our first birding walk at 2pm and set off along the track to Peninnis Head, we saw Painted Lady Butterflies and another Hummingbird Hawk Moth near the hospital. The track was busy with common bird species, Goldfinches, Linnets, Starlings, Meadow Pipits, Robins, Wrens, Dunnocks and Blackbirds.
Old Town Beach - late afternoon
At Peninnis Head we searched the bracken and bramble scrub for other species, we came up with Stonechat, Whinchat and Northern Wheatear (4). Along the wall adjacent to the main pathway we found a Wryneck sitting on top of the wall, it show very well until it flew off behind the wall.
bunches of Amaryllis Belladonna are growing all over Scilly
Walking down the path to Old Town Bay we stopped to watch waders on the rocks, Oystercatchers were joined by Turnstones and a single Greenshank. Meadow Pipits and Stonechats kept us busy and as we approached Old Town Beach we added Curlew and Common Kestrel to the list.
a visit to see Harold & Mary Wilson's Graves at Old Town Cemetary
a quick shot of the Wryneck - taken by Phil Naylor
Old Town Café was closed, so no coffee and café for us. We walked round to the 'Standing-Stones Field and looked there for Whincats or Shrikes and saw zilch. A Willow/Chiff was all we saw. It was now approaching 5pm so we walked up the hill back to the Guest House to complete our first day.