TRANSFER TO ST MARTINS – WALK FROM HIGHER TOWN TO LOWER TOWN AND RETURN – BOAT BACK TO ST MARY'S – OLD TOWN AND LOWER MOORS
WEATHER: another misty day but without the wind, again it cleared around lunchtime. Temperature a little warmer 15C
From the Quay on St Mary's we counted 10 Sandwich Terns sitting on buoys in a very calm marina, we then boarded the boat to St Martin's. We listed the usual Northern Gannet, Shag, Cormorant, Oystercatcher and Curlew during the 40-minute boat trip.
We landed at the quay on St Martin's, the 5th and final inhabited island in the group, we had now visited them all. The main track led us through Higher Town then along the coastal path towards Lower Town and to the site where a Rose-coloured Starling had been frequenting for the last few days.
We 'set out our stall' just below Lower Town in a valley behind the beach and it wasn't long, about 5 minutes, before a flock of Starlings arrived and with them was the ROSE-COLOURED STARLING,
not the pretty bird shown in the field guides but a juvenile Rose-coloured Starling
it showed very well for about 5 minutes whilst devouring blackberries before flying off into a nearby Pittosporum tree (shown). It stayed another couple of minutes before disappearing and not returning within the next hour. We all had great views of it.
After our great result we walked up the hill into Lower Town and had a nice cup of coffee. During our walk-about on St Martin's and during our starling-watch we listed many common birds, a couple of Grey Seals, Rabbits, a good variety of mushrooms and toadstools and both Small White and Speckled Wood Butterflies.
An aberrant form of the Speckled Wood - there are many aberrant forms of this species in Europe
Other birds seen whilst we walked the tracks and trails on St Martin were Blackcap, Barn Swallow, a Peregrine Falcon that swooped down into a field but failed to catch anything. We also saw Eurasian Sparrowhawk, Raven, Common Kestrel, Meadow Pipits and Northern Wheatear.
The Isels of Scilly are well known for growing flowers for the Market - this is 'Jersey Lily' - Amaryllis belladonna, a nice sight to brighten up a dull day
We caught the 2:30pm return boat and after a short break back at the guest house we were off again birding in Old Town. The churchyard was as still as death, which was quite appropriate considering where we were. Not a leaf moved in the trees, perfect for warbler watching, but alas not a single warbler was seen.
one of the many Toadstools seen on St Martin's
Near the Lower Moors entrance gate we watched a dozen or so Wagtails feeding around a few Galloway Cattle, we saw many White Wagtails and our first Yellow Wagtail of the trip. In a field on the other side of the track we watched a couple of Whinchats and a single Stonechat.
a Greenshank seen from the hide at Lower Moors
We spent our last half-an-hour of the day watching from the hide on Lower Moors, we saw a small number of Common Snipe, one of which was later claimed as a Wilson's Snipe by a guy sitting in the hide with us. We also saw Greenshank, Moorhen, Grey Heron and another Common Kestrel.
a nice reflection shot of the Common Snipe
Our last bird news of the day was of a Merlin which was found perched on a roof and was brought to our attention by a number of people. Unfortunately, it flew off as we approached but then we relocated it on another roof about 3 doors down from our guest house!! A Merlin on a roof is a bizarre sight and not often seen in the wilds of the UK.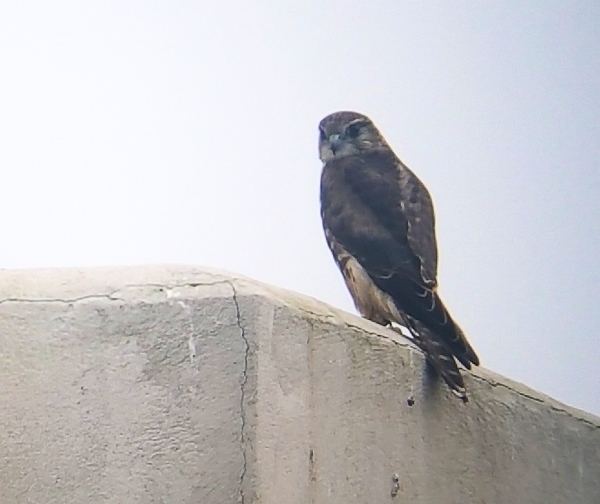 the Merlin seen on a roof near our Guest House, Hugh Town, St Mary's
Well that concluded our excitement for the day and also our last full birding day because tomorrow we all leave for home. With news of a Buff-breasted Sandpiper hitting the grapevine today we may have time to look for it in the morning before we leave the islands.