ANOTHER VISIT TO THE RIVER, SITTING UNDER OUR FAVOURITE TREE. WE DIDN'T STAY TOO LONG BECAUSE IT WAS VERY HOT DOWN THERE, 40C
Dawn's sister, Celia, is with us for a week and she was quite keen on visiting the river hoping to find some cooler places to sit. The village and the house were stifling today, you could have raosted a chicken on the bonnet of the car.
We sat beneath the ash tree at the Rio Guadiaro at Estacion de Cortes, the usual cool breeze was not present today. Instead we had hot blasts of air from behind, sweeping down from the mountains and trying to cook us.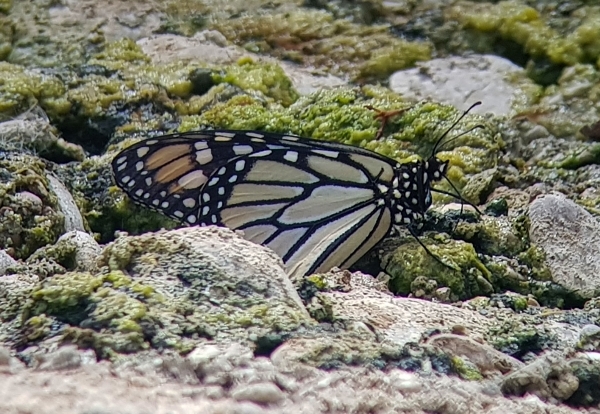 this Monarch Butterfly landed by the river, taking up minerals from the wet mud
About 3pm the wind began to pick up and we were hot-air blasted for about 30 minutes before we were forced to leave. The wind really did pick up and we had a very windy evening. It was still blowing a gale when we went out for dinner at 8pm (apparently this blew up a storm which hit the east coast and Majorca overnight and this morning (27th).
Common Blue above and Lang's Short-tailed Blue below
Lots of dragonflies and butterflies were on the wing and quite a few birds were coming down to drink at the water's edge. Many Willow Warblers, Bonelli's Warblers, Chiffchaffs, finches, wagtails were noted. Once again we never any migrating raptors or Bee-eaters.
Cetti's Wartbler
the large Carpenter Bee with its irridescent wings
Spotted Flycatcher - my first of the autumn migrant flycatchers
see if you can spot: Willow Warbler, Bonelli's Warbler, Chaffinch and 2 Goldfinches.
Bonelli's Warbler
Blue Tit and Bonelli's Warbler