FILIA RADIO MAST – LARDIA GORGE – ERESOS CROSSROAD – IPSILOU MONASTERY – SIGRI FIELDS – FANEROMENA UPPER FORD AND UPPER FIELDS – KALLONI SALT PANS & ALYKES WETLAND
WEATHER: another bright sunny day but it was very windy on the western side of the island Temp 20C
Our biding today was spoilt somewhat by the strong winds, it made it impossible to find many of the small passerines that were on our target list, we had a frustrating day.
Our first stop was high up on the mountains above Kalloni where a track leads you past a radio mast and where an oak woodland straddles the crest of the ridge. It is a well known site for Eastern Bonelli's Warbler but we soon realised that we were not going to see one because of the wind. We did hear one or two and we did find a few common species but not the warbler, a Cirl Bunting was nice to see just as we left.
THE VIEW FROM FILIA RADIO MAST DOWN TO THE VILLAGE OF FILIA
This was the pattern of our whole day, we had to look for sheltered spots to find anything. We stopped at Perivoli Monastery for a very quick look, it was sheltered down there but not many birds had realised this. A couple of the group saw a Eurasian or Wood Nuthatch and not much else. There was a little more shelter in the Lardia Gorge, we watched Crag Martins, Red-rumped Swallows and we had great but brief views of Eastern Bonelli's Warbler at last. Both Rock Sparrow and Blue Rock Thrush remained out of sight but Black-eared Wheatear showed well.
THE COLOUR VARIATION OF THE EASTERN BLACK-EARED WHEATEAR IS AMAZING, THIS ONE LOOKS ALMOST BALCK AND WHITE WHILST OTHER ARE REALLY ORANGE-BROWN, BLACK AND WHITE.
Next we stopped at the crossroads where you can turn off for Eresos, this is an open area with scattered bushes and low growing scrub. The Isabelline Wheatear breeds here, we found several very quickly, the birds were up displaying despite the windy conditions. We also watched a Woodlark bringing food down to its chicks in the nest on the ground, found by Jo.
There was a swirling gale at Ipsilou but because of the nature of the pinnacle that the Monastery sits on, there was always going to be a lee-side where t wasn't blowing a gale. We climbed up the winding road to the monastery and found a sheltered area. It was very disappointing not to find a host of passerines feeding there, the only migrants we saw were about 15 Golden Orioles what a great sight they were in the sunshine. We also found Rock Sparrow, lots of Black-eared Wheatears, Eurasian Hoopoe and more Cirl Buntings.
A POOR SHOT OF THE ROCK SPARROW,NOTE THE DIAGNOSTIC YELLOW THROAT PATCH
Near the top where the woodland gave way to open scrub we had brief views of Cinereous Bunting, we could hear this little beauty singing but it was so hard to locate. We had much better views of it on the 'windy' side of the pinnacle as we walked down. Other birds seen were lots of Ravens, distant Long-legged Buzzards and a single Eleonora's Falcon, that cheered us up a little.
We ate our picnic lunch in a sheltered area along the road to the Petrified Forest, we found shelter near a small pool where Cretzschmar's buntings were bathing. We had had very close views of Cinereous Bunting on the approach road and there were more Black-eared Wheatears than you can imagine. After lunch we drove to the visitor's centre which was closed as it was Easter Monday in Greece, but we found Little Owl and on the way back we had great views of our main target species the Chukar. A group of 7 Lesser Kestrels were feeding in the valley below us but they struggled with the windy conditions, it must be a hard life for them on windy days.
THIS VERY OBLIGING CRETZSCHMAR'S BUNTING JOINED US FOR LUNCH
Our visit to Sigri was also a windy affair, we walked the tracks around the ford seeing very little we didn't stay too long. At the ford we saw our first and only Flycatcher, the Spotted variety and our efforts along the tracks produced a singing Eastern Orphean Warbler (we saw both male and female), Common Whitethroat and a single Lesser Whitethroat. We also saw a few Black-headed Buntings, Masked, Woodchat and Red-backed Shrikes, Corn Buntings and Crested Larks. A very large flock of Jackdaws were seen flying around the area, we also saw Short-toed Eagle, Common Kestrel and a couple of European Bee-eaters.
WE STOPPED TO LOOK FOR ORCHIDS AT ONE SITE AND FOUND THIS LIZARD ORCHID
The group were now fed up with the windy conditions and so we decided to head back to Kalloin Salt Pans, it took an hour to drive there from Sigri. We searched for a Broad-billed Sandpiper which had been seen all day until we got there!! We did find three new species of wader for our list: Dunlin, Sanderling and a very 'red' Curlew Sandpiper what a super bird that one is. Walking in the Sheep Fields behind the salt pans produced a lot of previously recorded species, the Red-throated Pipits looked particularly good in their resplendent summer outfits.
ANOTHER OF OUR ORCHID FINDS, BULL HEADED ORCHID
A quick stop at the ford over the river Tsiknias just east of Kalloni produced more Black-headed Buntings, another Little Owl but not the Lesser Grey Shrike we had hoped for. A large flock of fifty European Bee-eaters flew over us very high and the river mouth sand-bar had 4 Mediterranean Gulls sitting on it, two of them were in their beautiful summer plumage.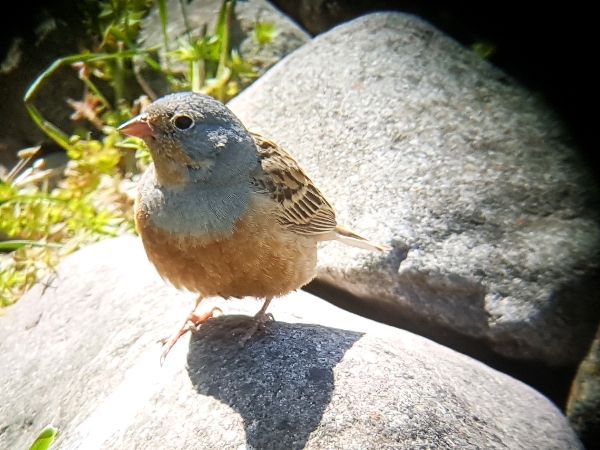 I COULDN'T RESIST PUTTING IN ANOTHER SHOT OF THIS BEAUTY
We called it a day around 6pm, it had been an enjoyable but frustrating day, wind swept we returned to the hotel for cold beer, aaaaaaaaaaahhhhh!