EASTERN KALLONI SALT PANS - MESA MARSH - ACHLADERI - POLICHNITOS SALT PANS - VATERA - WESTERN KALLONI SALT PANS It was another lovely, warm, sunny May day, tee-shirt and shorts birding, oh such fun!
We took a pre-breakfast walk round to the River Christos Marsh, it was quite chilly but the light was good. A selection of waders foraged in the shallow brackish water, one species, Ruddy Turnstone was a new addition to our trip list which was now hitting 140. Other species on show were; Little Stint, Curlew Sandpiper, Wood Sandpiper, Kentish and Ringed Plover and Ruff.
The eastern section of the Kalloni Salt Pans can be very productive, you have the sun behind you and good light in the mornings. We saw many species, both the Shelducks, lots of waders, egrets, herons, flamingos and gulls. White-winged Tern was new for us and caused some excitement.
at the eastern side of the Kalloni Salt Pans
Mesa Marsh is a short hike from the Pans, we hoped to see the Garganey that had been present for some time but they failed to show. Purple Herons were in good numbers but the star bird was a MARSH SANDPIPER, what a little stunner. We also saw Woodchat Shrike, Zitting Cisticola and many common marsh birds. Across the main road from Mesa we could view another saltmarsh on the banks of the Gulf of Kalloni and to our great surprise we found a SPUR-WINGED PLOVER feeding on the shore of a lagoon, this was an amazing find!
the lovely MARSH SANDPIPER
MARSH SANDPIPER with Wood Sandpiper
Before reaching Achladeri we stopped to photograph some amazing poppy fields, the extraordinary fields were carpeted with a deep crimson red. Birds were also amazing, we found Orphean Warbler and Long-legged Buzzard.
At achladeri pine forest we searched for a Lesvos Speciality, the KRUPER'S NUTHATCH, it took nearly an hour to locate one but we did, a superb male. Other species seen whilst searching included; Short-toed Treecreeper, Long-tailed Tit, Woodlark and Cirl Bunting.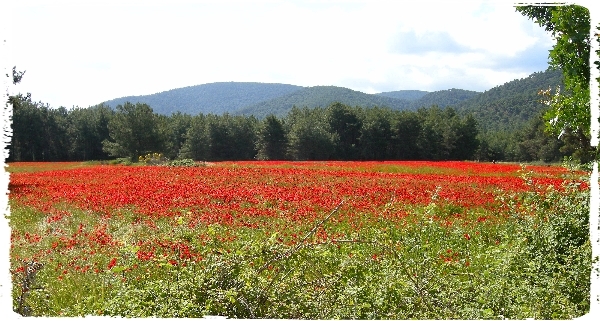 Poppy Fields near Achladeri
We made our way towards the Salt Pans at Polichnitos stopping a couple of times to watch from various vantage points, our route took us along the southern shoreline of the Gulf of Kalloni. We added Ruff, Temminck's Stint, Little Ringed Plover and Black-headed Bunting to our day list at a small laguna. In some 'ancient' olive-groves we added Masked Shrike and the elusive OLIVE TREE WARBLER, anothre great species in the bag.
Great White Egret at Mesa Marsh
Vatera was a bit disappointing, the wind had picked up somewhat which made birding difficult, however we saw Sardinian Warbler, a few distant Yelkouan Shearwaters and a European Shag.
Before we returned to the hotel we went back to the Salt Pans, a very wise decision because along with a good influx of waders we found a Red-necked Phalarope, a Lesvos tick for me and only the second ever for Lesvos, whoopee!
Dinner was a joyous occassion as we celebrated a great day out.