My old favourite track turned up trumps this morning, a smashing list of bird species and a superb abundance of butterflies too.......
I was up early at 7am and by 8am I had done my morning's excercise by walking up to Gaucin Castle 3 times and after a nice bowl of porridge I was on my way to Ronda.
The weather was just a typical beautiful June morning with scattered high white fluffy clouds, warm with lots of sunshine. Butterflies were on the wing at 9:30am when I arrived they were everywhere but my main targets today were birds and boy did they perform. I can't ever remember getting as close to SOUTHERN GREY SHRIKE as I did this morning, it was great to see them feeding fledglings, another successful breeding season.
In fact there must have been something in the air because a lot of birds let me approach them and gave me time to digi-scope too. WOODLARK, CRESTED LARK, BLACK-EARED WHEATER, SPECTACLED WARBLER and ORPHEAN WARBLER were all in still in song, whilst my main target bird ROCK THRUSH was performing its display flight whilst singing, it was the only bird to remain at quite a distance.
SPECTACLED WARBLER
Other species seen were: LITTLE OWL, SHORT-TOED EAGLE, COMMON KESTREL, THEKLA LARK, LINNET, GOLDFINCH, GREENFINCH, WOODCHAT SHRIKE, STONECHAT, BLUE ROCK THRUSH, PALLID & COMMON SWIFT, BARN SWALLOW and CRAG MARTIN.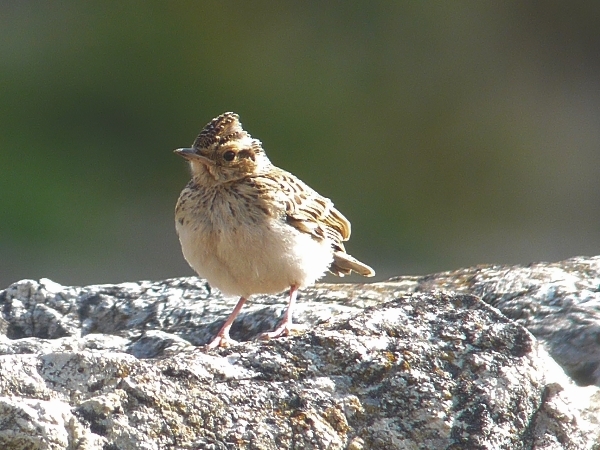 WOODLARK
BLACK-EARED WHEATEAR
IF YOU USE THE ZOOM AND SOME ID SKILLS YOU CAN SEE A ROCK THRUSH HERE! DIGI-SCOPED AT 1/2 MILE
DISTANCE
I think this is a worn Libelloides sp. probably Libelloides coccajus, family: Lacewings
SMALL SKIPPER