TRANSFER FROM OURIKA VALLEY TO BOUMALNE DADES, PASSING THROUGH THE TIZI-N-TICHKA HIGH PASS WITH MANY STOPS INCLUDING QUARZAZATE RESERVOIR
.WEATHER: another glorious day, chilly start but warm and sunny later, light breeze.
We had a much more successful day today, finding all of our target species plus a few extra bonus birds. We took breakfast at 6:30am and set out at 7:15 for the very long trip to Boumalne Dades, we planned to break up the long journey with many stops and a long lunch break.
After 15 minutes on the road we stopped in the Ourika Valley at a good site to search for the Levaillant's Woodpecker. It wasn't long before we heard at least two birds calling but it took quite a while to see one. In the meantime, we listed a good dozen or so common birds as well as a couple of migrants, including Yellow Wagtail (Iberiae), Blackcap and Both Barn and Red-rumped Swallows. Local Cetti's and Sardinian Warblers were seen by a few of the group and a single Common Nightingale sang for quite while before we got to see it.
Yellow Wagtail
The woodpecker frustrated us for a while longer before we got it in the scope, it was distant but perfectly viewable. A flock of Little Swifts circled above us and we added Great Spotted Woodpecker just before we left with target number 1 in the bag.
Our next stop wasn't too far, about 15km further along the road, we stopped where the roadside scrub fell away steeply to our left and a magnificent panoramic view could be had of miles of countryside and farmland. We soon listed Barbary Partridge, Magreb Magpie, Sardinian and Subalpine Warbler and a single Common Cuckoo. Also Thekla Lark, Linnet, Corn Bunting, Cattle and Little Egret soon joined the list.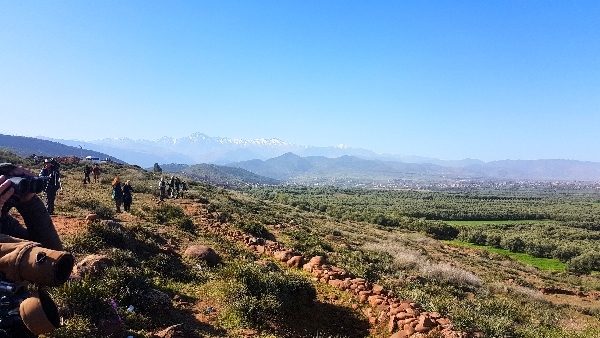 birding the scrubby slopes with the High Atlas behind us
It was a little while later when we finally found our main target bird, the Great Spotted Cuckoo, two birds showed distantly but they were very obliging and flew much closer, they perched for a few seconds before flying off. We also listed Common Quail (Heard), Booted Eagle, Common Stonechat, Goldfinch and a Great Grey Shrike (algeriensis).
One very interesting sighting was that of an Elephant Nose Pygmy Shrew, a mammal lifer for me, it sat out sunning itself for a good while, showing very well.
African Elephant Nose Pygmy Shrew
Over the next two hours we drove through the Tizi-n-Tichka pass stopping once to watch a small passage of Booted Eagles and then after we were through the pass we stopped for lunch. Sitting on an outside terrace we enjoyed the sunshine although the breeze was rather fresh. We saw Black Wheatear from the terrace and a large 'kettle' of Black Kites high above us, we counted 141 kites and a single male Marsh Harrier was in with them.
a record shot of a Barbary Partridge
A walk in alpine woodland adjacent to the restaurant provided views of the expected Common Crossbill, also a single sighting of Bonelli's Warbler, a Willow Warbler in full song, lots of Serins and many African Chaffinches and Blue Tits.
We soldiered on through the barren countryside as we dropped down from the mountains to the open stony-plains around Quarzazate. White-crowned Wheatears were very common they seemed to be on posts every kilometer or so. We then made our last two stops of the day and both we near the shore of the huge Reservoir to the east of Quarzazate.
the pine woodland where we saw Common Crossbill and other species
It wasn't terrific birding but we added a good number of new birds for the trip list. On and around the water we saw Great Crested and Little Grebes, Ruddy Shelduck, Great Cormorant, Grey Heron, Little and Great Egrets, an Osprey and a single Green Sandpiper.
the view from our lunchtime terrace
On the dry desert area around the reservoir we found White-crowned, Black-eared and Desert Wheatears. It we 6pm when we started the last leg of the journey which took another 90 minutes.
We ate a delicious dinner at 8pm after running through the bird log. Tomorrow will be much more relaxing with very little travel involved.