TRANSFER FROM OURIKA VALLEY TO BOUMALNE DU DADES WITH STOPS ALONG THE WAY AND VIA TIZ-N-TICHKA PASS AND QUARZAZATE
WEATHER; sunshine all day, a nice breeze. Top temp 25C
Another great day weather wise but unfortunately we were travelling during most of it. We made the best of our short birding excursions throughout the day and added quite few new birds to our list.
At 6:30am most of us met up, Chris thought we said 6am for meeting up and consequently he set off at 6am on his own! Sandra stayed in bed. The rest of us watched a few species from the terrace of the hotel, such as Grey Wagtail, Cattle Egret, Common Bulbul, Blackcap and Chaffinches. We then heard the plaintive call of the Levaillant's Woodpecker, it came from along the road so off we set.
It took a while to nail the bird down, we did see it in flight a couple of time and we decided in the end that there was three induvial birds giving us the run around. We also got good views of Great Spotted Woodpecker, Hawfinch, Grey Wagtail, Common Kestrel, Serin and some of the group saw Rock Bunting, including Chris who returned to the flock after his solo effort (he did see the woodpecker).
Common Bulbul - delightful, noisy characters! They get into everythng in small packs
Back on the terrace of the hotel and the woodpecker called again from quite close quarters, we found it on top of the chimney of the hotel above ours, some 150ft above us. After a delicious spread for breakfast we set off for the long journey ahead of us, but it wasn't long before we stopped at our first birding site.
Levaillant's Woodpecker on the chimney of a house
On the side of the road we had a terrific vista back to the snow clad mountains and below us agricultural land spread for miles. Immediately below was a small section of scrub on a fairly, steep sided slope. In the this scrub we searched for warblers, finding Sardinian and Spectacled Warblers also Thekla Lark, Common Stonechat, Woodchat Shrike and Magreb Magpie.
on the scrubby slope with the High Atlas mountains behind us now
Barbary Partridge was quite elusive but we eventually had short views of a few and some of the group ventured further down the slope and found Corn Bunting, Common Nightingale (in an olive grove) and a Little Owl. Zitting Cisticola was also heard but not seen.
Sardinian Warbler
Driving on we made a stop alongside a wooded ridge where, in the past, I have seen many raptors. Today it wasn't so busy we were knocked out by the appearance of a pair of Lanner Falcons, they sat on top of the ridge and performed well. Then two dark morph Booted Eagles appeared, they circled for a while but never seem to go anywhere.
Thekla Lark from ealier this morning
A little later we saw one of the Booted Eagles mobbing a larger eagle which turned out to be an adult Bonelli's Eagle, a Kestrel joined the affray for a short spell. We also found a couple of Common Crossbills in the nearest pines and we logged a few more butterflies including: Cleopatra, Brimstone, Western Dappled White, Plain Tiger and a few common whites. Earlier we had seen Provence Hairstreak, Painted Lady, Moroccan Orange-tip and Greenish Black-tip.
We put a couple of hours on the road and after we had driven up and over the Tiz-n-Tichka Pass we stopped for lunch at a roadside restaurant where the food was fabulous. We made an ice-cream stop and saw Woodchat Shrike and Hoopoe and we also stopped to admire a magnificent Short-toed Eagle sitting on a pylon.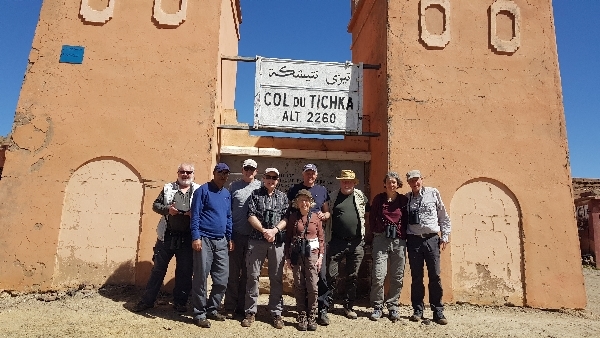 my motley crew, at the summit of the Tichka Pass
We made to the reservoir at Quarzazate around 5pm and spent almost an hour scanning the water and the shoreline. We found a few species but not too many. An Osprey was nice to see and dozens of Great Crested Grebes dotted the water. A couple of Mallards, a few Great Cormorants, a single Ruddy Shelduck, a Ruff and a White Wagtail was all we managed to find. Lots of House and Sand Martins joined Barn Swallows skimming the water and we found one Gull-billed Tern.
the reservoir at Quarzazate was quite barren, we saw more Vagrant Emperor dragonflies than birds
The rest of the journey was done at speed, we noted several White-crowned Wheatears on posts and buildings and a single Black-eared Wheatear. An African Common Buzzard was the last of our sightings for the day. We arrived at the wonderful Riad Tumast at 7pm in the dark as expected! Dinner was superb and an early night was most welcomed by all.