ANGLESEY ALL DAY – WITH VISITS TO SOUTH STACK – PENHORS COUNTRY PARK – CEMLYN BAY AND HOLYHEAD HARBOUR
WEATHER: glorious sunshine all morning, then some cloud and more sunshine later. Very light winds. Top temp 20C
What a fantastic day we had today, the weather was just perfect for our first visit to Anglesey and our first morning walk of the trip. We met at 6:30am just outside the hotel and watched the feeders for a little while, Greenfinches, House Sparrows, Blue, Great & Coal Tits came to them and a party of Long-tailed Tits flew past along the hedgerow.
Greenfinch on the feeders
We walked down to the River Conwy and along the raised embankment to look for Goosander and Common Sandpiper, neither of which decided to turn up this morning! We watched Sedge Warblers in the sedges, Blackcaps in the trees, we heard Willow Warbler and we had two sightings of Kingfisher and several Grey Herons. The Common Redstarts were not on show either but we did find Common Stonechat, Grey & Pied Wagtails, we watched Common Swifts, House & Sand Martins, Barn Swallows and plenty of family parties of common species.
After our sumptuous breakfast we set off for Anglesey and drove through the mountains into a lot of cloud which covered the sky for the first hour we were there. We made a very quick stop at the Mariner at holyhead to scan for Black Guillemots without success, we did see Herring Gulls and Great Cormorants.
It was 9:50am by the time we parked the bus at RSPB South Stack and sunshine was just breaking through the clouds, the sea was flat calm the air was perfectly still. For the first hour my group were mesmerised by the huge numbers of birds presented to them on the cliffs below us. It was amazing to watch and the sun came out too! A huge mixed flock of gulls and auks formed a huge cluster just offshore, they were obviously following a shoal of fish, we saw Herring, Lesser & Great Black-backed Gulls, Cormorants, Shag, Northern Gannet, Common Guillemots, Razorbills and Kittiwakes.
soime of the group watching the cliff-nesting species
We had excellent views of a family party of 5 Red-billed Choughs, they flew around several times, we watched Fulmars & Kittiwakes on their nests and we found several Puffins on the grassy banks and in the water. It was simply fantastic, my group were thrilled by the spectacle.
Red-billed Chough
We went for a walk along the southern cliff-edge and quickly found Rock Pipits, Ravens sailed past us and a Grey Seal appeared in the beautiful clear water. Several butterflies were on the wing too, we saw Wall Brown, Painted Lady, Red Admiral, Common Blue and Large Skipper. Hundreds of 5 Spot Burnet Moths were everywhere.
Puffin, as if I need to label this picture!!
On the heathland we found several Meadow Pipits carrying food for their chicks, we saw Common Stonechat family parties, we found a Common Whitethroat singing, Jackdaws and Choughs flew over us several times and Barn Swallows dashed across the heath catching flying insect.
the south cliffs at South Stack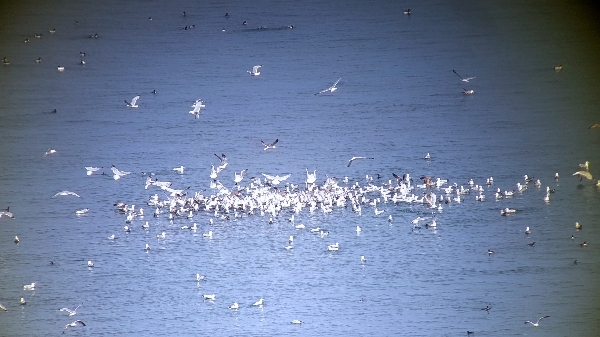 feeding frenzy out to sea
We sat in the lovely warm sunshine to drink a tea/coffee and eat a piece of cake before we left at 12:30pm. On the way back through Holyhead to stopped off to buy lunch supplies at a supermarket before we drove to Penhors Country Park to eat it. Once again we sat out in the sunshine to eat our lunch whilst scanning over the Alaw estuary as the tide came in. We saw over 100 Oystercatchers, four or five Curlews, a single Common Ringed Plover, lots of Sandwich and Common Terns and a few Black-headed Gulls.
Fulmar and razorbills at South Stack
Our walk in the woodland was a bit disappointing, we learned from some locals that the Red Squirrels do not visit the feeders during the afternoon when there are lots of people and dogs around so we were wasting our time looking for them. We did see Jay, Blue & Great Tits, Robin, Dunnock, Wren and we heard Blackcap.
Cemlyn Bay was just as good as the my previous two visits, the terns were very active feeding young birds now, it was complete bedlam out there. Sandwich, Common and Arctic Terns flew in all directions, but mainly into and out of the bay to collect food. The noise was deafening at times, add to that the Black-headed Gulls and single pair of Mediterranean Gulls and you have pandemonium.
terns and gulls at Cemlyn Bay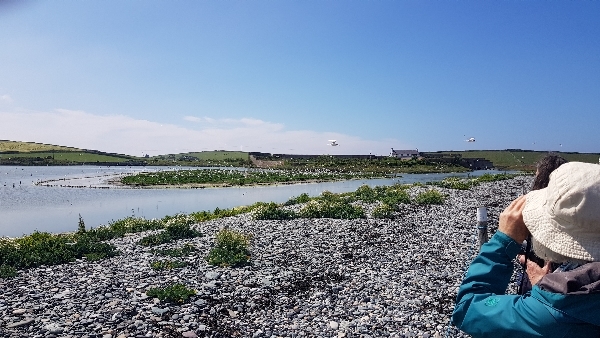 Common Shelducks, Mute Swans, Greylag Geese, Bar-tailed Godwit, Dunlin and to our great delight a single Black Guillemot were also seen during our visit, A chilly wind form the sea made our visit less enjoyable but it was still another great spectacle, once in awhile all the terns and gulls would fly up in a panic, we couldn't see why they did so as no predators were seen, but it was still a spectacle to watch.
Black Guillemots at Holyhead Harbour
Before we returned to the hotel we made a quick visit to the Harbour near the Ferry Port at Holyhead because a few of the group had not had good views of the Black Guillemot. We parked on the side of the port and found up to five of them, four were together at one point! Job done, we returned to the hotel and everyone was happy.