PRE-BREAKFAST RIVER WALK – BETWS-Y-COED RIVER (AFON) LLUGWY WALK – ANGLESEY – CORS DDYGRA – MALLTRAETH COB – NEWBOROUGH PINE FOREST
WEATHER; cloudy with sunny spells, windy on Anglesey. Heavy rain late afternoon. Top temp 14C.
We had a smashing day, it started with drizzling rain and improved all day long except for an annoying strong breeze on Anglesey. It rained hard as we drove back to the hotel at 5pm.
We met at 6:30am for a walk across the road to the river, we intended to walk along the small river into the village looking for Dipper along the way. One of our first sightings was that a female Goosander with 9 chicks, they were adorable. The parent bird moved them along the river away from us and at one stage they panicked and all tried to scramble onto her back, it was hilarious to watch!
Goosander with 9 chicks, how many will survive???
A little further along a Common Sandpiper appeared and a few Mallards fed in the river. Sand Martins, House Martins, Swallows and Swift filled the sky around us. We heard Blackcap and Song Thrush but not much else was singing, I think that the 'singing season' is just about to end if not already!
Common Sandpiper
A Kingfisher dashed in front of us, we saw several Grey Herons and as we approached the village we noted Red Kite high up in the clouds. Our search for a Dipper went unrewarded, we did see Pied Wagtail and our first Moorhen on the fishing pond near the village recreation park.
Our best sighting came as we were almost back at the Hotel. It was Jacqui who heard it first, a Grasshopper Warbler was reeling quite close to the path it then flew from one shrub to another and landed on a fence-post in full view and stayed there for a minute or two. Well, we never expected that!!
Grasshopper Warbler, they don't normally show-off like this!!
After breakfast we drove down to Betws-y-Coed and parked near the Afon Llugwy, we intended to look for Dipper and a few woodland species. After just a few minutes we found a Dipper, it flew up river and out of sight before everyone had a chance to see it. So, we marched along the footpath and relocated the bird, everyone saw it this time. In the meantime a couple of the group found two juvenile Dippers behind us!
The track took us through some mature woodland where we heard several species and we had good views of Goldcrest. At one point the path led us to an open area and Neil found a pair of Common Redstarts, we also had much better views of the Dipper, it came very close to us and wasn't bothered by our presence. On the way back we heard Nuthatch but couldn't locate it and we found Grey Wagtail, Song Thrush and heard the Goldcrest again.
Dipper
From there we drove onto Anglesey and as we progressed it got lighter but the wind increased. It was past 11am when we parked the bus at RSPB Cors (Cors translates to Marsh) Ddygra and we intended to walk a 3 miles circuit before lunch.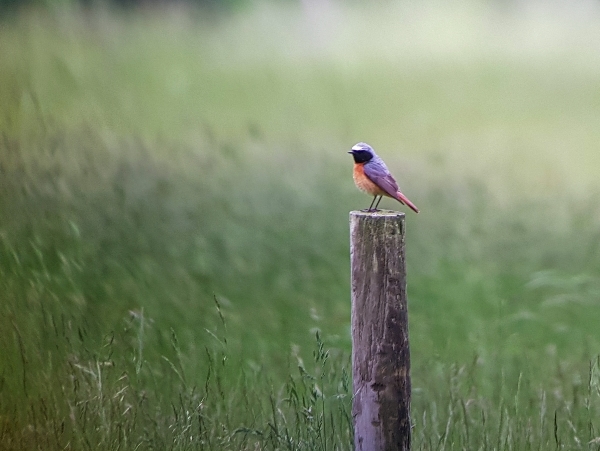 Common Redstart at Betws-y-Coed
The wind kept most birds down and out of sight, we did see plenty of Lapwings with chicks, we saw one Shoveler, a few Greylag and Canada Geese and lots of Mallards. No birds were singing, we had brief views of Meadow Pipit and Reed Bunting and a few Skylarks.
Sedge Warbler
On the main canal through the marsh we saw lots of Mute Swans and more Mallards and heard Common Whitethroat, we watched a Sedge Warbler and a few Linnets, Goldfinches and Chaffinches flitted about.
At one point we walked down an avenue of mature hedges where we found shelter and so did the birds. We called it Warbler Walkway because we heard six Warblers and it. Blackcap, Common Whitethroat, Chiffchaff, Willow Warbler, Cetti's Warbler and Reed Warbler could be heard. We continued with the wind behind us and went onto to get glimpses of Reed Warbler and Cetti's Warbler and a few more Linnets and Meadow Pipits.
Reed Bunting
Marsh Harriers were quite conspicuous through the walk, a pair of them were milling about over the marsh we also saw Common Buzzard, Little Egrets and more Grey Herons. In sheltered spots we found a few Damselflies, also Red Admiral and Speckled Wood Butterflies and a couple of caterpillars of the Drinker Moth.
We ate lunch as soon as we got back to the bus it was almost 2pm by the time we set off for our next destination, the Cob at Malltraeth. Before we braved the strong breeze we stopped for coffee and tea.
Along the Cob it was very breezy, we saw some distant waders such as Dunlin, Ringed Plover, Curlew and Oystercatchers, but not much else. A few gulls, lots of Crows and Shelducks. In the pools we only found Mallards, we did see a Reed Warbler dashing about and Linnets along the path.
The track led us to the car park in the Newborough Woodlands, where a couple of people told us they had just seen Red Squirrel and Common Crossbills. We walked the trails for half-an-hour or so and saw zilch!! On the way back to the car park we found a pair of Bullfinches, a consolation prize I guess.
We set off for the hotel at 5pm and arrived an hour later, dinner was taken at 8pm. At dinner we voted for bird of the trip with Black Guillemot, Goosander, Grasshopper Warbler and Puffin all receiving votes. Tomorrow we say goodbye to Wales as we head off for home.