EARLY MORNING WALK IN THE CONWY VALLEY - WALK ALONG THE AFON LLUGWY AT BETWS-Y-COED - THE UGLY HOUSE WOODLAND WALK - COED HAFOD WOODLAND WALK - RSPB CONWY NATURE RESERVE
WEATHER; can you believe it, sunshine all day in Wales!!! Top temp 22C
We had a smashing weather all day long, a light breeze kept us from roasting and the woodland walks help to keep us sheltered. Our pre-breakfast walk didn't produced much, a few birds were singing and not much at all seen along the river.
The view from our hotel room
seen during our walk this morning - Grey Heron
We walked along the 'old quay' embankments opposite the hotel, Grey Wagtails flitted around the rocks, Grey Herons flew about along with a few Mallards. In the scrub we found our first Sedge Warbler we also had fleeting views of Garden Warbler. Blackcaps, Song Thrushes, Treecreeper, Willow Warbler and Chiffchaff were also heard and a female Goosander flew over the top of us as we neared the end of the walk. House Martins, Swifts and Barn Swallows filled the sky around the hotel and feeders attracted Greenfinch, House Sparrow, Jay, Dunnock and a Grey Squirrel.
Pied Wagtail
After a superb breakfast we drove down to Betws-y-Coed and took a walk along the river, quite a few tourist were already out messing about with pets so a Dipper sighting was unlikely and that proved to be the case. We found a very obliging Goldcrest as we started the walk and heard a few more as we went. Chaffinches, Song Thrushes, Grey Wagtails were very common we also saw Pied Wagtail, Robin and Dunnocks.
Afon (river) Llugwy at Betws-y-Coed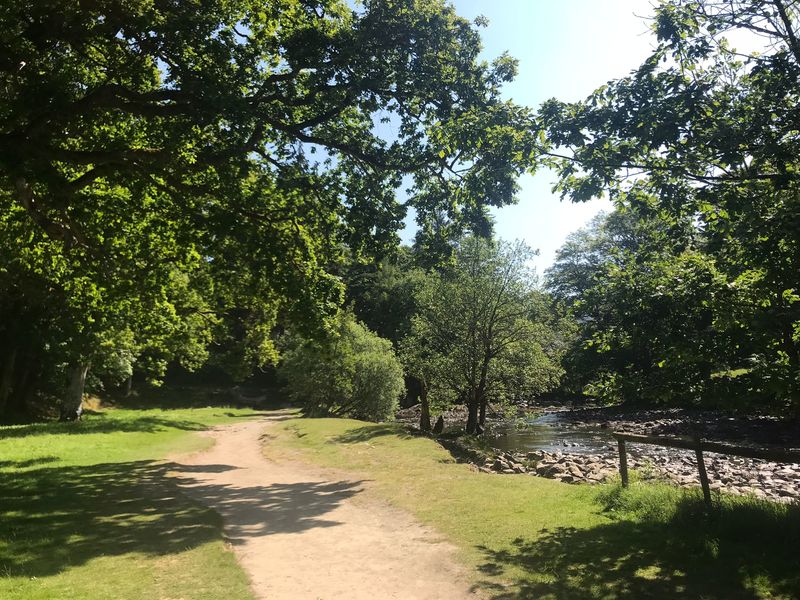 In an open area we found a male Common Redstart, what a beauty, we watched Treecreepers, Mistle Thrushes and I saw a Nuthatch briefly.
Common Redstart
Eurasian Treecreeper
Before we left the area we drove a little way out of Betws-y-Coed to Capel Curig where we visited the Ugly House cafes and gardens. In the gardens there are many nesting boxes provided for Pied Flycatchers and one of the very first boxes as very active with a apir of flycatchers feeding chicks. We watched them for ages, smashing birds. Also seen in the wood was Blue & Great Tits, Blackcap and several common woodland birds.
two views of Pied Flycatcher (female)
Next, we stopped in Betws-y-Coed to buy picnic supplies and then drove to a woodland on the western edge of town called Coed Hafod. It was a mixed woodland with many beech, oak and ash trees, we ate our lunch sitting on logs sheltered from the sun. A sort walk up a steep athway produced very little, I was aead of the group and found our target species, the Wood Warbler, but it had gone before the others arrived. We searched for a while and gave up, the traffic noise was quite bad and low flying RAF planes disturbed the birds too. We saw Treecreeper, Blue and Great Tits, Song Thrush and apir of Commo Buzzards drifted over calling.
Our final destination was the relatively 'new' RSPB Reserve at Conwy, it was formed in 1995 from a disused quarry, two large scrapes provide a haven for waders, gulls and Ducks and it sits adjacent to the Estuary of the River Conwy.
We had coffee and cake in the new café which overlooks the first lagoon where we added a few species to our list such as: Little Grebe, Common Shelduck, Gadwall, Shoveler, Tufted Duck and Little Egret.
Conwt Castle seen from the RSPB Reserve
Great Black-backed Gull, Cormorant, Lapwing, Black-headed Gull and Great Crested Grebe we added from the larger lagoon. We walked the entire loop around the reserve, it was lovely there, sheltered from the strong breeze. Long-tailed Tits went onto the list as well as Reed Warbler, we heard Reed Bunting and a Red Kite circled over us.
the smaller laggon at Conwy Reserve seen from the cafe
An area of Orchids produced three species: Bee Orchid, Pyrammidal and Marsh Orchids. It was a lovely walk to finish off our day and a delicious dinner capped that.
Pyrammidal Orchid
Bee Orchid
not sure of this one - Marsh Orchid perhaps?