AN AFTERNOON WALK IN BENTLEY WOODS
WEATHER: Cloudy at first then broken sunshine. Temp 20C
Yes you read the heading correctly, 'poo-watching' is essential if you want to see a PURPLE EMPEROR BUTTERFLY - find some dog-poo in Bentley Woods near some oak trees and wait for the EMPEROR to come down to feed. Alteratively put down some rotting fruit or scan the canopy of the oak trees.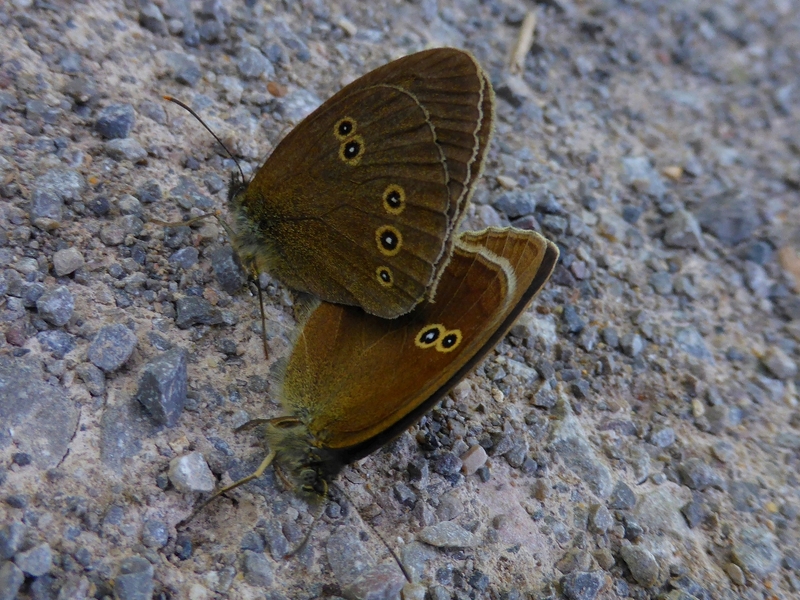 RINGLET
Dawn and I are visiting Nick and Debbie near Salisbury, Wiltshire and Nick and I went out for a walk today. We spent all afternoon walking the excellent glades in Bentley Wood which is found on the Wiltshire/Hampshire border and is huge. A lot of work has been done to make the wide glades suitable for butterflies and it has paid off, there are 35 species seen regularly there! Wow, that is 65% of the total number of species found in Britain.
SILVER WASHED FRITILLARY
During our 3 hour walk we saw a dozen or so species, we walked passed the 'poo-watchers' who had not had much success with the PURPLE EMPEROR but we did see plenty of Silver Washed Fritillary, also hundreds of Ringlets were on the wing.
LARGE SKIPPER
COMMA
As the sunshine increased so did the number of butterflies, we added Gatekeepers, Meadow Browns, Commas and Small Heaths to our list. We also watched Marbled White, Brimstone, Red Admiral, Large Skipper. Peacock, Large White and Speckled Wood, what an amazing place, the last species seen was Purple Hairstreak, I watched it through my bins up in the canopy.
GATEKEEPER
RED ADMIRAL