WOODBURY COMMON - BOWLING GREEN MARSH - BOVEY TRACEY HEATH
WEATHER; sunshine all day, a liight breeze but quite chilly.
I HAVE NO BIRDY PICTURES TODAY - ALMOST IMPOSSIBLE TO TAKE PICTURES THROUGH MY SCOPE WHEN YOU HAVE 14 CLIENTS AND ONLY ONE SCOPE!!
I collected my group from the train station at Honiton at 1:30pm , 14 of memebers of the Central London RSPB group arrived on time for their annual mini-break with WINGSPAN BIRD TOURS.
We loaded up the 17 seater minibus and set off for the short journey to Woodbury Common which took about 20 minutes. Our walk on the heath was very poleasant, at first, we saw more butterflies than birds but things picked up. We listed Green Hairstreak, Small Heath, Red Admiral and Speckled Wood before we saw any birds.
Linnets dashed about in small groups, sitting on the gorse sometimes singing, we passed a Willow Warbler calling getting biref glimpses of it. It took a while before got a glimpse of of main target bird the Dartford Warbler, eventually we had one male sitting on top of the gorse and performing its display flight. A family party of Stonechats were with us for most of the time showing well as they do!
Heath Spotted Orchid
A cleared area produced sightings of Skylark and meadow Pipit, both species were busy feeding young and didn't have the time to perform for us. On our rewtrun walk we caught up with Willow Warbler a single bird showed very well, we also had short views of Common Chiffchaff and Coal Tit. Other birds seen on the heath or on the wooded area around Woodbury Castle were Dunnock, Robin, Blkackbird and both Blackcap and Robin were heard singing.
the track onto Woodbruy Common
In the sky we were accompanied by a pair of Common Buzzards sometime 'wind-hovering' like Kestrels, Herring Gulls flew over as did Wood Pigeon, Crow and Jackdaw. We added Brimstone and Holly Blue butterflkies to the nlist and a heath Spotted Orchid was nice to see.
Bowling Green marsh was a complete success as far as seeing the three Eurasian Spoonbills and parking the bus was concerned. We founs a parking space just up the hill from the hide and the Spoonbills were aslepp at first but all three came out and performed very well by feeding right in from of the hide!
We saw Mallards, Canada Geese, Black-tailed Godwits, Greenshanks, Moorhen, Swallows and House Martins before we left the hide. We then walked along the lane to the raised viewing platform that looks over where the River Clyst joins the River Exe. The ide was still going out and lots of sandy-coloured mud was expeosed. From there we saw Little Egret, a bunch of Redshanks which were joined by two Greenshamks, also Common Shelduck, Oystercatcher, Common Buzzard, Herring and Lesser BB Gulls.
We enjoyed the lovely sunshine and the superb light as we strolled back to the bus, Dunnocks and Robins flitted about in the hedge and we heard another Blackcap, a Chaffinch sang from tree near the bus.
It was almost 5pm when we boearded the bus for the final leg to the hotel which took about 30 minutes After settling into our rooms at the hotel which stands right next to the River Teign we met up for dinner at 7:30pm. On the river we added Great BB Gulls, Greylag Goose and Egyptian Goose.
At 9:15pm seven of us went out in the bus to a heath near Bovey Tracey, the weather was perfect, the air was still, a bit chilly but a clear night with a lovely sunset, We had wonderful views of a pair of Common Nightjars, as one of the group put it "we had 100% success" becuase we saw them flying, we heard them churring and calling in flight, we saw one perched and churring and we had very close views at times. It doesn't get much better than that! Goiod night!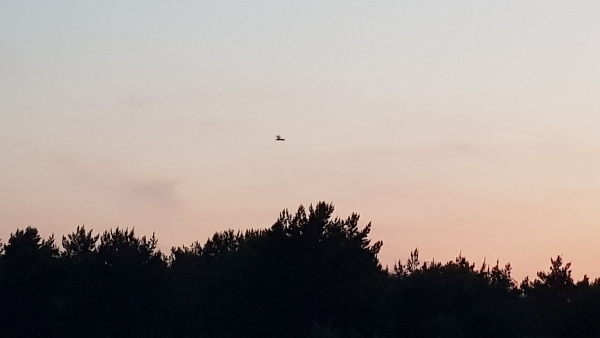 YOU WILL JUST HAVE TO BELIEVE ME THAT THESE PICTURES SHOW A NIGHTJAR IN FLIGHT