SOUTH DEOVON WHIRLWIND RECCE TOUR - AYLESBEARE & WOODBURY COMMONS - BOWLING GREEN MARSH - LABDRADOR BAY -RIVER TEIGN - BOVEY TRACEY - YARNER WOODS & TRENDLEBERE DOWN - DAWLISH WARREN - EXMINSTER MARSH
WEATHER; cloudy until lunchtime then sunshine all afternoon, a brisk cold breeze all day.
This was a flash-visit to South Devon in preparation for my next tour starting tomorrow. I set off at 5;30am and headed straight to RSPB Aylesbeare Common, it was cold down there at that time in the morning and the chilly made it worse. I saw practically nothing, but checked out the car parks etc. Linnets dashed about on the gorse and heather, I saw Willow Warbler and heard Chiffchaff, there wasn't a sniff of as Dartford Warbler, I didn't even see a Stonechat. Woodbury Common was excatly the same except that I saw a Buzzard.
Bell Heather in flower in June???
The view from RSPB Labrador Bay, Hopes Nose Headland in the distance
I drove to Kingsteignton to visit our hotel and then popped up to RSPB Labrador Bay to look for Cirl Buntings. A guy was selling hot drinks from a van in the car park and a coffee went down really well. From the car park I saw two male Cirl Buntings in the hedgerows along with Wren, Robin, Long-tailed Tit and a Common Whitethroat.
Two male Cirl Buntings
a female Cirl Bunting
Te view from the car park is amazing you see across to Hope Nose headland at Torquay and into Lyme Bay looking northward. I saw Great Black-backed Gulls, Ravens and not much else looking out to sea. I took a short walk to a field that looked likely to hold buntings and sure enough I found another five Cirl Buntings. Skylarks sang high above me and Goldfinches flitted across the fields.
Common Whitethroat, a little shy don't you think?
From there I drove back through Kingsteignton and skirted Newton Abbot to get to Bovey Tracey where a checked a site for Common NIghtjars ( I saw Yellowhammer there) and I checked out the River Bovey on the edge of town as I walked through a parkland area.
Along the river I saw Grey Wagtails and lots of evidence of Dipper but I never saw one. In the park I saw Great Spotted Woodpecker, Nuthatch and lots of common species. Blackcaps and Chiffchaffs were singing.
My visit to Yarner Woods was excellent I spent a good two hours there walking the trails, checking out all the car aprks and visiting Trendlebere Down. Pied Flycatchers were everywhere, dozens of them, many were feeding yound in the nest boxes provided. I also a couple of family parties of Spotted Flycatchers but I never saw a Common Redstart.
I heard about an active Lesser Spotted Woodpecker nest and saw I walked up the hill to look for it. Sure enough, a pair of LS Woodpeckers were visiting and eassy to find nest hole, the chciks looked very big and almost ready to fledge, I do hope they stay put for a couple of more days so that my group can see them.
Other birds noted in and around the woods were Goldcrest, Siskin, Mistle Thrush, Great Spotted Woodpecker, Meadow Pipit, Skylark and the usual Robins etc.
A short visit up to Trendlebere Down produced a lot of wind andnot from me!!! It was open up there and although the sun was shining it was cold. I saw Common Buzzards and thats all.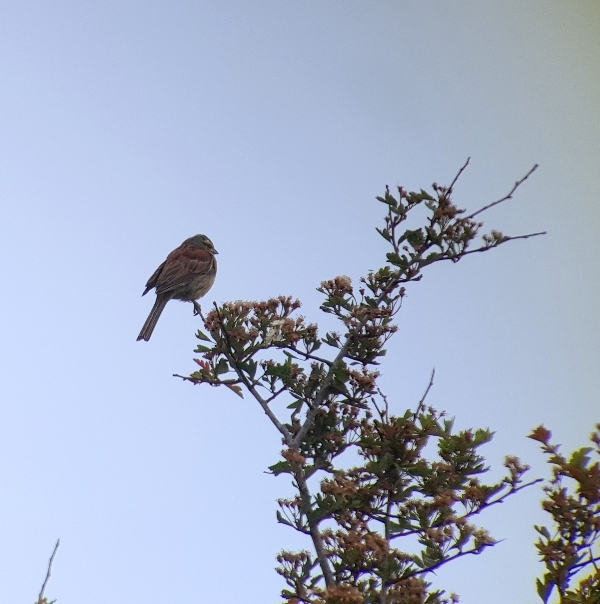 another picture of a Cirl Bunting - because my phone went dead and I didn't have a charger with me, doh!!! I could have had some excellent shots of Pied Flycatchers and LS Woopdecker, double doh!!!
Before I rteturned home I visited Dawlish Warren and Exminster Marsh. Dawlish was jam-packed with tourists, the car parks were full so I hardly got out of the car. Exminster marsh was similar, I scanned the meadows from the car park near the Canal but saw very little, a Sedge Warblerr singing was nice.
I got home about 6pm , it had been a great recce day, I am looking forward to meeting my group tomorrow.