GIBRALTAR - CASTILLO DE CASTELLAR Essentially a non-birding day, we spent most of the day on Gibraltar and visited the castle at Castellar on the way home. Some interesting butterflies were noted..................
We set off a little earlier than usual today because we wanted to get to Gibraltar before the queues built up. We drove down to the coast via Jimena and Castellar noting a few birds along the way; Little Owl, Common Buzzard, Lesser Kestrel, Corn Bunting, Crested Lark and lots of White Storks on their nests.
The East Face of Gibraltar
Bird wise Gibraltar was a little dusappointing, hundreds of Yellow-legged Gulls patrolled the east face where a huge breeding colong has been established. At Europa point we looked out over the Strait and watched Common Dolphins, a couple of Pilot Whales and a handful of Balearic Shearwaters. The cliffs held a great number of Pallid Swifts and we did see a Blue Rock Thrush.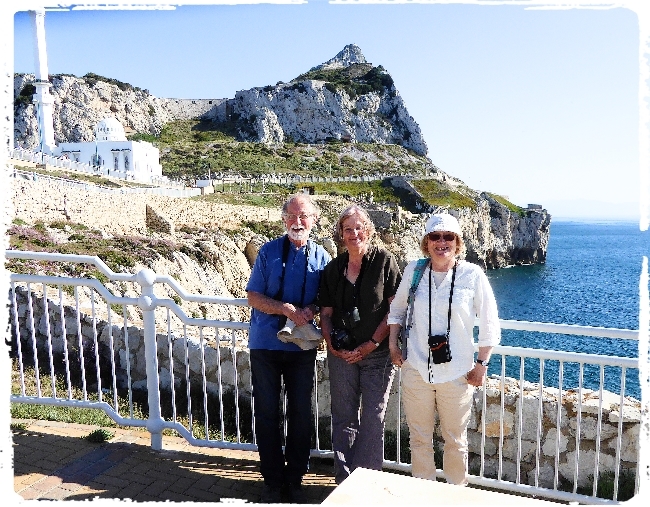 Tony, Val and Judith at Europa Point
View looking out from Europa Point with Morocco clearly shiwn in the background
At 2:30pm we left the 'island' and drove to the castle at Castellar, just before the castle we stopped to look at a couple of special butterflies. First we went to a spot where a colony of Monarch butterflies is well established, a dozen or so were seen on the wing. Next we visited a goodcarea to see Two-tailed Pashas, this superb flying giant of a butterfly uses the Strawberry Tree as a host plant and guards its tree fiercely. If you aporoach the tree you will be 'attacked' or at least dive-bombed, this happened to me today!
The aggressive TWO-TAILED PASHA on guard near the Strawberry Tree
At the Castle we spent time searching the sky for White-rumped Swift, we failed to see one but we had a great time trying. During that last hour we listed; Booted eagle, Lesser Kestrel, Griffon Vulture, Crag Martin, Common and Pallid Swift, Serin, Linnet and a Blackcap sang to us.
We left the area at 4pm and drove back to Gaucin. Later, we all went out for dinner, courtesy of our guests, we had a wonderful meal sitting out on the terrace with a lovely warm evening.