GAUCIN SWEET CHESTNUT WOODS – ENCINAS BORRACHAS TRACK – SIERRA DE LAS NIEVES – RIO GUADIARO AT BENAOJAN (CUEVA DE GATO)

WEATHER: a very cold wind persisted throughout the morning and only eased off around 2pm. It was overcast to start but soon cleared. Temp around 15C in the am and 28C late afternoon.

Today Tony Grady joined us for our excursion to the mountains near Ronda we collected him from the outskirts of the village as we set off in the easterly direction towards Ronda. After a few kilometers we pulled over onto a dirt track that leads into a forest of Sweet Chestnut trees. We found some shelter there from the wind and spent half an hour watching a few woodland birds.
It took a while for the first birds to arrive but as the light improved we found Crested Tit, Blue Tit, Firecrest, Eurasian Nuthatch and a few Chaffinches.
Next, we drove for about 20 minutes and stopped in the mountains at the Encinas Borrachas Track, it was quite cold and a strong wind made it uncomfortable to stand in one place for too long. We endured these conditions for an hour or so without seeing much at all. A few Corn Buntings, some Common Stonechats, Goldfinches and a few Barn Swallows dashed through, it was very disappointing.
I cheered the group up by stopping for coffee just outside of Ronda before we made the short trip into The natural park at Sierra de las Nieves. The tree there provided some shelter from the wind and the sun finally came out warming us all up.
Black-eared Wheatear
In the parkland area near the entrance we found Common Redstart, Pied and Spotted Flycatcher, Black-eared and Northern Wheatear and, after searching for a while we came up with Subalpine Warbler. We walked to a leaking water trough where a number of birds were coming down to drink and bath, many Willow Warblers were joined by Common Chiffchaff, Chaffinch, Blue & Great Tits and a Common Whitethroat. A Sparrowhawk dispersed the group of 'bathers' and signalled our retreat to the car.
Other birds seen in the area of the entrance were Jay, House and Sand Martin and few Griffon Vultures.
We drove deeper into the park and stopped several times at a small numbers of places, we had great views of our third Wheatear of the morning, the Black Wheatear, also of Dartford Warbler, Crag Martin, more flycatchers and Restarts. A few butterflies were on the wing as the wind seemed to die off a little. We found Cardinal Fritillary, Spanish Chalk-hill Blue, Small Copper, Gatekeeper, Small and Bath Whites and a Clouded Yellow.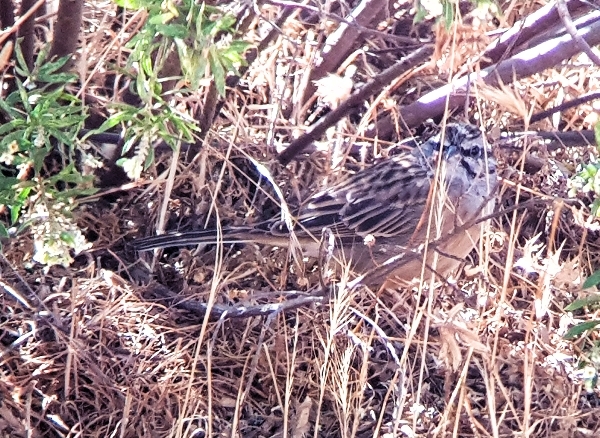 Rock Bunting trying to shelter from the wind
Finally we stopped by the ruin of a refugio deep in pine forest, we looked for dragonflies along a stream and watched Coal Tits in the pines but the Goldenring Dragonfly did not shows and Golden Eagles did not appear above the distant mountains.
Cardinal Fritillary taken by Paul Edlin
We left at 1pm and went for dinner at a roadside restaurant, it was too cold to sit outside and although the service was very slow we all had a lovely cooked lunch.
For the afternoon we drove back to Gaucin along the Guadiaro Valley from Ronda passing through Benaojan and Cotes de la Frontera . We stooped at a number of places , the first just north of Benaojan produced a couple of nice Droagonflies especially the Broad Scarlet, we also saw Lang's Short-tailed Blue Butterfly, Grey Wagtail and we heard Cetti's Warbler, Barbara added Botted Eagle from her seat in the car and another Sparrowhawk flew over us.
Cueva de Gato
At Cueva de Gato (Cave of the Cat) just outside of Benaojan we spent a while walking down to the river and up to the cave, We had fantastic views of Cetti's Warbler, we also saw Grey Wagtail, Blackcap, Sardinian Warbler, Crag Martin, Barn Swallow and I got onto an Alpine Swift and so did Tony. But apart from a huge flock of feral pigeons around the cave we saw nothing else.
We stopped and scanned from a couple of miradors for Bonelli's Eagle without success and neither did we find a Blue Rock Thrush. Still we had a lovely dinner of homemade Tortillo followed by a fruit salad and accompanied by a nice glass of wine.