LOS LANCES BEACH TARIFA - BARBATE MARSHES - CASARES
Today I drove to Casares to meet Penny, Mike and Judith for a day out to the coast, it was a beautiful sunny morning with very little cloud. We sat on Penny's terrace drinking coffee before we set off. Griffon Vultures, Booted Eagle, Red-rumped Swallows and European Bee-eaters entertained us in the sky above us whilst several Common Nightingales sang from deep cover in the extensive gardens.
Two Orchids found along Penny's driveway -- Yellow Orchid - Lutea sp. above and Mirror Orchid below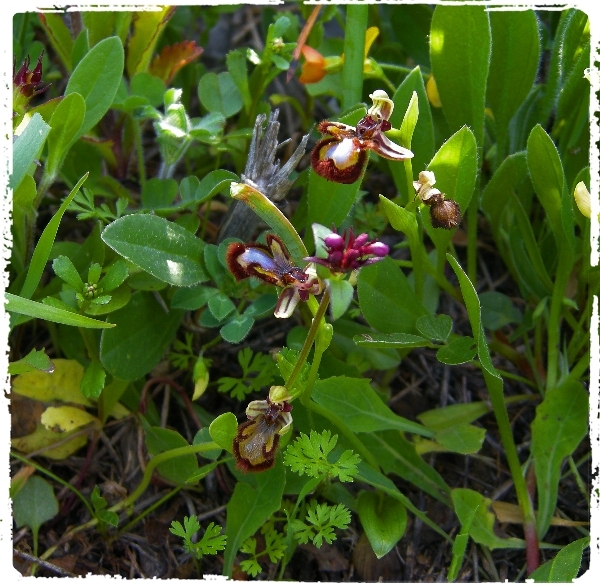 Penny then drove us to the coast, we stopped at Huerte Grande, a small private natural reserve, where I had some business to attend to. Several birds were seen in the grounds and at the feeding statuons. Mainly Serins, Chaffinches, but also Long-tailed Tit, Blackcap and many common garden species.
From there we drove over the hills to Tarifa and the world famous Los Lances beach, unfortunately we were very late in the day it was 12 noon by the time we arrived. Mo many birds were around because of so much disturbance by walkers, joggers, cyclist and surfers. We found Kentish Plover, Grey Plover, Sanderling and Yellow-legged Gull on the beach and on the grass fields behind the beach we saw Eurasian Skylark, Eurasian Linnet, Corn Bunting and Crested Lark,
Barbate was much better, there wecwatchedca flock of Bald Ibis, I noticed several of them were wearing radio transmitters on theirs backs. Good numbers of Greater Flamingos filled the lagunas with a few Audouin'scGulls and Dunlin, Sanderling, Little Stint, Curlew Sandpiper, Redshank, Black-winged Stilt and Avocet were all feeding on the muddy shores. Further back we saw Eurasian Spoonbill, Grey Heron, Little Egret and a few Mallards. Stone Curlews were seen at their usual breeding site on one of the islands.
The ugly Bald Ibis above and the beautiful Collared Praticole below
But by far the best sighting of the day was of Collared Pratincoles, many were flying around or perching on the laguna banks, we had great views of them. A few other migrant species were noted along the track, Yellow (Iberian) Wagtail, Northern Wheatear, Meadow Pipit, lots of Pallid and Common Swifts.
Bald Ibis wearing a radio transmitter for tracking purposes
It was also a good day for butterflies, we noted Speckled Wood, Green-underside Blue, Green Striped White, Clouded Yellow, Spanish Festoon, Brimstone, Large White, Painted Lady and lots of Small Whites.
We headed home after a second visit to Los Lances, this time Mike and Judith went flower watching whilst I recorded Woodchat Shrike, Eurasian Hoopoe, Greater Short-toed Lark, Common Whitethroat and Black Kite. Penny went shopping at the local supermarket! We got back to Penny's finca around 7pm.
another beauty - Woodchat Shrike