MATALASCANAS CLIFFS – LAGUNA PRIMERA DE PALOS - MARISMAS DE O'DIEL EL PORTIL – ROMPIDA EATH AND RIO PIEDRAS
WEATHER: all day sunshine, very hot with very light breeze. Top temp 32C
It was 'wader-watching day' today and the perfect place to watch them was the Marismas de O'Diel at Huelva. We set off after our 8am breakfast and hit the coast at Matalascanas some 20 minutes later. We stopped for a quick sea-watch from the cliff top at Matalascanas and saw very little. The seas was flat calm and nothing much was passing. We did see Sanderling on the beach, a mixed bunch of gulls sitting on the water along the shoreline. We noted Yellow-legged, Lesser Black-backed and we saw four Audouin's Gulls. Distant Gannets dashed by and several Sandwich Terns worked the shoreline. Our best sigting was that of a small pod of Bottle-nosed Dolphins.
We drove along the coast road to Huelva and just before the huge industrial works we stopped at a small Laguna called Primera de Palos. There we saw quite a few species including a couple new for our list. Both Common and Red-crested Pochard were seen as well as two or three Ferruginous Ducks. We also saw Gadwall, Yellow-legged Gulls, Little Grebe and many common species.
Laguna de Primera de Palos with the industrial estate behind it.
After picking up picnic supplies we spent the next three hours working our way along the Marismas de O'Diel. We first visited the salt pans and a small fresh water laguna. The laguna held Spoonbills, Glossy Ibis, Common Shelduck, Gadwall, Red-crested and Common Pochard, but no waders.
The salt pans held hundreds of Greater Flamingos it was a lovely sight, so graceful and elegant for such a large bird. We also saw a couple of Dunlin and a distant pair of Ospreys on a nesting platform.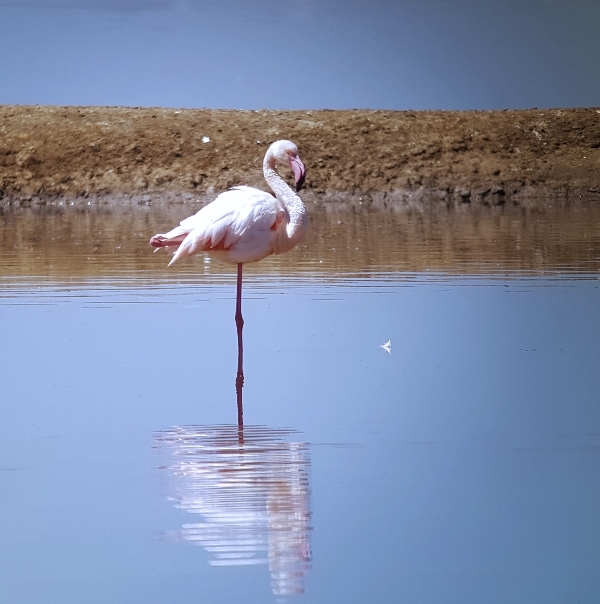 we must seen over 2,000 of these today - Greater Flamingo
Further into the natural park we found a large laguna which had drained during this low tide period, we saw Whimbrel, Grey Plover, Redshank, Ruddy Turnstone and lots of Dunlin. We ate lunch in the small car park there and discovered a beautiful male Montagu's Harrier whilst we ate.
Little Terns - it was good to see flocks of around 100 birds
For the next hour we drove further along the main track stopping to watch birds on the beach or in muddy channels. We found good numbers of Little Terns, Sandwich Terns, Whimbrels, Ringed and Little Plovers, Kentish Plover, Greenshank, Bar-tailed Godwits, Mediterranean Gulls and a single Curlew. By the time we left the reserve we had most of our target species in the bag. We saw Marsh Harrier, Black Kite and another pair of Ospreys on the way out.
the Rio O'Diel looking across to Huelva from the natural park
The Laguna at El Portil was covered in birds, mainly Eurasian Coot but also many Mallards, Gadwall and Common Pochard. Waders covered the far shoreline and most of the shallow water. We saw Dunlin, Little Stint, Curlew Sandpiper, Ruff, our first Spotted Redshank (2), Common Sandpiper and Black-winged Stilts.
dozens of these were found at O'Diel - Whimbrel
At El Rompido we scanned the Rio Piedras for our remaining waders species, we still wanted Knot and Oystercatcher and also Caspian Tern. We found two out three, the Knot will have to wait until another time. Two more Ospreys quartered the river, more Whimbrels, Grey Plovers and gulls were seen. We had much better views of Audouin's Gull this time.
Little and Sandwich Terns joined the Caspian Terns, this gave us a true perspective of the size of this enormous tern. We found a second one not long afterwards.
more Flamingos
It was after 4pm wen we left the area and drove back to El Rocio, I dropped off the majority of the group and Matt and myself went round to the El Rocio laguna for a bit more wader watching. We added a few species to the day list but nothing new. Only one Collared Pratincole was present, consider over 200 were here yesterday that is a pretty low count! We added Yellow Wagtail, Avocet, Wood Sandpiper and Greylag Goose. A flock of about ten Whiskered Terns were also flying around the laguna.
We heard Golden Orioles calling from behind us and so we went to investigate, the calls were coming from a derelict house with a large garden and it was accessible, we found the Orioles in the garden dashing from tree to tree there was at least 6 of them, a great bird to finish off our day.
Golden Oriole a beautiful male bird
We now have 171 species on the list and tomorrow we ope to add a few more as we visit the centre of the National Park,