MALAGA – GUADALHORCE NATURAL PARK – VAQUEROS GOLF COMPLEX – SAN ENRIQUE WOODS – TARFIA
WEATHER: hot all day, max temp 30C
This exciting migration tour began in Malaga as I collected the six participants from various hotels before driving to the Guadalhorce Reserve. Barbara was still with me making up the group to 7.
It was very hot when we arrived, but a light breeze picked up at times to cool us down. We walked to the two nearest hides that overlook two lagoons. The first held a number of ducks as well a good number of Little Grebes. WE saw Northern Shoveler, Common Pochard and the star bird the White-headed Duck. Other species noted were Common Kingfisher, Collared Dove and Barn Swallow.
VIEWS FROM THE TWO HIDES WE VISITED AT GUADALHORCE
From the raised hide which overlooks Laguna Grande we found a good selection of waders and five species of Gulls. Greater Flamingo, Eurasian Spoonbill, Black-necked Grebe, Black-winged Stilt, Yellow Wagtail, Grey Heron, Great Cormorant, Spotless Starling and Monk Parakeet also joined our list.
Great picture of the female/juv White-headed Duck taken by Richard Pettett
As we walked back to the car we flushed a Common Nightjar from the side of the track, unfortunately only the front three of the group saw it. At a bridge near the entrance to the reserve we added Reed Warbler and another flock of Bee-eaters went over us.
Kentish Plover
From Guadalmar we drove for an hour stopping once for refreshments, just past Estapona we stopped at a Golfing Complex where Many birds have been recorded in the past. Scanning a scrub area we added more Bee-eaters, Common Kestrel, Common Stonechat and Red-rumped Swallows to the list and as we drove past the first 'Green' we saw at least 4 Eurasian Hoopes.
Pied Flycatcher taken on the Golf Course
Further into the Golf Course we saw Spotted & Pied Flycatchers, Short-toed Treecreeper, Common Redstart, Serin, Gold & Greenfinches, Woodchat Shrike and a few raptors drifted over. Black Kite, Honey Buzzard, Common Buzzard and Booted Eagle were noted. A large flock of Bee-eaters swarmed along the lane on the way out of the complex they covered the telegraph wires giving great views in the afternoon sunlight.
Spotted Flycatcher taken in the White Poplar woodland at San Enrique
Our last stop was at the White Poplar woodland just outside of San Enrique, we made a quick visit as time was running out. Apart from repeats of both of the Flycatchers, we also saw Blue Tit, Willow Warbler, Blackcap, Garden Warbler and we heard both Cetti's Warbler and Great Spotted Woodpecker. We also enjoyed good views of several Booted Eagles on the way back to the car.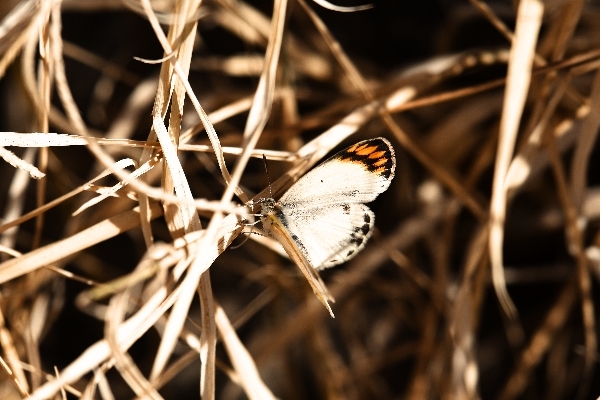 interesting Butterfly taken at Malaga Castle it is a Desert Orange Tip - an African Species with a very limited range in mainland Europe. Taken by Richard Pettett yesterday during a walk up to the Castle.
From San Enrique to our hotel near Tarifa we noted a large flock of White Storks, some Cattle Egrets, a probable Short-toed Eagle on a pylon and a Eurasian Sparrowhawk. We checked into he hotel around 6pm and ate a lovely dinner at 8, washed down with a nice glass of Rioja.