MALAGA AIRPORT TO GAUCIN WITH STOPS AT FUENTE DE PIERDA AND TEBA BIRD OBSERVATORY What a great start to our 7-day migration tour, WHITE-WINGED TERN & BLACK TERN on the list !
I collected Peter and Fred from Malaga Airport and we drove straight to the huge reservoir at Fuente de Piedra. Whilst the water level of the main reservoir was very low several pools around the visitor's centre had enough water to attract a good number of migrant species.
It was terns that got out attention first as many were feeding over the pools, to our great enjoyment we found half a dozen BLACK TERNS and then to our surprise we found a single WHITE-WINGED TERN, wow what superb sighting. We also watched dozens of Gull-billed Terns, a few Whiskered Terns and many migrant wader species.
BLACK TERN
WHITE-WINGED TERN
A good number of Curlew Sandpipers were joined by Dunlin, Little Stint, Ringed Plover, Ruff, Redshank, Common & Wood Sandpipers, Pied Avocet and Black-winged Stilts. Several Yellow Wagtails flitted about in the grass and Common Shelduck sat out on the sandy shoreline of the main laguna where hundreds of Greater Flamingos fed.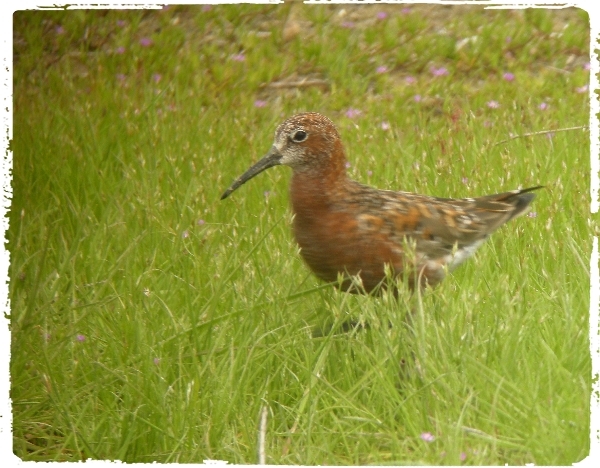 CURLEW SANDPIPER
RUFF
COMMON REDSHANK
WOOD SANDPIPER
A smaller but deeper pool is found at the end of one of the trails, this area held good numbers of ducks, grebes, Common Coots and Moorhens. The best find here was of White-headed Duck but we also enjoyed close views of Greater Flamingos, Little Grebes and Northern Shoveler.
BLACK-WINGED STILT
Our rout took us around the perimeter of the laguna on farm tracks, we added Montagu's Harrier, European Bee-eater, Crested Lark, Spotless Starling and Lesser Kestrel to our list.
LITTLE STINT
The small bird observatory at the Teba mountains was our next venue, it seemed quite quiet until we located Red-billed Chough, Peregrine Falcon and Griffon Vulture. Peter found a very high flying Short-toed Eagle just before we left.
Lastly we stopped at a Bonelli's Eagle nest site but unfortunately no-one was at home, we did see Crag Martin, Zitting Cisticola and a couple of very high Honey Buzzards.
We arrived at our home Gaucin at 5:30pm and ate a delicious home-cooked Tajine for dinner, yum, yum! Our evening bird log revealed that we had seen 57 species during the afternoon, not bad at all.