TRANSFER FROM SINHARAJA TO THE SOUTH COAST AT MARISSA


WEATHER: hot and sunny all day, less humidity at the coast.
Our very last attempt to see the elusive Sri Lanka Spurfowl was made first thing this morning. We met at 6am and after a quick cup of coffee we set off in the bus. Our destination was another hotel about 2km away, there they had extensive gardens where the Spurfowl can be found at times, it is also a good place to find the Green-billed Coucal.
We had a modicum of success, the Coucal was calling constantly during the first 30 minutes after we arrived, then suddenly it appeared! Wow, this bird remained a fair distance away but showed well from time to time, it popped in and out of view for the next 30 minutes, everyone saw it.
The Spurfowl also called for most of time we were there, but it would not be lured out of the forest, which is a pity. We now had 31 of the 33 endemics on the list, but we would be leaving with two missing, hey, ho, you can't expect to see all the birds on every visit.
Breakfast was served back at the hotel at 7:30am and by 10:30 we were all packed and ready to leave. We had had a wonderful time at Magpie Lodge, the rooms were great, the food delicious and the gardens were packed full of birds. During a birding hour after breakfast we listed 20 species, including some of the most colourful birds Sri Lanka has to offer, Sinharaja is a wonderful place to visit.
SRI LANKA HANGING PARROT
Our transfer to the coast took 3 ½ hours including a lunch break on the motorway, yes a motorway, what a luxury! We saw several raptors along the way, Oriental Honey Buzzard, Brahminy Kite, Crested Hawk Eagle, also bee-eaters, egrets, ibis, storks and herons.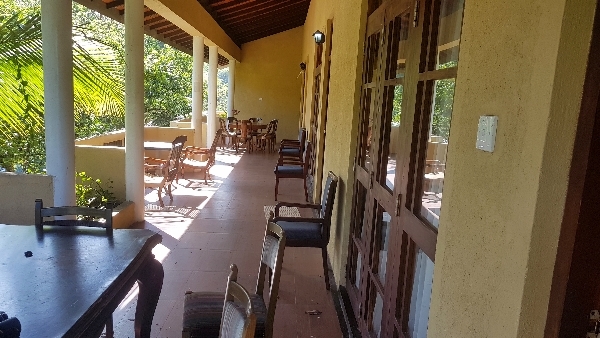 OUR DESERTED BALCONY AT MAGPIE LODGE SINHARAJA
THE BEACH VIEWED FROM MY BALCONY AT MARISSA
It was after 2pm by the time we settled into our beach-side hotel and we had the rest of the afternoon for R n R. Tomorrow is our last official birding day, the morning will be taken up as we board our boat for a Whale Watching Cruise, the afternoon will be our last birding outing.