MORNING VISIT TO HOG CLIFF NNR AND LANKHAM BOTTOM BUTTERFLY CONSERVATION SITE
WEATHER; a little more cloudy today than the last few days, but it was very still with little wind and somewhat warmer.
For the last few weeks I have been contemplating a visit to a national nature reserve (NNR) near Dorchester called Hog Cliff and today I finally got there. The reserve is a SSSI and is managed primarily for butterflies, in particular, Marsh Fritillary and Duke of Burgundy. It has a huge south facing escarpment, a chalk grassland with all the bells and whistles.
views of Hog Cliff from the top of the entrance track
There is also a great birding interest and recently many passing migrants have been recorded there. I arrived around 7:30am and parked at the top of the escarpment, I then followed the main track right down to the bottom of the valley and walked up the other side. It was fairly quiet to start with but it soon got going when the sun came up over the hill.
I noticed quite few Chiffchaffs in the bushes and small flocks of Linnets and Goldfinches flitting about. A Kestrel hovered over the fields and a single Yellow Wagtail flew over me towards a grass meadow where a large herd of cattle were grazing. I walked up to the cow field and noticed a Wheatear on the track, this individual allowed a very close approach, I got some good pictures of it.
the very obliging Wheatear
I got very close to this Wheatear - this picture is not cropped at all!
Further along the hedge I saw, first a Stonechat, and then a Whinchat on a fence, at one point the were sitting together but I missed that shot. The Whinchat wasn't at all obliging and kept a good distance between us. I couldn't find any more wagtails so I walked back to the reserve entrance and spent the next couple hours walking around on the escarpment.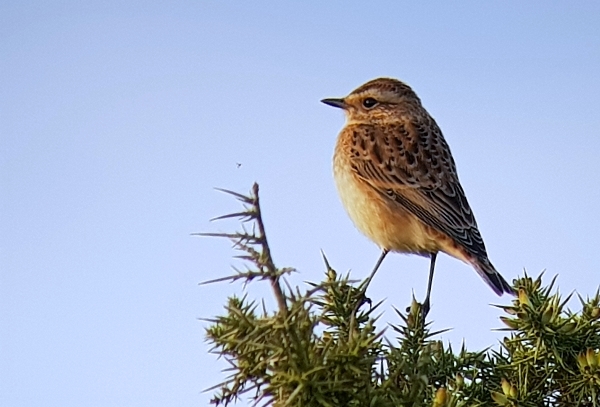 Whinchat - no so obliging
I saw all the local corvids, Rook, Jay, Magpie, Crow, Jackdaw and Raven, as well Common Buzzard, Green Woodpecker and many small flocks of Linnets. In the scrub I found several Blackcaps, a couple of Common Whitethroats and more Chiffchaffs. One little jobbie eluded identification, I thought it may have been a Grasshopper Warbler, but I never got a second chance at identifying it as I never saw the bird for a second time.
I saw a few Grey Squirrels, Rabbits and a Red Deer, the latter was my first sighting of this species for a very long time.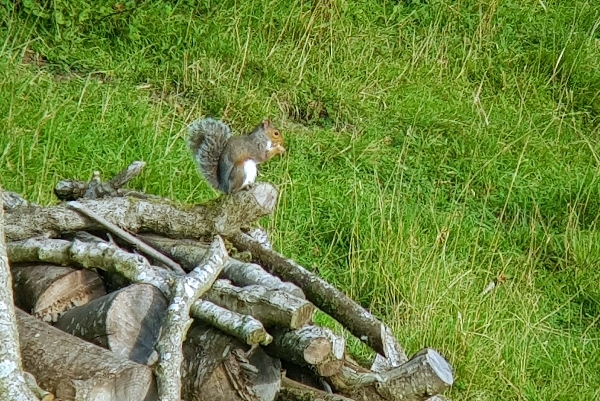 Grey Squirrel
I think this is a Red Deer but would be happy to be told differently?
As it warmed up a few butterflies took to the wing, I saw many Meadow Browns, a few Small Heaths, Small Copper, Large and Small Whites and a single Red Admiral.
Large White
A few plants caught my eye and a crop of Mushrooms grew in several places, I think they were Parasol Mushrooms which are edible and really tasty, but I left them just in case.
Small Copper
As the Butterfly Conservation Reserve of Lankham Bottom was fairly close I popped in on the way home. I spent a very enjoyable hour there watching more scrub birds. Common Whitethroats, Chiffchaffs, Blackcaps were in many bushes along with Common Stonechats but I never saw a Whinchat there. From the cover of the top hedge a lot of birds were dashing to and fro to the field beyond, they were mostly Linnets, but also a good number of Yellowhammers, Meadow Pipits and Goldfinches joined them.
Meadow Pipits
Another Kestrel flew over and flushed most of the birds, I saw over 20 Stock Doves feeding down below me at the bottom of the valley aI walked back to the car. I was home by 11am after a very enjoyable morning.
Yellowhammer