TRAIN TRIP TO PENZANCE AND A WALK ALONG THE SEAFRONT
WEATHER: dull and overcast, light winds, quite chilly late afternoon
This was our meeting up day prior to the 8-day trip to the Isles of Scilly. Most of the group were booked into the Premiere Inn in Penzance and we met up at 4pm for a walk along the seafront.
looking across to St Michael's Mount from the coastal path at Penzance
the light is always exquisite down in Cornwall, just look at the colour of the sea!
Only three of us went for a walk, we started at the railway station and took the coastal path towards Marazion Marsh. Scoping into the bay we saw a single Eider Duck, with Black-headed, Herring and Great Black-backed Gulls. On the rocks we found Ruddy Turnstones, Rock Pipits and a single Wheatear.
Wheatear on the footpath near Penzance Railway Station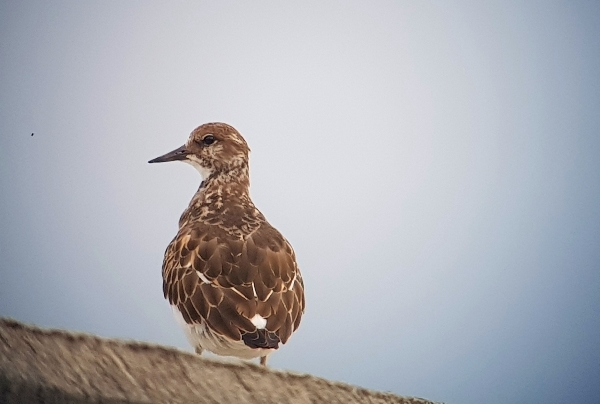 very confiding Ruddy Turnstone
Further along the shore an area of pebbles and sandy beach held a single Curlew and a small mixed flock of waders. We picked out Dunlin, Sanderling and Ringed Plover.
a Sanderling with Dunlin
Ringed Plover
During the walk back to the hotel we picked out a couple of Gannets and had much better views of the Wheatear and the Rock Pipits. A bunch of Pied Wagtails was gathering around the rocky shoreline, it was obviously a pre-roost last minute feed. Later we saw many more of them flying into the huge fan palms around the entrance to the train station.