BIRTHDAY BIRDING:- LOCAL WALK THROUGH BARWICK VILLAGE TO YEOVIL AND BACK HOME THROUGH BARWICK PARK
WEATHER: high cloud with plenty of sunshine, cloudy later with light rain. Temp still only around 4C
Thank you everyone for your birthday wishes, by phone, on facebook, twitter and WhatsApp. I've received messages from Australia, South America, Costa Rica, USA, Canada, Africa, Lithuania, Bulgaria, Switzerland, Spain, France, Sweden, Norway and many places in the UK. How wonderful to feel those warm blessing from around the world. it made my day, thank you all.
I've had a lovely day walking with Dawn and seeing plenty of birdies, including a local year tick (Redpoll) and a month tick (Greenfinch). My total for December is now 115.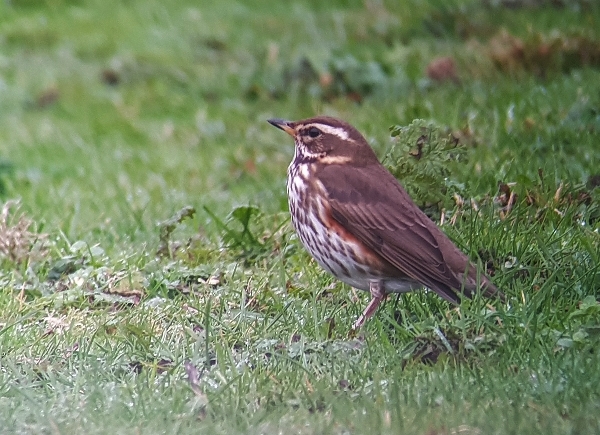 this one is for Rita Parker and Cheryl Warburton - Redwing
First thing this morning I drove through Barwick Village and parked on the east side of the A37 Dorchester road near the Red House Pub and from a gateway I scoped a field full of mud and Cows. In recent days a friend of mine from Yeovil, Steve Chorley, had found a flock of GOLDEN PLOVER in the field and sure enough they were still there. Amazing, less than a mile and a half from my house, a flock of beautiful Golden Plover. I counted 184 of them but there has been 900+ birds recently, wow!! That's amazing.
Golden Plover with Lapwing
Also in the field was a large number of Lapwings, six Skylarks, good numbers of Pied Wagtails and a pair of Stonechats. The field was diagonally bisected by an electric fence with sugar beet growing throughout, you could see where the farmer has been periodically moving the fence allowing the cattle to eat the sugar beet leaves, exposing large beets all over the field which were trodden into the mud by the cattle.
I also scanned a nearby field of uncropped potatoes where a large flock of Linnets were feeding, I picked out a few Redwings too. I then returned home to meet up with Dawn so that we could take a long walk. We decided on a circular walk that included the Golden Plover field and the potato field. Coincidently, Steve Chorley, the Golden Plover finder was walking from Yeovil through Barwick and Stoford and we met him almost immediately after we set off. We joined up for most of the walk which included the lane where the Golden Plovers were.
Rex's Hollow found on the road into Barwick Village
We turned onto a lane which took us towards Barwick Village and from there we scoped a flock of Goldfinches, amongst them I picked out a LESSER REDPOLL, wow! The first on my pandemic list and almost a local patch tick. A little further on we saw a few Redwings, one of which was unusually and extremely confiding, I quickly shot it (with my phone-camera).
We didn't see much more until we arrived at the beet field where the Golden Plover were. We watched the Plovers with Lapwing, Pied Wagtails, Meadow Pipits and Stonechats. Then we set off on a track towards Yeovil, after a short distance we stopped to scan the potato field nearby. A huge flock of 100+ Linnets were flitting about, dropping into the filed before flying up again and dropping down into a new area. In this field we also saw Fieldfares, Redwings, Goldfinches, Meadow Pipits and along the hedge we saw Bullfinch and my first Greenfinch since October!
Little Grebe - seen on the pool at Barwick House
Our walk took us to the outskirts of Yeovil where we parted from Steve and set off back towards Stoford taking a route through Barwick Park. On the lake in Barwick park we saw Mute Swan, Moorhen, mallard and Little Grebe. More Redwings were seen near Stoford, they seemed to be gathering for a communal roost.