WEYMOUTH (FERRYBRIDGE AND LODMOOR ) AND PORTLAN WEST CLIFFS
WEATHER; a superb morning of bright sunshine with no wind. Just lovely.
Flaming June is back, at least for today it was! I got up a little earlier and went a little Off Piste, I took a second trip down to the coast to breath some fresh sea air.
I left the house at 5:30am and arrived at Ferrybridge a little after 6, the roads were very quiet and it was quite foggy for most of the drive. My stop at the mud-flats at Ferrybridge was quite brief because there wasn't much at all to see. I was expecting a few more waders than I got.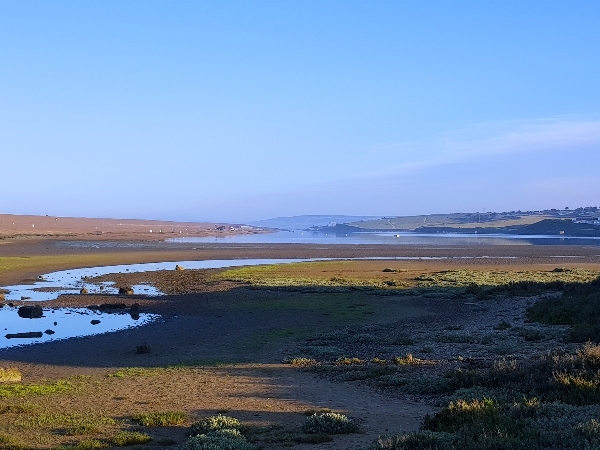 the mud-flats at ferry Bridge looking towards the 'Fleet'.
A pair of Eurasian Oystercatchers were feeding near the car park with a Little Egret. A dog with owner flushed them and scared the Oystercatcher's chicks half-to-death. He walked across the mudflats with the animal off the leash. Good job he was quite a way from me.
Eurasian Oystercatcher - you can see a short video of the parent feeding the two chicks here:
https://twitter.com/i/status/1272400076451831818
Little Egret
I scanned the water's edge which was a fair distance away, it must have been low tide, a single Dunlin fed with four Common Ringed Plovers, many Little Terns were flying in and out of the fenced-off breeding area. I think about 70 pairs have chicks right now. The only other species seen out there was Black-headed and Herring Gulls.
West Cliffs at Portland
My trip up to Portland took another 10 minutes, I parked on the west side of the 'island' near a site where a Rose-coloured Starling had been seen yesterday. I searched the local Starling flocks but could not see any pink and black ones. I did find a Common Stonechat which was new for my June list.
Rock Pipit
As I walked along the top of ther west cliffs towards the southern tip and Portland Bill Lighthouse I watched Common Whitethroat, Rock Pipit, Meadow Pipit, Eurasian Skylark and Common Kestrel. Soon I was standing over the top of the huge Guillemot and Razorl colonies, it was noisy but not so busy, I think many of the youngsters have now fledged and were sitting on the water, 80 meters below me.
looking down to the Portland Bill Lighthouse from the West Cliffs
I added Fulmar, European Shag, Guillemot, Razorbill, Great Black-backed Gull and Northern Gannet to the June list but I could not see a Kittiwake. My time today was limited so I did not walk all the way down to Portland Bill, instead I headed back northward to where I started.
European Shag
a 'bridled' Guillemot, not many of them have this rare facial bridle markings
two Razorbills with two Guillemots
A pair of very noisy Ravens perched on a building near me and I had excellent views of Meadow Pipit, Skylark and a very colourful Linnet. I searched the area around Reap Lane barn for the Starling but I think it must have gone (as I write this, the starling had not been reported all day).
Raven
For my last stop I drove back to Weymouth and across town to Lodmoor on the east side. I parked a fair walk away from the lagoons and took the busy footpath through the reedbeds. I was after four or five new species, the main targets were Common Tern, Mediterranean Gull, Gadwall, Marsh Harrier, Cetti's Warbler, Eurasian Coot and Canada Goose.
Common Terns with chicks
smart looking 2nd summer Mediteranean Gull with a moulting Black-headed Gull
I got them all except the Harrier and I was half expecting a few more waders but none were there, a bonus was a calling Water Rail as I made my way back to the car and this beautiful Greenfinch.
Greenfinch taken at Lodmoor
Quite a few butterflies appeared during my morning walks, however the only new species for the year list was a Painted Lady and that one did not hang around to have its picture taken.
Great Black-backed Gull with breakfast, the much small Herring Gull stands little chance of nicking anything
I was all done buy 10am and got back home just before 11am. My June list has been boosted by this visit and now stands at 95 species.