SUMMARY OF JANUARY SO FAR - PLUS SHORT WALK ON MY LOCAL PATCH
WEATHER: clear and bright, NO RAIN, cold NW breeze. Temp not much above freezing
JANUARY SO FAR
Our New Years Day Dorset-dash produced 89 species (always a few short of the 100 target list) but included Black-throated and Great Northern Divers, Black Redstart, Purple Sandpiper, Cirl Bunting, Firecrest, but nothing to write home about.
Somerset & Dorset mini-break
This 8-day tour combined two great birding destinations and produced 128 species! We saw all five Grebe species, Firecrest, Cirl Bunting, Grey Phalarope, Dartford Warbler, Ring-necked Duck, Greater Scaup, Long-tailed Duck, Water Pipit and the long staying Isabelline Wheatear (in Devon).
Norfolk mini-break
Our Five days in Norfolk was very wet and very windy, but we managed to see 117 species, which included four Owls, fourteen waders and lots of Geese. The best of the birding sessions was the Woodcock vigil at Lady Anne;s Drive, Holkham where we also enjoyed the arrival of thousands of geese coming into roost, it was spectacular, but windy! We saw Snow, Buntings, Shore Larks, Long-billed Dowitcher, Hume's Leaf Warbler (not me), Barn, Tawny, Long-eared and Short-eared Owls. Seven Geese species, the released White-tailed Eagle and Bewick Swans.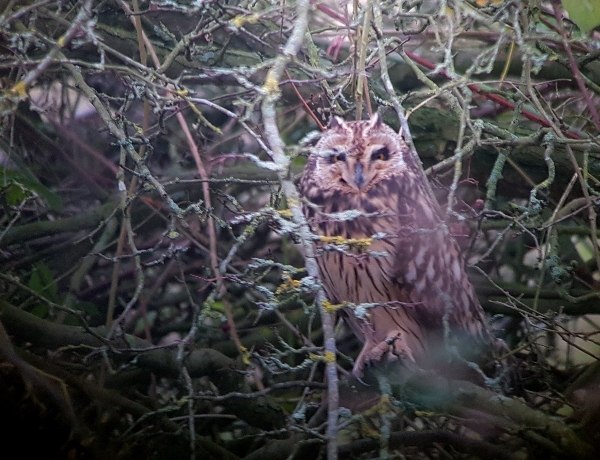 So, my January list stands at 156 species and I still need to see the likes of Green Woodpecker, Lesser Redpoll, Smew etc
Sotford - Yeo Valley
I walked into the Yeo Valley today for a couple of hours, it was cold with that NW wind and quite desolate. The stream and the River Yeo were almost flooding and large pools of water sat in the meadows. I saw very little and certainly not a Green Woodpecker. I managed 18 species whic included Great Spotted Woodpecker, Nuthatch and Pheasant all seen in my garden.
my garden birds