DAY 1 - ARRIVAL AT BANJUL AND TRANSFER TO KOLOLI DAY 2 - KOTU CREEK - RICE FIELDS AND WATER TREATMENT PONDS - CASINO CYCLE TRACK - FAJARA GOLF COURSE
DAY 1 – TUESDAY 12TH NOVEMBER 2019
TRAVEL FROM UK TO BANJUL - TRANSFER TO SENAGAMBIA HOTEL
WEATHER: hot and sunny, 30C
Our group arrived in Banjul on several different flights today and two of the American participants were already at the hotel waiting for us, having arrived on Sunday.
It was hot on arrival you felt the blast of warm air hit you as you descended from the aircraft, then in a hot and sticky terminal building we queued for a while through immigration. The whole terminal was being reformed, rebuilt, it was a working building site and in such a disarray, but we managed to get through.
Peter and Sue had arrive an hour earlier than us and had been birding just around the car park, they had tales of many sightings including: both Klaas's and levaillant's Cuckoos, Red-billed Hornbill, Senagal Coucal, Yellow White-eye, Lavender Waxbill, Red-billed Firefinch and about 10 other species.
Five of us were then taken to the Hotel where we met up with Cheryl and Beverly, along the way we saw Pied Crow, Hooded Vulture and dozens of doves mainly Red-eyed and Vinaceous Doves.
It was very late in the afternoon by the time we all settled into our rooms and we had a tiny amount of time to look for birds in the grounds before darkness fell. Seven of us birded around our accommodation building (two more of the group were arriving later this evening). We saw many Broad-billed Rollers, they roost in the grounds and gather at dusk, also a pair of Grey Woodpeckers, a brief glimpse of a Bearded Barbet was also had. We 'scoped a White-crowned Robin-Chat and watched Green Wood-hoopoes in the trees.
Before the light gave out we saw African Palm Swifts overhead, a Hooded Vulture in a dead tree and several African Wattled Lapwings came down on the lawns of the hotel gardens. Giant Fruit Bats began to appear, the size of crows these silent fruit-hunters flew very low over the top of us, time to leave me thinks!
We had tasted the great potential of birding in The Gambia and we couldn't wait for tomorrow to arrive for another bite.
DAY 2 – WEDNESDAY 13TH NOVEMBER 2019
KOTU CREEK – KOTU SEWAGE PONDS – CASINO TRACK- FAJARA GOLF COMPLEX
WEATHER: hot and sunny 28C
We had a typical and brilliant Gambian start to our first full day, beginning with breakfast on the terrace at 7am just as it was getting light. We had to wade our through a troop of Green Vervet Monkeys before we even got to the dining room.
It was just fantastic sitting outside in a lovely temperature with lots of bird calls and strange noises filling the air. From the table we watched a dozen or so common species such as the beautiful Speckled Pigeon, Yellow-billed Kites, Pied Crows, cattle Egrets, Common Bulbuls and several more.
ON THE BRIDGE AT THE kOTU CREEK
Our first birding excursion began at 8:30 as we were dropped off at the famous Bridge over the tidal Kotu Creek. We were suddenly greeted by a great many species, they appeared from all directions, the group was dumbfounded by all the action and didn't know where to look for the best. It was amazing, a wonderful experience.
GIANT KINGFISHER
The tide was high so we were not treated to a plethora of waders so we concentrated on the bushes and the sky. Pied Kingfishers were everywhere and a single Giant Kingfisher showed really well from the power lines. Long-tailed Cormorants, Senegal Thick-knee, Spur-winged Lapwing, African Wattled Lapwing, Whimbrel and Common Sandpiper were seen along the river banks.
PIED KINGFISHER
The group enjoyed many other species in the hour that we spent on the bridge, good views of Wire-tailed Swallow, Grey Plantain-eater, Senegal Coucal, Shikra (being mobbed by Pied Crows), Red-billed Hornbill and of course all the doves.
SENEGAL THICK-KNEE
The smaller birds were harder to get onto but most of them managed well, Red-billed Firefinch, Bronze Mannikins, Beautiful Sunbird, Brown Babbler and African Thrush. Herons and Egrets abound, Striated, Grey, Squacco and Black-headed Herons, Western Reef Egret and the enigmatic Hammerkop.
LESSER BLUE-EARED GLOSSY STARLING
Phew, what a great start. We then went for a walk to the Sewage Ponds, our route took us through some rice paddies where a new set of species was recorded. The beautiful Little Bee-eaters, a Woodland Kingfisher, Grey Woodpecker, Tawny-flanked Prinia, Senegal Parrot, Rose-ringed Parakeets, Fork-tailed Drongo, Lesser Blue-eared Glossy Starling, Lizard Buzzard, Caspian Tern (fly-over), Palm Swift and many more.
At the sewage works we searched the banks around the smelly ponds for an EGYPTIAN PLOVER, this much sought after species is usually only found m kilometers upriver but one had turned up here on the coast, a first for Coastal Gambia. Luckily the bird was still there and it showed very well, smashing! It made the other birds look positively dull, we saw Green, common and Wood Sandpipers, Redshank, Black-winged Stilts, White-faced Whistling Ducks, Little Grebes and Common Moorhens.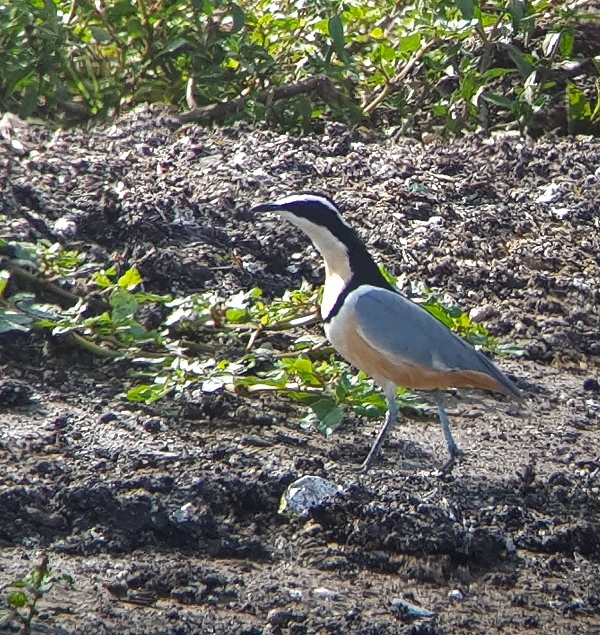 EGYPOTIAN PLOVER
The sky was alive with birds, great clouds of Little Swifts swooped down to drink the fetid water, Vultures circled above us, just in case one of us dropped to the ground!
AT THE SEWAGE PONDS - lovely!
The latter part of the morning was filled by walking to the nearby Casino Cycle Track where we saw even more new species, we logged two Woodpeckers in quick succession, Fine-spotted and Grey Headed, we had good views of Fork-tailed Drongos and better views of many other species. A walk around to a pool found us watching a Common Chiffchaff, White-billed Buffalo Weaver and another Grey-headed Woodpecker and a single Greenshank was all we saw around the pool.
FINE-SPOTTED WOODPECKER
not all the birds of the Gambia are brightly coloured and beautiful - female SPLENDID SUNBIRD
We left the area around 12:30 for our midday break and lunch back at the hotel, we seen 67 species this morning!
It was 3:30pm when we boarded the bus for our afternoon birding excursion to the Golf Course, surrounding rice fields and mangrove swamp at Fajara. It was still hot and humid, but the birding was excellent, not as frantic as this morning, even though the birds were just as active. We caught up with species that we had seen this morning plus about 15 new ones.
BLUE-BREASTED ROLLER
We started at yet another bridge over the Kotu Creek we saw 3 Blue-bellied Rollers on the wire nearby, a great start for the afternoon. Or the next hour we walked through the rice fields and then onto the golf course, we saw Senegal Parrots, Rose-ringed Parakeets, Long-tailed Glossy Starlings, Red-bellied Paradise Flycatcher, Brown Babbler, Common Gonolek, Little Bee-eater, Double-spurred Francolin, Red-necked Falcon (fly over), Pearl Spotted Owlet, Bronze-tailed Glossy Starling, Great Egret, Striated Heron, Western Reef Egret and Lizard Buzzard.
PEARL-SPOTTED OWLET
WOODLAND KINGFISHER - our fourth Kingfisher of the day
LITTLE BEE-EATERS - what a beatiful little gem
We birded until about 6pm when the light began to fade and so did our energy, we were back at the hotel just after 6:15pm, giving us enough time for a relaxing shower before dinner.