VISIT TO RSPB RYAN'S FIELD - HAYLE ESTUARY - CARNSEW POOL - COPPERHOUSE CREEK
WEATHER; broken sunshine, very windy. Temp 14C
I travelled to Hayle in Cornwall in preparation for my week-long tour of the Isles of Scilly which starts tomorrow, Friday 30th Sept. I caught the early train from Yeovil and arrived in Hayle, near Penzance, at 11:40am.
After a short walk from the station I was standing outside my good friends, Brian and Mary's house. I received a lovely welcome, it is always great to see them both.
After lunch Mary drove me to RSPB Ryan's Field along the estuary, about 2 miles from the house, she drove off and left me to walk back along the estuary, it was bright and sunny at times but a little too windy for enjoyable birding.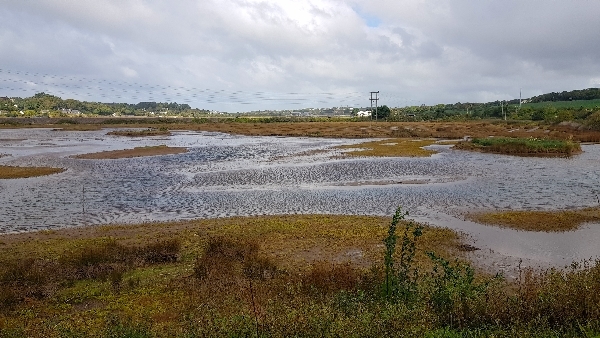 the view from the hide at Ryan's Field
It was low tide so the marsh at Ryan's Field was almost completely devoid of birds, I saw one Ruff and one Raven and that was it. Walking across to the estuary I scoped the mudflats with much better results, hundreds of birds were out there, mainly gulls but also lots of ducks and a few waders.
The Hayle Estuary from the main road
Wigeon, Teal and Mallards made up the duck count and GBB, LBB, Herring and Black-headed Gulls made up the gull count. My greatest interest was in the waders, I love wader watching. I found Bar-tailed Godwits, Grey Plover, Dunlin, Redshank, Greenshank, Curlew and Oystercatchers.
Bar-tailed Godwit and Grey Plover
a Common Redsank
A Few Canada Geese, Grey Herons, Little Egrets, Carrion Crows and a couple of Magpies made up the rest of the species. I walked back towards the town of Hayle and turned off on the coastal track which takes you around the man-made lake called Carnsew Pool.
Eurasian Curlew
This tidal lake was practically dry and on the exposed mudflats I saw many of the birds seen earlier with addition of Greenshank, Cormorant, Little Grebe, Ringed Plover and looking across to the estuary I added Mediterranean Gull to the tally.
Ringed Plover
a couple of the 40+ Mediterranean Gulls seen from the coastal path
Walking around the and onto Copperhouse Creek I saw a few passerine species such as Stonechat, Rock Pipit and House Sparrow. In the creek I saw four more Grenshanks, a lot more Dunlin, a few Little Egrets and near the railway bridge I added my last species, a Grey Wagtail.
digging deep, this Bar-tailed Godwit demonstartes the advantage of having a long bill
Little Egret in Copperhouse Creek
I walked up the hill back to Mary and Brian House and enjoyed a lovely home made Cottage Pie followed by home made apple crumble, how delicious was that?