FYLINGDALES MOOR – FORGE VALLEY NR – WYKEHAM RAPTOR WATCHPOINT – HARWOOD DALE – HARWOOD DALE FOREST
WEATHER: cloudy until 11 am then broken sunshine and much warmer, light breeze. Temp up to 17C
Our pre-breakfast outing found us up on the moors on the edge of the North Yorkshire National Park, it was dull and overcast and misty, quite cold too! We visited Fylingdales Moor which is a 10 minute drive from our hotel in Cloughton.
After climbing a stile, we set off onto the moor, it looked very dull and dingy with patches of mist and low cloud, but it was dry with only a light northerly breeze. We soon got onto several Meadow Pipits that were performing their parachute-style display and some Skylarks that were singing from the tops of the heather. A single juvenile Stonechat was the next bird we found.
Our search for Red Grouse and Curlew went unrewarded but we did find this pair of Golden Plover, they were still in winter plumage and seemed very reluctant to fly off, they simple ran ahead of us?
Some distant views of Common Buzzard, Lesser Black-backed Gull and a single-person sighting of a Black-headed Gull was the sum total of the rest of our sightings.
Meadow Pipit on Fylingdales Moor
After breakfast we drove down to the Forge valley where a very nice boardwalk ran alongside the River Derwent. We spent a couple of hours watching, looking and listening for river and woodland species.
A pair of Grey Wagtails appeared very quickly then our sighting came in dribs and drabs. Chiffchaff, Blackcap, Blue and Great Tit, Robin, Wren (very common), Nuthatch (heard only) and not much else. The walk was lovely and we found many flowering plants to keep us amused.
on the boardwalk in the Forge Valley
Before we drove up into Wykeham Forest we visited Wykeham Lakes, a commercial enterprise for water sports, fishing, sailing etc. It was very popular as the car park was full. We used their facilities and spent a little time birding.
A Garden Warbler in song was our first of the trip, a Willow Warbler was also in song, we saw Reed Bunting, Greylag, Canada and to our great surprise, Egyptian Geese! Three damselflies were identified as Red-eyed, Common Blue and Azure Blue. On the way out of the park we found 3 Mistle Thrushes in a crop field.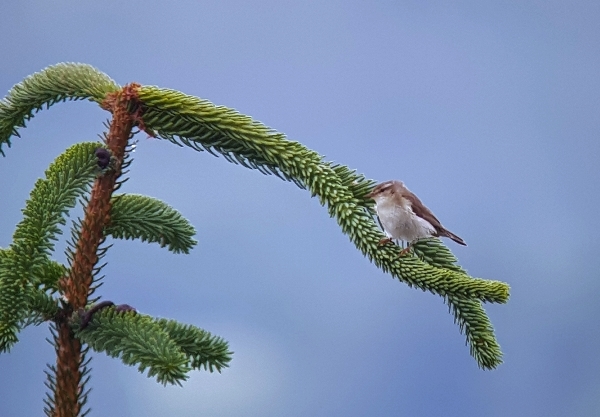 Willow Warbler
The next stop was at Wykeham Forest Raptor Viewing area, the weather improved and it got brighter and warmer, perfect for raptor watching. It was 12 noon when we arrived so everyone tucked into their picnic lunch before settling down to some serious sky-watching.
you will just have to believe me that this a Goshawk!!
Our first raptor was a Goshawk, distant but identifiable, a great start. The next hour went by pretty quickly we had several sightings of at least 5 different Common Buzzards. We also saw a Hobby (twice), Common Kestrel and many Common Swifts.
Birds in our immediate vicinity included a very showy Willow Warbler, a pair of Bullfinches and a few Siskins, a male was performing his display flight around the tops of the pine trees. We gave up around 2:30pm, we had failed to see a Honey Buzzard, but we were happy with what we did find.
After stopping for an ice-cream in the forest we drove down into the Harwood Vale to look for Turtle Doves at a spot recommended to us by a number of people including the ice-dream lady!
We parked the buses in a farm track entrance and walked 100 meters to view a garden with many bird-feeders, apparently the Turtle Doves come down to feed on the seeds dropped by other birds at the base of the feeders.
We saw House and Tree Sparrows, Chaffinch, Greenfinch, Yellowhammer, Blue and Great Tit, Collared Doves but no Turtle Doves appeared. We noted a Nuthatch as we got back into the car.
To finish off the day we drove a short distance to Harwood Dale Forest where we walked along tracks in two separate places. The first produced nothing except a Common Crossbill that called but did not show, a Wren and a few Northern Marsh Orchids.
The second track came up with the goods, a couple of Tree Pipits, at last!! The second bird flew up and performed its display flight. That sighting ended our day on a high, we got back to the hotel at 5:40pm, in good time for dinner at 6:30pm. Roast Beef, Yorkshire pudding and Roast Potatoes, yum, yum!