PORTLAND BILL – SOUTHWELL – PORTLAND CASTLE – REAP LANE - EAST WEARE– RADIPOLE LAKE
WEATHER: a misty start, overcast at first then long sunny spells. Top temp 17C
This was my last day with Peter and Dinah and my two companions needed one more species to reach their target of 200 for the year and it was my job today to try to for them, one new bird!
Shearwaters was the answer, coming from the Manchester area they don't do much sea-watching so our plan this morning was to drive directly to Portland Bill to look for some sea-birds. We arrived just after 8am and were in place by 8:20.
looking west from the Obilisk at Portland Bill - Pulpit Rock in view
The Bill area was quite busy with little flocks of Goldfinches, Meadows Pipits dashing, also Linnets were going over us and Rock Pipits chased one another around the rocks. We made a superficial search for Black Redstarts as we walked to the Trinity House Obilisk right on the edge of the cliffs.
Our sea-watch vigil began, we hoped to see a shearwater species, any species, within an hour, it was a chilly start, overcast with an off-shore northerly breeze in our backs. We saw thousands of auks flying in the both directions, east/west but mainly west. Both Razorbills and Guillemots were seen in flocks of up to 50 at a time. Gannets also streamed by but in much fewer numbers. We also noted Cormorant and Shags, Black-headed, Mediterranean, Herring and G BB Gulls as well as a few Kittiwakes.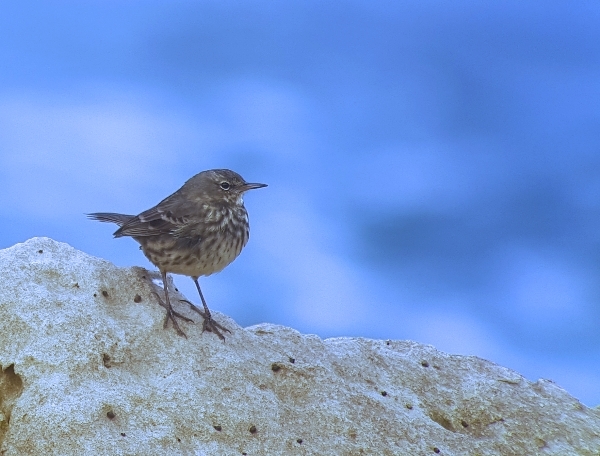 Rock Pipit taken at the 'Bill'
Four Common Scoter were spotted after about 30 minutes but not a single shearwater went by, or at least we never saw one if it did pass! We gave up after an hour and walked around the old quarry looking for a Black redstart which was also needed for the list, we saw a Raven and lots more pipits and finches but not the redstart.
We then drove back up the Old Lower Lighthouse and popped into the Bird Observatory where resident Sea-watcher Graham was scoping the sea from the terrace. He told us that just 10 minutes ago he had seen 4 Balearic Shearwaters flying east very close to the shore! Doh!! We had packed up a few minutes too early.
We stayed a while for a coffee and I joined Graham sea-watching, we then saw three more Balearic Shearwaters but they were quite far out and just dots in the scope, my companions had no chance of seeing them, they were simply too far out and they would not tick them anyway at that distance!
Next, we drove to an old school at Southwell on Portland where a couple of recent sightings of Yellow-browed Warbler had been made, we were joined by Pete Coe a local birder who had seen at least one of them. We found many Chiffchaffs but not the warbler and gave up after an hour.
We tried an area just around the corner where a clump of sycamore trees could be found, it was deadly quiet in there except for a Spotted Flycatcher and a few Blue and Great Tits. When tried the gardens at Portland Castle were another likely spot for warblers could be found, we drew a blank there too.
Clouded Yellow Butterfly
The benches, overlooking Portland Harbour at the Castle were bathed in sunshine, it was an ideal lunch spot. We ate our lunch there watching a few birds in the harbour such as Shag, Cormorant, Herring Gull, Rock Pipit and both Grey & Pied Wagtails dropped down onto the small beach in front of us.
For the afternoon we returned to Portland and visited Reap Lane Barns to look for Black Redstarts once again. Within a couple of minutes of arriving we found one!! Hooray! Peter and Dinah were overjoyed, this was there 200th species of the year, they had reached their year target with 2 months to spare. We had stunning views of the Redstart as it dashed about on the roof of a barn, it came very close to us at one time.
Black Redstart seen on the old barn Reap Lane, Portland
With the pressure off we drove back to the bird Observatory because we had heard that they had trapped a 'first for Britain' moth, it was continental species called Southern Brindled Green. We saw the poor little lost moth which was on exhibition in a small glass vial. A few Barn Swallows were dashing about the observatory lighthouse.
After that excitement we decided to visit the East Weare, where in recent days a rare butterfly visitor to Britain had been seen. The Long-tailed Blue was our target and in nice sunshine we had a chance of seeing some butterflies at least.
Common Kerstrel
We found several Clouded Yellows, Large and Small Whites, Red Admirals, Speckled Woods but not a 'blue' of any description. We also saw Hummingbird Hawk Moth, lots of Chiffchaffs, Blue and Great Tits, a Peregrine Falcon, Common Kestrel and bunches of Goldfinches. It was lovely walking out there in the sunshine.
For our last port of call we drove back into Weymouth to visit the Reserve at Radipole Lake, were we stood on the bridge near the visitors centre to watch the 'grit-tray' for visiting Bearded Tits. It was very pleasant standing there for our last hour together, we saw Kingfisher twice, Cetti's Warbler, Chiffchaffs, Great Egret, Common Shelduck and all the usual ducks, geese and swans.
the final picture of Peter and Dinah's 200th bird for the year - Black Redstart
At 5pm we packed up, there was no sight nor sound of the Beardies, I dropped Peter and Dinah back at their hotel and went home. It had a been a lovely few days with them, they are good company and enthusiastic birders. I had 102 species on my 3-day list, just over half of their 200-year list, a nice total for the area in a very poor year for migrant species! We planned to meet again next.