SOUTHMOOR NR, THE SOLENT, DENNY WOOD AND PIG BUSH ENCLOSURE, NEW FOREST IN HAMPSHIRE - RSPB LYTCHETT FIELDS, POOLE IN DORSET
WEATHER: crisp and frosty - hazy sunshine all day. Temp -5 to +6C
It was cold and frosty when Guy collected me at 7am this morning and as we set off towards Dorchester we drove through patches of fog. The sunrise was sublime, beautiful frosty valleys with a brightly coloured sky, mist laden valleys, landscape scenes that artists just love to paint and photographers drool over.
After negotiating some heavy traffic on the A31 and the M27, Guy got us safely to Southmoor NR on the banks of the Solent and overlooking Hayling Island. Not a picturesque site and the noise from the A27 was very loud, but it was covered with birds.
LOOKING FROM SOUTHMOOR INTO THE SOLENT TOWARDS PORSTMOUTH
Our target bird was the SABINE'S GULL, a long-staying individual and apparently in full summer plumage, look it up, it is a stunning species. We walked along the sea-wall and noted hundreds of waders on the shoreline on our right hand side, and fewer birds on the open marsh which spread out on the left. Curlew, Oystercatcher, Redshanks, Greenshanks, Black-tailed Godwit, Turnstones, Dunlin, Lapwing, Common Snipe, Shelduck, Little Egret, Grey Heron, Teal, Shoveler, Mallards and Gadwall were all present in good numbers.
LITTLE EGRET
The prize bird, the SABINE'S GULL, was sitting waiting for us and when we got there it flew up, over and around us and settled back down in the same spot. (We heard later in the day that some people had been feeding this bird and when new people arrive it flies up expecting some tinned sardines. No wonder it is such a long stayer!!)
SABINE'S GULL
Normally this is an ocean-going species, breeding in the high Arctic and wintering off the coast of South Africa and spending a lot of time out on the ocean. It is often seen during migration periods after storms and strong winds have driven it to our Southern and Western shorelines, we saw three or four of them last November in Dorset.
We had our fill of this most beautiful Gull and then scanned the Solent for seabirds. We found a small flock of Red-breasted Mergansers, some Brent Geese, Great Crested Grebes, Goldeneye and a female type Long-tailed Duck. The whole area was a bird-watcher's paradise, but we had to drag ourselves away because we had other birdies to look for!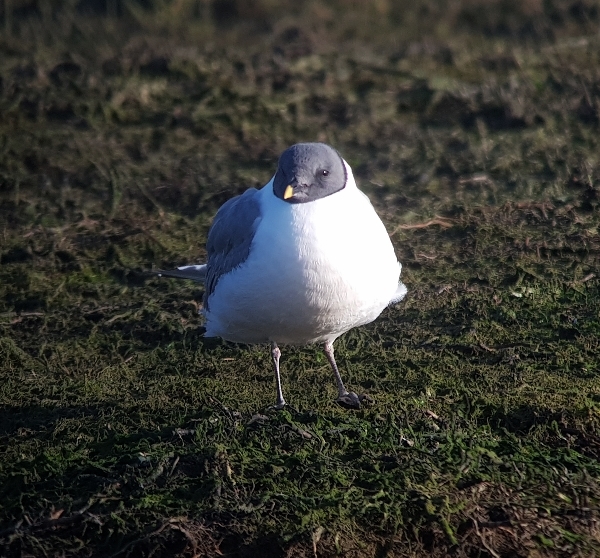 Heading back west along the M27 was much easier with free-flowing traffic and only one short hold-up. We saw a Great Egret flyover the motortway, a few years ago that would have caused a car crash!! It took us an hour to get to our next venue, Denny Wood in the New Forest. We parked on the edge of the wood and saw several photographers around a fence at the far end of the car park. They had spread seeds for birds and were enjoying a good number of birds at very close range. We scanned a Chaffinch flock for Brambling without luck and watched Blue, Coal, Great, Marsh and Long-tailed Tits as well as Nuthatch, Robin, Dunnock and a single Wren.
BLUE TIT SAYS "I think I'm gonna jump"
COAL TIT SAYS: "OMG! there's a dead Blue Tit down there!
Marsh Tit says to Coal Tit "I wonder if there are any dead Blue Tits on this side?"
Behind us in an open grass area we saw a pair of Mistle Thrushes and a few Redwings, a Song Thrush could be heard and a Pied Wagtail flew over. After eating our picnic lunch and taking a hot drink we set off for a short walk in this ancient woodland. We were told by a local photographer that dozens of Hawfinches were about in the canopy and Lesser Spotted Woodpecker was a possible sighting!
Marsh Tit starts to sing " I see skies of blue, clouds of white............."
Ha! We saw zilch! Just a couple of Blue Tits and a flyover Great Spotted Woodpecker, we heard Stock Doves calling in the distance. After enjoying the birds in the car park we set off to Shatterford Car Park for walk to look for the GREAT GREY SHRIKE, it had been seen this morning at 10:30. It was now 1pm.
We bumped into Lee Evans (Britian's most famous (infamous) twitcher?) in the car park and walked onto the heath with him, he knew exactly where the bird had been seen. But, we searched and searched and searched some more and we could not find the bird, in fact, we did not see any birds on the heath at all!! Three Ravens flew over and a distance Crow flew down, but no Stonechats, Meadow Pipits, Woodlarks, Skylarks …nothing. Perhaps the Shrike had eaten them all and gone off to better places. Guy spotted a Red Admiral butterfly whilst I was elsewhere, our second butterfly of the year after a Peacock sighting in January.
this what we should have seen!! Great Grey Shrike - taken by Ricard Pettett in Kent in December 2022. According to Lee Evans, there is now only one GG Shrike over-wintering in the country (the Kent bird disappeared) ! A few years ago there was over 100 every winter. Global Warming I presume??
Having dipped on the Shrike we drove out of the New Forest noting Stonechat, Common Buzzard and more Crows along the way.
One final destination was Lytchett Fields in Dorset near Poole, it was along our route and it would have been rude not to pop in. It was 3:30pm when we got there. The tide was out, Doh! Not a good time to be there, the sun was fading and the temperature was dropping.
Denny Wood - ancient beech and oak trees
A quick scan of the exposed mud on the marsh from two view-points produced: dozens of Lapwings, a single Curlew, 3 Redshanks, a Little Egret, several Common Snipe, a single Green Sandpiper, lots of Teal and Mallards and that was about it. Our two target species; SPOTTED REDSHANK and WATER PIPIT were nowhere to be seen.
We end the day with a Goldcrest sighting near the car park, we had walked 11,000 steps and seen only one of our four target birds, but enjoyed some fantastic birding all day, seeing over seventy species!
JUST IN CASE YOU MISSED IT - WE SAW A SABINE'S GULL TODAY
Guy got me home at 5:30pm, we had no electricity, a power cut, so we went out to eat. Apparently it was midnight when the lights came back on.