SOMERSET LEVELS, CHEDDAR RESERVOIR AND CHEW VALLEY LAKE
For me today was a D-Day - dismal, dull, drab, disappointing and the target birds we went to see were either distant or had disappeared. Other than that we had a great day out!
Guy Campbell picked me up at 08:05 (it wasn't me that was 5 minutes late!) and we drove across to the Somerset Levels, we had a number of targets to find, Water Pipit, Glossy Ibis, Green-winged Teal, Bewick's Swan, Goosander, Jack Snipe, Greater Scaup and Long-tailed Duck, read on to find out how we fared.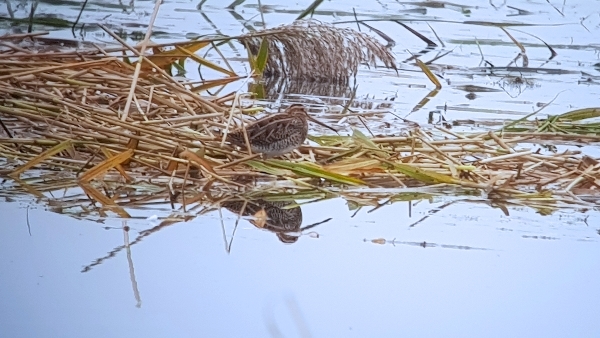 Common Snipe, my first picture of the day
Ham Wall was our first port of call, it was dull and overcast but there wasn't a whiff of air movement, perfectly still. We headed out along the main track toward Loxton's Reedbed which had been cut down to ground level and where I had seen a couple of Water Pipits on a visit with Nigel last week.
We saw Common Snipe, a large flock of Lapwings flying about, a couple of Marsh harriers, Great & Little Egrets and all the common duck species as we walked to Loxton's.
Unfortunately a lot of work was still being carried out on the reserve, reed cutting mainly and so the birds were being disturbed, Loxton's was more or less devoid of passerines, not a single wagtail or pipit in sight. We did see a Stonechat, Great Egret, Grey Heron, a few more Common Snipe lots of Teal but nothing smaller.
the reedbeds from viewing point II, you can see that some have been cut to make viewing easier and creating habitat for Water Pipits etc.
From viewing platform II we did find a dozen or so of Pied Wagtails, a few Wrens, a single Cetti's Warbler, Common Chiffchaff and a couple more Stonechats but no pipits. Some nice male Marsh Harriers brightened up our day and we did come across a couple of 'tit flocks' with Long-tailed, Blue, Great and Coal Tits but we couldn't find any Siskins or Redpolls.
Great Egrets, not often given a second look these days because they are so common on the 'Levels'.
After a quick hot drink back at the car park we set off for Westhay, we intended to look for a Cattle Egret flock which a Glossy Ibis had been associating with over the last week or so. We found the flock almost immediately and sure enough the Glossy Ibis was with them. We parked the car a hundred meters away or so and got out, big mistake!! A few Cattle Egrets flew up, then more, then the whole flock of 24 birds took off. Luckily the Ibis stayed where it was, I set up my scope ready to take a few pictures and off it went!! Doh!!
A comparison shot.
We watched where the egrets come down, they landed in field across the road with 14 Little Egrets in it, but the Ibis flew over a line of trees and landed out of sight. We drove around to where it landed but we couldn't find it! It was not a dip, but not a satisfactory sighting either.
Our plan was to visit Chew Valley Lake but first Guy wanted to look for a Greater Scaup on Cheddar Reservoir. Our visit there did not last long, the water was flat calm and with our scopes we gave the reservoir a good scanning, most birds we quite distant and we saw a couple of thousand birds, but not the Scaup, a dip for sure! We added Red-crested Pochard to our list also Goldeneye and Common Pochard,
one female and two male Red-crested Pochards
We arrived at Herriot's Bridge, Chew Valley Lake around 11am. We knew that the Green-winged Teal had been seen earlier on 'Herriot's Pool' not on the main the lake. That should be easy then, ha! We spent fifteen minutes going through a couple of hundred Eurasian Teal before we located the American visitor, the Green-winged Teal. Again our target bird was distant and remained in the dark shade of some over-hanging trees for the duration of our visit, so once again no photographs! We found Water Rail next to the target Teal and lots of Pintail Ducks joined the throngs of Coots, Wigeon, Tufted Ducks and Gulls on the pool.
the view of Herriot's Pool. Looking to the far right of the pool and below those trees was where we found the Green-winged Teal
you can just make out the vertical white bar on the flank of the Green-winged Teal in this record shot!!
Turning our attention to the main lake we scanned through the dozens of Mute Swans looking for the Bewick's Swans, two were supposed to be there. Having no luck we drove round the Stratford Hide for peak from there.
The view from the Startford Hide, we hoped to see a Jack Snipe in the cut reeds and grass
The feeders were busy behind the hide but nothing extra special turned up and we had negative news from the hide too! No sign of the Bewick's or of any Jack Snipe which had been present yesterday. We sat in the nhide for about 30 minutes or so enjoying the views of the Goldeneye.
Having no luck there we drove round to Heron's Green and from the car park we added Greater Scaup, guess what? They were distant and no photographs were taken. We saw two Female Scaup with a couple of hundred Tufted Ducks.
two immature male Goldeneye
From Nunnery Point we parked up and walked round to view Villice Bay where the Bewick's were supposed to be, nothing!! But we did see Green Woodpecker, Great Spotted Woodpecker, Redwings, Fieldfares, Meadow Pipits and Chaffinches during our journeys from place to place.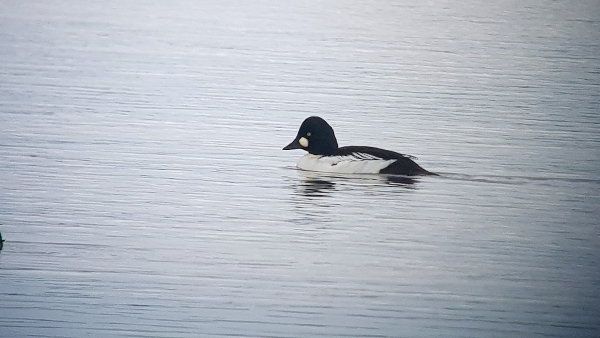 if you want to woo the ladies this is what you should look like, what a beauty!
We made a brief stop at Woodford Lodge the headquarters of Wessex Water where Guy popped in to renew his six monthly birding permit. Whilst he was in the building I scanned the Lake and picked out a drake Goosander, boy that was that a distant bird!
It was 3pm by the time we got to the Dam, where we hoped to see the long staying Long-tailed Duck. Well talk about distant birds, this one takes the biscuit, It was a dot in the scope, I tried a couple of phone-scope pictures but they were pants, have a look below.
record shot of our bird of the day - the male Long-tailed Duck, it was about 1/2 mile away
We picked out two more Goosanders, a Yellow-legged Gull (adult), some Shelducks and lots more Goldeneye before we set off.
Guy was determined to get me frozen and forced me to return to the Stratford Hide for one last look for Jack Snipe, it was 4pm when we got there, the sky had brightened up for our last hour but we still did not find a Jack Snipe. A bit of excitement occurred when Guy picked some movement in the grass and reed stubble, but it turned out to be a Common Snipe! One last scan for a Bewick's turned up nothing so off we went. A Nuthatch called loudly as we left the hide.
a Common Snipe, the one found in the stubble and my last picture of the day
Guy drove us safely back to Stoford we arrived at 10 after 5, despite missing some target birds and seeing others quite distantly we both agreed it had been a good 'well-being' day out!