Chew Valley Lake - Stratford Hide, Villice Bay Hide, Nunnery Point, Moreton Hide, Herriots Bridge - Portishead - Old Battery Rocks and Lighthouse
WEATHER: dull and overcast all day with drizzling rain most of the time. A cold breeze later at Portishead.
Both Nigel and Guy joined me today for this excursion to Chew Valley Lake and beyond. Our main targets were Green-winged Teal, Jack Snipe, Bewick's Swan, Goosander, Scaup and Green Sandpiper. My two birding pals had seen the Jack Snipe on previous visits but I had missed them.
I collected Guy at 7:30am from his house in Yeovil and we drove through misty, sometimes foggy conditions with drizzling rain all the way. We met up with Nigel and his friend Vaughan in the Straford Hide at Chew Valley Lake exactly one hour later, the fog had cleared and it had stopped raining but the light was still pretty poor.
The first of our target species - a male Green-winged Teal
the Green-winged Teal - a little clearer shot taken by Nigel
Nigel and Vaughan had arrived some 10 minutes earlier and had already found the Green-winged Teal, they quickly pointed it out to Guy and myself. It wasn't too far off but the light was poor and the quality of our pictures reflected that. Also out in the water were Goldeneye, Tufted Duck, Common Pochard, Eurasian Teal, Eurasian Wigeon, Shoveler, Gadwall, Coot, Moorhen and Mute Swans. We saw distant Great White Egrets and we heard Cetti's Warbler calling from the scrub behind the hide.
a pair of Shoveler
A lot of banter with plenty of micky taking flew around in the hide, even Vaughan the new guy joined in. Eventually we got down to some proper birding when Nigel picked out our first Jack Snipe, this was quickly followed by a second bird and a couple of Common Snipe also appeared.
The Green-winged Teal re-appeared for a second time but we had no sighting of a Bewick's Swan or a Green Sandpiper. Outside the hide we saw Great Spotted Woodpecker, Nuthatch and all the usual visitors to the bird feeders near the car park. From there we drove the short distance to the track to Nunnery Point. We parked along this track and walked across a couple of fields to Villice Bay where the Bewick's were supposed to be.
well hidden Jack Snipe - at least two were seen but they never fully came out of the cover
From the hide overlooking Villice Bay we found a few Goosanders, they sat motionless fast asleep for most of the time but were lovely to see. Many Common Gulls sat out in the bay we searched through them looking for a Ring-billed Gull (you never know!). We found a few Mute Swans, a second Great White Egret and all the usual ducks.
A quick look from Nunnery point across to Moreton Point produced a Peregrine Falcon, it sat in a distant dead tree and we saw large rafts of Tufted Ducks sitting near Moreton Point, they have may have held Scaup but they were too far away to identify. In the trees along the track at Nunnery Point we noted several Fieldfares, a Song Thrush and a small flock of Goldfinches.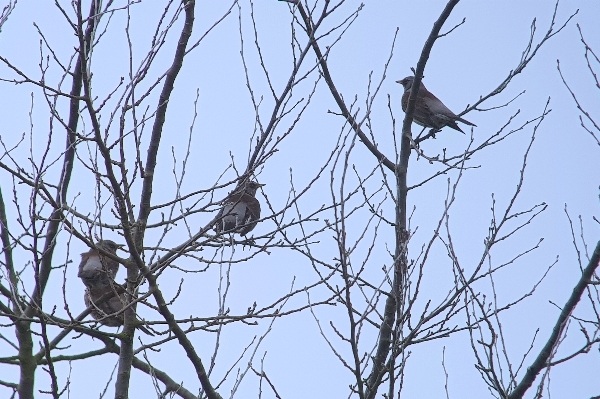 a small group of Fieldfares sat high up in a tree at Nunnery Point
We drove to Moreton Hide passing very close to the Peregrine in the dead tree, Nigel cracked his door and reached for his camera, oops! What a dipstick, the Peregrine was gone in a flash. From Moreton Hide we sifted through Tufted Ducks, finding nothing new, we couldn't see the large rafts from the hide, nor could we find the recently reported Green Sandpiper which was supposed to be feeding just in from of us!! Doh! It was nice to see some Lapwings and close views of Common Pochard, Goldeneye and more Common Snipe.
A Cormorant and a male Common Pochard from Moreton Hide
Lastly, we tried our luck from Herriots Bridge, there was large numbers of Mute Swans in view but we couldn't turn any of them into Bewick's. In the pool behind the lake we had good views of Pintail, Common Shelduck, a single Cattle Egret and many Teal, Wigeon, Shoveler and a good variety of common gull species.
the beautiful male Goosander seen in Villice Bay
We ate our picnic lunch in the car at Herriots, it was now after 12 noon and we wanted to visit a site at Portishead to look for a small flock of Purple Sandpipers that had been seen most days at a high tide roost. Nigel, unreliable informed us that high tide was at 1pm. It was after 1pm when we arrived at Portishead Battery Point Lighthouse, we were late because Nigel was leading our two car convoy and he took the wrong turning at least twice, doh!! We eventually arrived at 1:15pm and guess what? The tide was still out, so we checked high tide times and found that high water was at 3pm not 1pm!
looking up the River Severn from the Old Battery Lighthouse, you can see the 'new' Severn Bridge crossing, a birder and a large ship.
It was dull and chilly but we persevered, we picked out Curlews, Redshanks and a few Gulls along the shore but the tide took an eternity to rise. Nigel and Vaughan dipped out around 2pm, leaving Guy and myself to endure the cold breeze and the lack of Sandpipers. We waited another hour, the tide came up but not very far, it was a low, high-tide today and it didn't look as though the Sandpipers were coming into roost at all.
what a beauty (the ship not Guy!!) it is almost 2,000 tons and two hundred meters long!
It had been a lovely morning, but the afternoon was a disappointment, however neither Guy or myself had visited Portishead before so it was new experience for both of us. We both thought it looked lovely down there and the immense size of the River Severn was awe inspiring, it must be over 2 miles across where we were!! Two men were fishing for cod from the rocks below us, they caught three small codlings (a codling is a cod fish they weighs under 10lbs) whilst we were there and a huge ocean-going cargo ship sailed down river from Portbury Docks near Bristol.
the Battery Lighthouse Lighthouse at Portishead and the rocks where we didn't seen the Purple Sandpipers
We left the Battery Rocks at 3pm and headed for home, not making a single wrong turn all the way! The drive back was dreadful, it was misty, with rain and clouds of road-spray all the way along the M5 motorway. I dropped Guy off outside his house around 4:15 and got home a few minutes later.