TEALHAM MOOR – CHEDDAR RESERVOIR – CHEW VALLEY LAKE
WEATHER; a misty start, sunshine all day, very light breeze. Top temp 14C
Our second day began at 8am as I collected Alan and Ruth from their campervan near Street. We drove straight to Tealham Moor and spent a great couple of hours finding lots of new species. It was a little misty to start with but the sun soon burnt that off.
The ditches still held water but the flat meadows of the 'moor' were very dry, I wasn't optimistic about seeing much. Our first Cattle Egrets were found with the first herd of cattle we came upon, one or two of them were still in summer plumage (the egrets not the cattle!).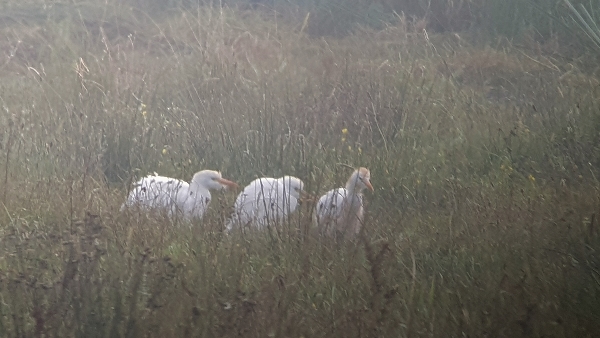 Cattle Egrets seen first thing this morning
As soon as we got out of the car some dipstick realised he had forgotten his binoculars and it wasn't me!! I am sure he did it deliberately so that he could hang my Swaros around his neck all day! A very cunning plan.
Over the next hour we watched many Meadow Pipits, flocks of Linnets and a huge flock of Goldfinches. We also found a single Northern Wheatear as we walked along the lane.
Tealham Moor where we got out of the car. This bush had a Wheatear on the top of it and was used by Meadow Pipits and Linnets whilst we we there
We came upon a field full of sheep where we found a small number of Skylarks, at least three Whinchats and a couple of pairs of Stonechats. Lapwings walked amongst the sheep and Alan kept finding Buzzards on post using his 'new' binoculars.
one of the Whincats
Scanning the area with the scope produced more Cattle Egrets, Grey Herons, Great Egrets, Mute Swans, a flock of Canada Geese, some Swallows and a Common Kestrel sitting on a very distant post. After enjoying good scope views of the Whinchats, Pipits and Linnets we decided to move on.
Whinchat on a post
A Sparrowhawk flew down from a tree in front of the car as we drove towards Wedmore. Flocks of Starlings, House Sparrows and a few Collared Doves we also noted. Rooks, Crows and Jackdaws were also in good supple as were Wood Pigeons!
The water level of the Cheddar Reservoir was very low, way down from its normal level; the lowest I had even seen it. The waterfowl were congregated in the middle with Swans, herons, egrets and waders massing around the water's edge. We found all the common duck species and a couple of thousand Coots. There was plenty of Great Crested Grebes too, we added Common Pochard to our list and we found six Dunlin and a single Common Ringed Plover. I don't think we counted the Black Swan that was present but we did see a Great Spotted Woodpecker as we got out of the car.
low water levels at Cheddar Reservoir
a sand-bar out in the Reservoir
We drove into Cheddar Village and realised that the road through the famous Gorge was closed! So we had to divert and take a longer route to Chew Valley Lake. It was lunchtime when we got there. We parked at Heron's Green first of all, because that was where a PECTORAL SANDPIPER had been seen over the last two or three days.
tghis is best I could do of the Pectoral Sandpiper - it was very distant
We quickly found the Sandpiper and a Greenshank, they were the only two waders on the shoreline (which was far out because like Cheddar Reservoir the water level was really low. As we ate our picnic lunch in warm sunshine, we found an adult Yellow-legged Gull and heard from another guy that an Osprey was sitting in a dead tree not far from the Stratford Hide. Also added to our list was Yellow Wagtail, Great Black-backed Gull and about 2 dozen Pied Wagtails with a few Chaffinches thrown in. On the other side of the road a few Little Grebes milled about on the pond.
another shot of the Pec Sand
So, after lunch, we drove to the Stratford hide and spent half-an-hour searching the water and shoreline for a Knot that had been seen earlier. We found Black-tailed Godwits and all the usual ducks, all in high numbers, but not the Knot.
We then walked to the Moreton Hide where the Osprey had been seen sitting in dead tree. Sure enough the bird was there, Alan and Ruth were loving it, I couldn't get near my scope or my bins for that matter!! Alan's usual exclamation of excitment was "crumbs" but today he change to "crikey", a step up I presume because he really, really, like the Osprey. In fact, it topped both their favourite sighting's lists knocking the Marsh Harrier down a peg and the Pec Sand. didn't get a look in.
record shot of the Opsrey
More great sightings were still to come! We drove round to Herriot's Bridge for our last birding of the day. The over-spill pool was also quite low but hundreds of birds were feeding there. We spotted at least six Green Sandpipers, a couple of dozen Common Snipe and we added Pintail (mainly females were seen but also an eclipse male) to our duck list.
the colourful Water Rail found by Alan
Looking into the channel on the lake side of the road Alan picked out a Water Rail, it was the first he had ever seen and he id'd it perfectly well (using my bins of course), well done Alan! "crumbs" was uttered a couple times when a second one appeared!
Ruth then found a Kingfisher, although it disappeared into a bush before we ad good views of it. On the shoreline of the lake we found more Snipe, More Black-tailed Godwits and two Ruff, the latter being a nice boost to our wader list. We stayed until around 4pm enjoying the afternoon sunshine and the lovely still weather conditions. Our last sighting of the day was of a Grey Wagtail, making it our third species of Wagtail seen today.
our last bird of the day - Grey Wagtail
I dropped them off back at their campsite and left for home. It had been a very successful couple of days, lots of birds, lovely weather and great company. Hang on a minute………..where are my binoculars???………the little bugger!!
Ruth and Alan were great company for two days, very enthusiastic and good fun. Please note that Alan is still wearing my bins