Today Paul and Claire joined me for this one-day tour. We had a fantastic time in the valleys below Gaucin in beautiful sunshine....................
SAN PABLO TRACK - MARCHENILLAS TRACK - RIO HOZGARGANTE - SAN ENRIQUE WOODS - RIO GUADIARO
WEATHER: Sunshine all day, light breeze at times. Top temp 32C.
Paul and Claire now own a house in the village and are regular visitors, they have been out birding with me several times now. They arrived at my house at 7:30am just as a Peregrine Falcon flew over and stooped into the valley! After that excitement we jumped into the car and set off down towards the coast along the Algeciras road. We turned onto a track a few kilometers before San Pablo and began our birding in a quiet valley with rolling hills on either side. Blackcap and Common Nightingale were singing when we got out of the car by a bridge over a stream. We saw the Blackcap and then a Woodchat Shrike followed by a Short-toed Eagle that was perched on a pylon. Other birds noted included Common Raven, Greenfinch, Goldfinch, Serin and the inevitable Corn Bunting.
Sardinian Warbler
Further down the track we saw Spotless Starling, Cirl Bunting, Common Chaffinch and lots more Goldfinches. Our first official stop was at a bridge over the river Guadiaro where we walked down a path to the riverside. A Spotted Flycatcher was found by Claire and then we all watched our main target species the Western Olivaceous Warbler, in fact we saw several. Cetti's Warblers, Common Nightingales, Blackcaps all sang with Finches providing a chorus.
Woodchat Shrike
A short distance away was the Marchenillas Track which was our next destination. For the next hour we had an unbelieveable birding experience with so many sightings it was hard to get your breath! Melodious Warblers sang from many bushes, both gorgeous and melodic these little lemon-coloured gems soon became my guest's favourites. Sardinian Warblers were also abundant as were Corn Buntings, Bee-eaters, Goldfinches, Linnets, Greenfinches, Stonechats and Zitting Cisticolas.
European Bee-eaters
As we climbed the track towards a hilltop we saw more European Bee-eaters, Common Stonechats and Corn Buntings. Our star bird then appeared, briefly at first then more showy, it was a Rufous Bush Robin. This little gem never allowed close aporoach so we watched through the scope, smashing bird. Next we added Tawny Pipit, Woodchat Shrike, Griffon Vulture, Common Kestrel, Red-rumped Swallow and lots of Crested Larks.
Melodious Warbler - very common along the Marchenilla track
From the hamlet of Marchenilla we drove onto the Castellar-Jimena track which runs alongside the Rio Hozgargante and the Algeciras-Bobadillo railway track. We had more great birding along this track which was bordered with mature Eucalyptus, some White Poplar and a lot of ornamental trees such as Cypress. Golden Orioles called tantalisingly from the euclpys and it took a while to see one. But we had great views of Firecrest, Short-toed Treecreeper, Iberian Chiffchaff, Blackcap and another star bird, the Turtle Dove.
We spent some time waiting for Golden Oriole sightings which indeed we got, a male dashed across a meadow several times whilst a female was almost taken by a Eurasian Sparrowhawk. Common Buzzard, another Woodchat Shrike and a Common Nightingale on the track concluded our pre-lunch sightings.We ate our picnic by the side of a ford, which spanned the river, more Orioles called and we had brief views of Cetti's Warbler whilst Serins came down to drink.
Tree Sparrow
White Storks circled overhead as we arrived at the San Enrique Woods but generally it was very quiet, the heat of the day kept birds in the shade. In the woods we searched for, and found, a WRYNECK, the bird showed well for short spells. We also saw Spotted Flycatcher and lots of Serins. Near a sewage works we caught up with Tree Sparrow, an uncommon resident breeding bird in these parts, the bird showed well after some searching.
We took an afternoon coffee break in San Enrique and saw two Booted Eagles and four White Storks circling above as we embibed. Next we drove along the Secadero to Casares track, stopping at a site where Paul and Claire had seen a Little Owl in the past. Sure enough the Owl was there, sitting as 'proud as punch' in full view.
Little Owl
For the last birding stop we spent some time on the bank of the Rio Guadiaro where several pairs of Little Ringed Plovers were found. We also watched more Western Olivaceous Warblers, a couple of Grey Herons, lots of European Bee-eaters, Serins, Greenfinches and a few dragonfly species.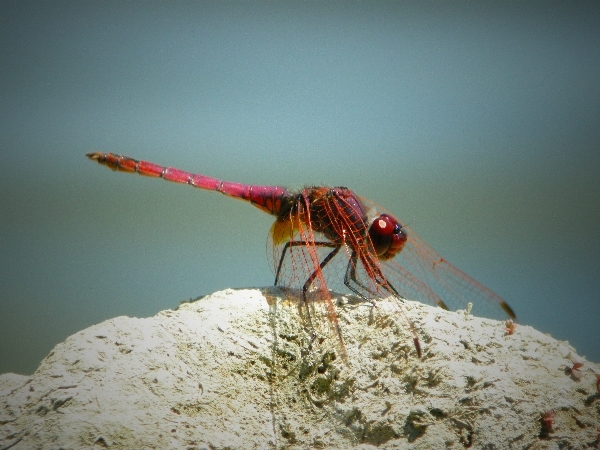 Violet Dropwing
We drove back to Gaucin over many kilometers of tracks and arrived in the village just after 5pm. It had been a long day but very enjoyable, Paul and Claire are so enthusiastic and fun to be birding with. What a pleasurable day and a great way to spend one's working-life!
Little Ringed Plover