GAUCIN SWEET CHESTNUT WOODS - ENCINAS BORRACHAS TRACK - SIERRA DE LAS NIEVES NATURAL PARQUE
WEATHER: Sunshine all day, light breeze. Top temp 29C
We had a mixed bag of results today, plenty of new birds with some sought-after species but not many were seen well and most of them were distant in-the-scope views.
We started off in the Sweet Chestnut woods a couple of kilometers along the road to Ronda. It was very still and very quiet! After ten minutes we saw our first bird the lovely and lively Firecrest. We walked down the hillside and still not many species showed up, a Eurasian Nuthatch showed briefly, we saw Blue Tit and a couple of Great Spotted Woodpeckers. Back at the entrance gate we finally caught up with Crested Tit, so our day's birding didn't get off to a great start.
We stopped by the roadside just after the village of Atajate where we added Black Wheatear, Linnet and not much else to our day list. Then at the Encinas Borrachas track we spent 3 hours walking across the open valley, onto the heathland and into the cork woods, boy was it hard work. Nothing sat out on the top of bushes for us unless it was half-a-mile away! A couple of Red-billed Chough drifted along the mountain ridge just as we got out of the car and Griffon Vultures sailed over us for most of the time that we were there.
Corn Bunting, my favourite bird, was the most obliging and seemed to be everywhere.
We saw Goldfinches, Linnets and Crested Larks before we found Iberian Shrike. Then we found very distant Black-eared Wheatears, more Black Wheatears, Rock Sparrows, Rock Bunting and a Common Kestrel. On the heath we spent ages trying to track down a Spectacled Warbler which gave only fleeting views. We saw Common Stonechat, Woodchat Shrike, Red-legged Partridge and a small herd of some 14 Spanish Ibex before we entered the cork woodland.
The beginning of the Encinas Borrahas track
We saw our three target warblers in the woods, first the Orphean Warbler showed reasonably well, then the Subalpine gave much better viewing opportunities whist the sighting of the Bonelli's Warbler was short but sweet. On the way back we caught up with a distant Blue Rock Thrush and we had much but views of Spectacled Warbler. We dipped on Dartford Warbler, Common Rock Thrush and Woodlark.
Our picnic lunch was taken back at the entrance gate where we saw more butterflies than birds, Long-tailed Blue, Black-veined White, Small Skipper, Sage Skipper, Small Copper, Brown Argus, Clouded Yellow and Cleopatra were some of the species seen.
Black-veined White Butterfly, mating below
After a quick coffee stop we drove onto the Sierra de las Nieves natural park where we spent the last two hours of our birding day. Again it was hard work, we concentrated on two areas, the first was the small section of heathland. Dartford Warbler showed really well there, at last! Then we found Black Wheatear, Rock Bunting and two new species, Cirl Bunting and Woodlark. A Short-toed Eagle was the best of the raptors.
The second area we visited was the pine woods a little higher up into the reserve. There we found Firecrest, Short-toed Treecreeper and after some tracking down we saw Iberian Chiffchaff and Coal Tit, phew that was hard work too.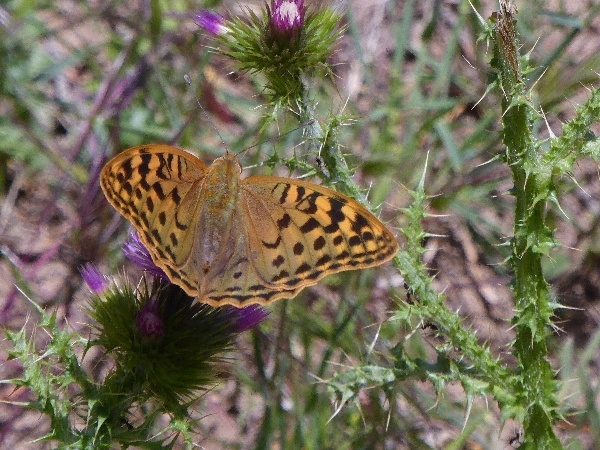 Cardinal Fritillary
On the way home we stopped to look at a flock of 10 Red-billed Chough and a Booted Eagle, we were home before six. Dinner was at 7:30pm, I think we were all tired by the time we finished.