MALAGA TO GAUCIN WITH STOPS AT DESEMBOCADURA DE GUADALHORCE - ESTEPONA REFUSE DUMP - CASARES - SIERRA CRESTELLINA
Today I collected Steve and Robin from their hotel in central Malaga, I already know them as they were participants on my recent Tour of Morocco. We met at 10am and went straight to the nearest birding site, which was the Natural Park at Guadalmar called the Desembocadura de Guadalhorce.
one of the pools along the north bank
Southern Spain is now lush green with many wild flowers in bloom after a wet start to the year, it is still cold at night with temperatures dropping to around 5C. The Natural Park looked wonderful, a blaze of colour and plenty of water in all the pools, perhaps too much water.
the male White-headed Duck
We walked from the school in Guadalmar and quickly started to list a number of species: Serin, Sardinian Warbler, Common Moorhen, Booted Eagle, House Martin and Barn Swallow. We heard Cetti's Warbler on a number of occasions and watched many Chiffchaffs in the scrub.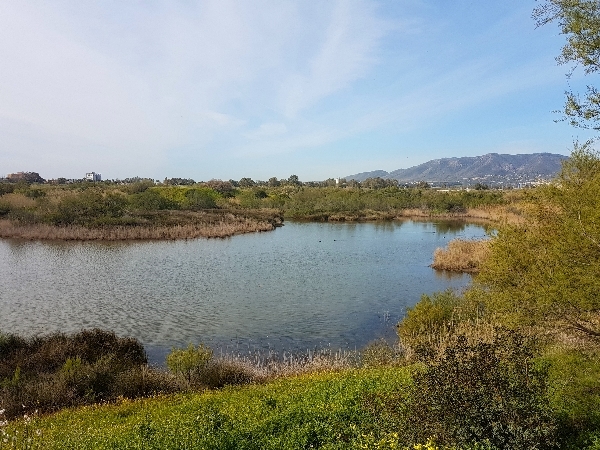 a lot of water in this laguna, Spain has had a much needed wet spring
Walking across to the north bank we had views of the first pool, a number of ducks were feeding there with many Black-winged Stilts. We saw Common Pochard, Gadwall, Mallard and our target bird the White-headed Duck. Moving towards the next pool we found Common Nightingale, Greenfinch, Goldfinch, Monk Parakeet and hundreds of Yellow-legged Gulls high above us.
The larger pool called Rio Viejo (old river) produced more waders including Redshank, Sanderling and Pied Avocet whilst a dry area of sand held Kentish and Little Ringed Plovers.
Kentish Plover
We made it to the look-out point at the beach but apart from a single Common Scoter all we saw was Great Cormorants and a variety of Gulls. Steve found an Osprey drifting over the reserve and we added a flock of Northern Shoveler to the list too. More Kentish Plovers were found on the beach as we walked back to the southern bank and a Zitting Cisticola flew over us 'zitting'.
From the raised hide overlooking the Laguna Grande we added Black-necked Grebe (looking superb in their summer outfit), Greater Flamingo, Slender-billed Gull, Grey Heron and many more Black-winged Stilts. The smaller pool nearby gave us nothing new, all the birds were at the far end of the pool.
Apart from a few chiffchaff and the odd nightingale, migrant species were absent from the reserve, not even a Woodchat Shrike, Hoopoe, Bee-eater, Wryneck, Melodious Warbler, Blackcap, Reed Warbler or Red-rumped Swallow!
We got back to the car and drove to St Julian near the airport where had lunch before setting off for my home village of Gaucin. We stopped at the large refuse dump at Estepona where thousands of gulls circled on the thermals with dozens of Griffon Vultures. We also found several White Storks, a single Egyptian Vulture, Booted Eagle and Black Kites.
Next we stopped in the village of Casares where we watched vultures from the car park of the visitor's centre. We found a Short-toed Eagle, three Booted Eagles and a pair of Blue Rock Thrushes. I spotted a distant Black Wheatear but Steve and Robin missed it.
male Blue Rock Thrush taken at Casares
Two more short stops before entering Gaucin were made on the way up the Genal Valley. Our scanning of Sierra Crestellina produced nothing new except for Common Stonechat, we did see two more Short-toed Eagles and some Black Kites at a very great height. At the mirador 'balcony de Gaucin' we added Scarce Swallowtail to our butterfly list but no new birds.
At 5pm we reach my home where Dawn my wife greeted us, we showed Steve and Robin to their room and met up again at 7pm for a vegetarian dinner, how nice! More fun tomorrow.