The weather played a big part of our sightings today it was dull and overcast with a couple of bright spells, it was cold too. So numbers were down but we managed to see some nice migrants ranging from Eagles to Flycatchers..........
GAUCIN SWEET CHESTNUT WOODS – ESTACION DE CORTES – (CUEVA DE GATO ) BENAOJAN - LLANOS DE LIBAR
When we thought the weather couldn't get any worse it did, today was dull and overcast, it rained to start with and the temperature was as low as 9C during the afternoon! However we did get a bright spell from about 1 – 3pm and for about an hour in the morning .
another picture of Woodchat Shrike - a stunning bird that poses so well
The worst part of the day was undoubtedly first thing it was really dark at 8:30am when we set off, the rain stopped by the time we reached Gaucin Woods but it was cold. The only sighting of note was a Eurasian Nuthatch we never stayed long!
A short walk along a track near Estacion de Cortes produced a couple of our best sightings of the morning, at first it seemed quiet but it brightened up and a number of Short-toed Eagles, Griffon Vultures and Booted Eagles came out to play. We saw a number of Cirl Buntings, Blackcaps, finches and tits which included Long-tailed Tits. Then a flock of 20+ Bee-eaters flew over us and some of them decided to land in the tree tops before hawking around our heads, fantastic. Even better was the sighting of a Pied Flycatcher as we got back to the bus, this little gem made my day it showed extremely well for the group.
my first picture of European Bee-eater for 2015 - many more will surely follow
At Estacion de Cortes we parked next to the Rio Guadiaro and took a side track up towards the railway line, it was there that we found a Wryneck, this bird flew up from the grass and perched in a nearby cork oak showing very well from time to time. Oher birds seen here were Cirl Bunting, a single Hawfinch, Sardinian Warbler and lots of common finches. Our walk along the river produced Little-ringed Plover and Grey Wagtail, plenty of Common Nightingales, Cetti's Warblers and Blackcaps were in full song.
also a first for 2015 - Pied Flycatcher
After a coffee stop in Cortes de la Frontera we made our way to Cueva de Gato (cat's cave) near Benaojan. We ate our lunch watching a superb Grey Wagtail and many Crag Martins were hawking over the river. Our walk after lunch failed to produce the hoped-for Dipper.
the waterfall and pool at the entrance to the Cueva de Gato
Finally we arrived at Llanos de Libar, a hidden valley in the mountains near the village of Montejaque where we had a wonderful, but cold, afternoon. A selection of good species gave us a series of excellent sightings we started with Red-billed Chough, followed quickly by Black Wheatear. Then a pair of Black Redstarts grabbed our attention, the male was stunning, a Blue Rock Thrush sat in the open for us to admire.
Grey Wagtail at Cueva de Gato
We drove several kilometers up the valley and hardly left the vehicle because it was very cold and it started to darken as it clouded over. We found Black-eared Wheatear, Rock Sparrow, Corn Bunting, Linnets and several more Black Wheatears. Our final half an hour was spent in a cork oak woodland which produced Mistle Thrush, Short-toed Treecreeper and finally we nailed a Rock Bunting. During the whole time of our visit Griffon Vultures drifted over us or perched high up on the mountain ledges.
Before we left for home we made a brief stop at the limestone gorge above Montejaque, this picturesque landscape is stunning even in dull conditions but it was Orchids that we were after. The heavy rainfall in late March had produced ideal conditions for spring flowers including orchids. We found 'Naked Man Orchid ' (Orchis italica), Sombre Orchid, (Ophrys Fusca), Yellow Orchid, (Ophyris Lutea) and Sawfly Orchid, (Ophrys tenthredinifera). Earlier at Estacion de Cortes we had seen Mirror Orchid (Ophrys speculum).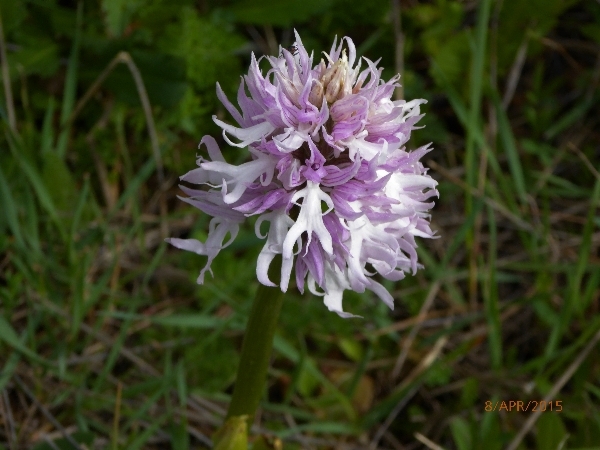 `Naked Man Orchid
Sombre Orchid
Yellow Orchid