RIO GUADIARO AT ESTACION DE CORTES
WEATHER: still hot, light, cooling breeze. Temp 24 – 32C
As we move into Autumn so the hot summer weather is gently subsiding, it was down into the teens overnight and we slept without the room fan on for the first time this summer.
We made another excursion to the Rio Gudiaro, only our second official day-off since our arrival a month ago. It was lovely down there, we arrived at 10:30am and stayed until 5pm.
the view of the river from under our favourite tree
Kingfishers were very active today and were the first birds we saw as we settled into our chairs and set out the scope and bins. However, despite our visit being very much closer to peak migration time there were far fewer species about today.
the ridge behind us were the raptors catch a thermal
An increase in Martins and Swallows (far more Red-rumped than Barn Swallows) was notable with upwards of one hundred dashing about above the river. Willow Warblers were about the same, but I never saw a Chiffchaff, a Flycatcher or a Blackcap.
Scanning the hillside behind us I watched dozens of Griffon Vultures, at least six Short-toed Eagles and a pair of local Booted Eagles (they called all day long), a monotonous wader-like call similar to a Redshank.
Other species of note were; Grey Wagtail, Cirl Bunting, Bonelli's and Sardinian Warbler, Common Stonechat, Spotless Starling, Goldfinch, Greenfinch and Linnet.
a Cirl Bunting
Bee-eaters were ever-present, but they were in much smaller numbers and they never came down to bathe in the river. In fact, there are far more Bee-eaters flying over our house lately than there are at the river.
Last night we had a meal with Paul and Claire from Chepstow, they are both birders, they have a house at the far western end of the village. They told me that they are seeing Honey Buzzards most days!! I have yet to see one during this visit to Spain (perhaps I am working too hard on the house and not looking up enough?).
Spanish Pond Terrapin (Mauremys leprosa)
My last bird of the day at the river was the Cetti's Warbler. They work their way along the riverbank at the water's edge, issuing their loud busrt of song along the way. When I see one I set the scope up ahead of the bird and wait for it to come into the field of view, click, click does the trick and in the can they go!
A Cetti's Warbler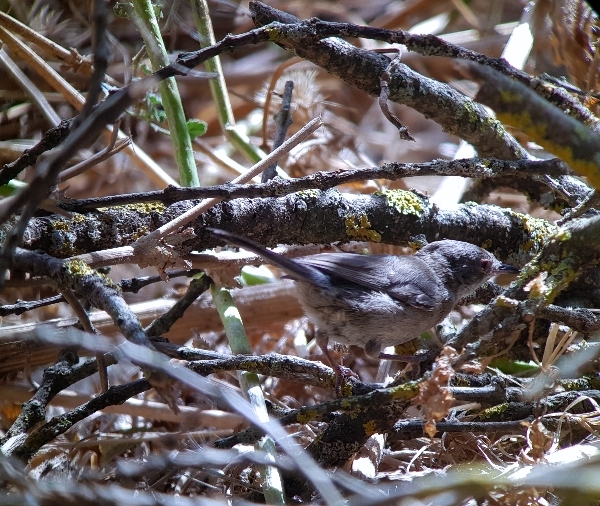 a juvenile Sardinian Warbler
Violet Dropwing
Common Darter
There was no sign of an Otter today but I went for a short walk and noted several dragonflies, a few butterflies, Hummingbird Hawkmoth, Marsh Frogs, European Pond Terrapins, Egyptian Locust (Anacridium aegyptium, it is quite common in Spain) and a herd of goats!